Gascon-Style BBQ Sandwiches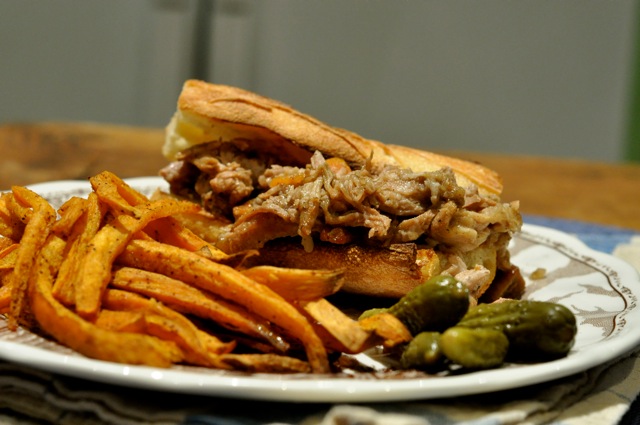 Growing up, we had an ongoing debate about barbecue, which I'm sure that any family with members from both sides of the Mississippi probably have.
Living in Texas, naturally, beef BBQ was – and still is — king, but my Birmingham, Alabama born mother didn't see it that way.
I loved the chopped beef sandwiches from Leroy's, a drive-in grocery a couple of miles away from our house so much that when I was in elementary school, I'd often ride my bike to get a BBQ sandwich — for an after-school snack.
The conversation usually went something like this. I'd say how much I loved chopped beef sandwiches, and Mom would just shake her head, as if she couldn't figure out where she'd gone wrong with me. She would always say (and of course defiantly, because need I mention again that she's Southern?), "Pork barbecue is the only real barbecue. Ollie's (a now-closed BBQ joint in downtown Birmingham) makes the best sliced pork sandwiches in the world."
True as that may have been, I felt like I couldn't betray beef, and certainly not Leroy's. I didn't know Ollie. I had no allegiance towards him or his barbecue. But this is how it goes with barbecue – with everyone. Everywhere.
People just get all crazy about what they're absolutely certain is the best, and they won't hear another word about it.
And while I'm stretching the literal meaning of "barbecue" here by calling this dreamy little thing a barbecue sandwich, here, in the land of banned grills and smokers and other things 'cue, we do what we can.
Let me just say, without a smidgen of hyperbole, that this is the best pork sandwich in the world. Even if it is in France.
These no-smoker, no-grill Frenchies are totally missing out on a gold mine of what could be a truckstop staple all across the country. Stay with me here. Instead of the sad, anemic baguettes with thin slices of ham and butter and the jars of pate sold at the Total stations along the highways, you could have this — pulled pork "barbecue,"  which I served up with cornichons, instead of dill pickle chips, to keep it French. And sweet potato fries with chipotle, because, well, I just couldn't help myself.
Can't you just see it?
I first tasted this sweet, slow-cooked boozy pork when I was down in Gascony visiting the Queen of Gascon Cuisine, Kate Hill, who is up to her elbows in hosting classes on traditional European butchery these days (for more information on her classes, click here). I loved it then — served simply, in a bowl, with a single potato in the center — and vowed to make it myself.
I tinkered with the recipe just a bit, simply because I wanted to use up what I had on hand –  instead of Armagnac, I used Floc de Gascogne, an Armagnac-grape juice brandy; and I used Chardonnay instead of something sweeter, because I had some leftover from my salmon rillettes.
For those of you that can't get your hands on Armagnac or Floc, fear not. Kate says that a good old Kentucky bourbon works just fine as a substitute – and I know plenty of y'all probably have some of this hanging around after the holidays — if, that is, you've not gulped it all down.
I'm headed to Texas in a few weeks, and I can't wait to surprise Mom with this. Of course, this will only make her pork-only BBQ argument even stronger. And I may just have to agree with her — at least until I can get to Sonny Bryan's.
Gascon-Style Barbecue Sandwiches
4 ½ pounds farm-raised pork shoulder, cut into large cubes
2 pounds onions, sliced thinly
2 tablespoons duck fat (or bacon fat – this is what I used)
1 bottle sweet white wine (Jurancon or Cote de Gascogne)*
½ bottle madiera, sherry or white port
1 cup armagnac (or bourbon)
2 large carrots, peeled and sliced thin
bouquet garni (2 springs of fresh thyme, 3 bay leaves)
1 teaspoon sea salt
1 teaspoon pepper
large pinch of quatre epices (ginger, nutmeg, cinnamon, cloves)
2 baguettes (to make 6 sandwiches)
1. In a large stockpot, add the duck fat and 2 pounds onions and cook over medium low heat until the onions begin to soften, 5-10 minutes.
2. Add the pork and the rest of the ingredients, cover, and turn heat to low. Cook for approximately 2-3 hours. You'll know that it's ready when all of the onions have melted, and the pork is falling apart. For tastiest eating, let this rest one or two days in the fridge.
3. When ready to eat: preheat oven to broil. Put as much of the pork/onion mixture as you can in a foil-lined (for easy clean up) Pyrex dish or a shallow pan with sides of at least 2 inches, making sure to allow space between the pork so it'll crisp up. Slide into the oven for 20 minutes or so, until the pork begins to brown. Serve on split, toasted baguettes, and with cornichons, if you've got them.
*If you can't get your hands on a sweet wine from Gascony, any fruity semillon/sauvingon blend will do.
Cowgirl Tip: This is a big recipe. Just freeze whatever you've got leftover, and to serve, just broil as outlined in #3.