Great Coffee in Paris: Le Bal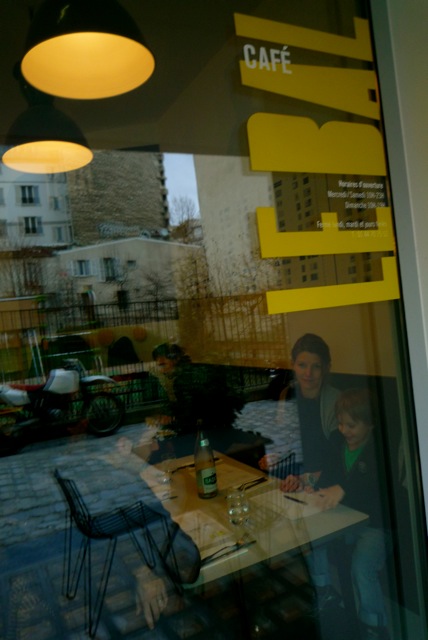 When I saw the recent story by Oliver Strand in The New York Times about the awful coffee in Paris — true, it's often burned, weak, tasteless, or all three — I sat up in my chair, with my medicore cup of morning Joe and took note. He said that a new café near Pigalle called Le Bal had the best coffee in town, so I did a quick Google map search, realized that it was only a few metro stops away, and when X came home from walking Rosedog, off we went.
Coffee nirvana was just around the corner, it turned out.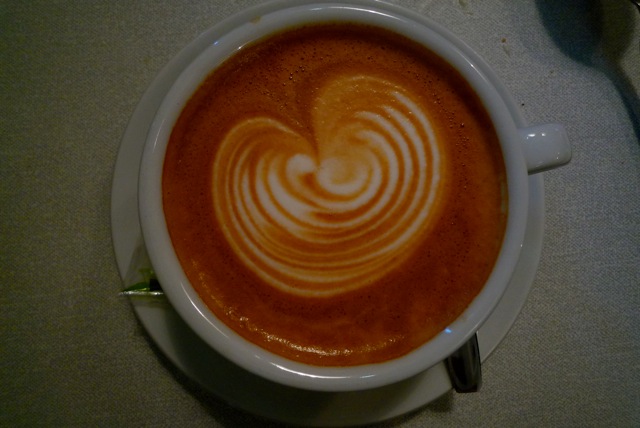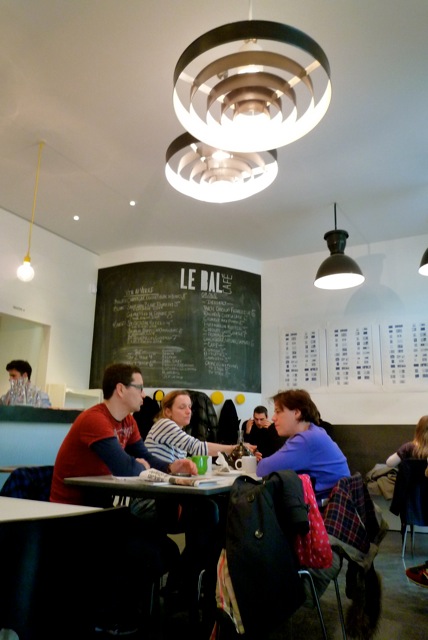 But that was just the beginning. When I walked into Le Bal, just off avenue du Clichy, down a quiet residential alley, something seemed familiar. Eggs, bacon, tomatoes, scones, and toast? Pancakes with maple syrup?
Somebody pinch me. Slap me. I must be dreaming.
Then I remembered hearing about this place – opened up by a couple of Rose Bakery alums about three months ago. It was a Saturday, so they offered up a brunch menu, which is why Welsh rarebit and kippers and toasts was also listed.
I didn't order tea, but it would have been nice with X's perfectly baked scone, which I stole from him when he was drinking a bottle of cider. While he ate his bacon and eggs, I had a lovely bowl of yellow carrot soup, which I devoured before I could get out my camera (sorry), but trust me, it was perfect. Simple. Carroty. Smooth. The brown bread here is the same as the bread that's served at Rose Bakery – from boulanger Jean-Luc Poujauran – and it's wonderful.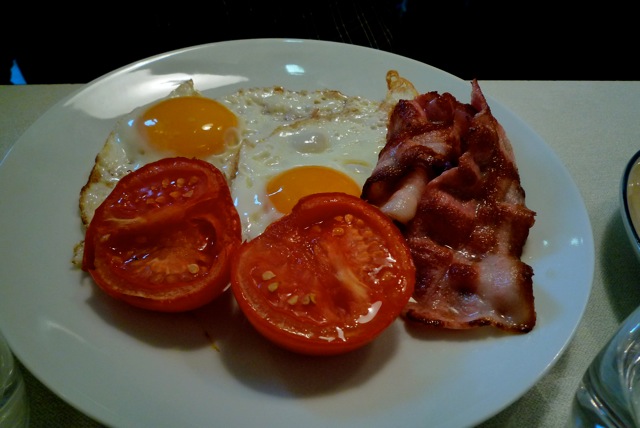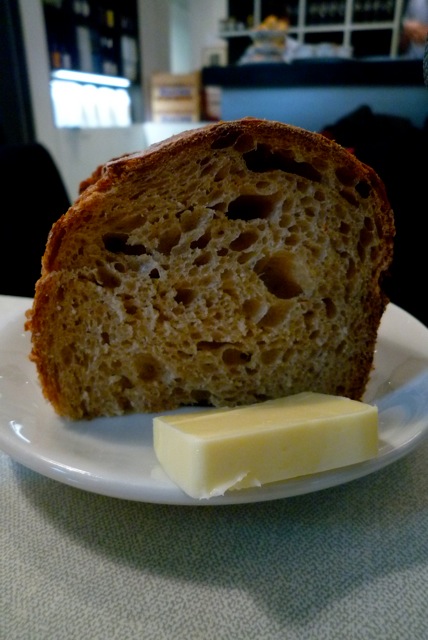 Of course, X and I could have (should have) stopped there, but we didn't. We wanted to try the chocolate and raspberry tart, and the apple crumble, both served with a side of crème fraiche.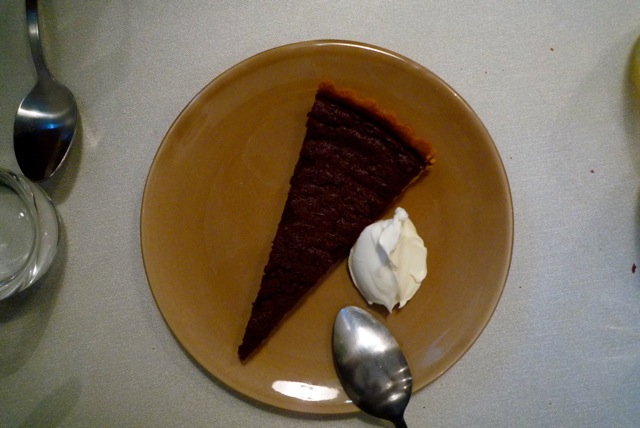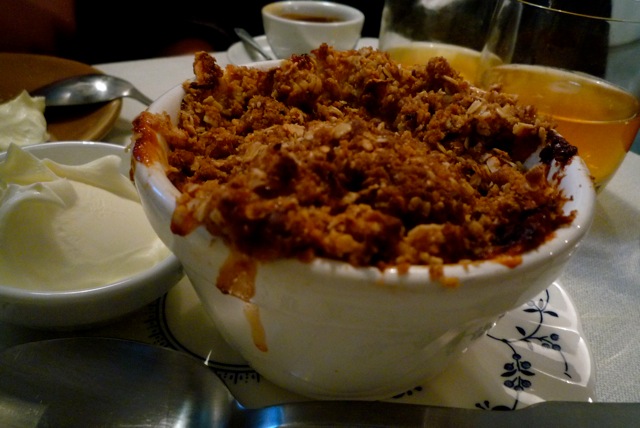 And at the risk of sounding like most Parisian waiters live up (or down) to the cliché, here, the table service is the most attentive that I've ever experienced. Our order was taken and delivered lightening-fast — and with a smile, no less.  As a bonus, the servers — Brit transplants, all of them — were delightful (et très cute). In short, X and I loved this place.
On my way out, I stopped at the bar and chatted up David the barista about the coffee here, which comes from Café Loma, a roaster in the 17th arrondisement. We talked beans, and the difference between French press coffee, which I make at home, and Chemex coffee, which I used to make in the 70s and 80s, before my Chemex coffee pot broke. This came up because Chemex coffee is featured here, too, and I've been thinking about going back to Chemex coffee, anyway — if I can figure out how to get a glass pot back from Texas without breaking it, that is.
Great food, incredible coffee, and a friendly staff was enough to get us back, but that's not all that we loved about this place. Connected to the café is a photography bookstore, filled with indie books that you won't find everywhere, and an exhibition space in the back, with frequently changing small photo shows.  On our visit, the exhibit was "PIY," or Publish It Yourself, a collection of self-published photography books, ranging from small, hand-stapled books with a handful of black and white images to larger, full-color hardbacks.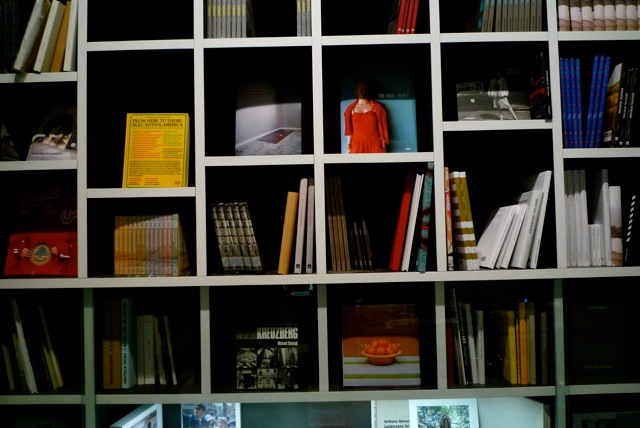 As X and I were leaving, one of our servers thanked us again for stopping by, and invited us to the next week's opening. We already felt like regulars.
Le Bal Café
6 Impasse de la Défense
75018
01 44 70 75 51
Metro: Clichy