Greens Tart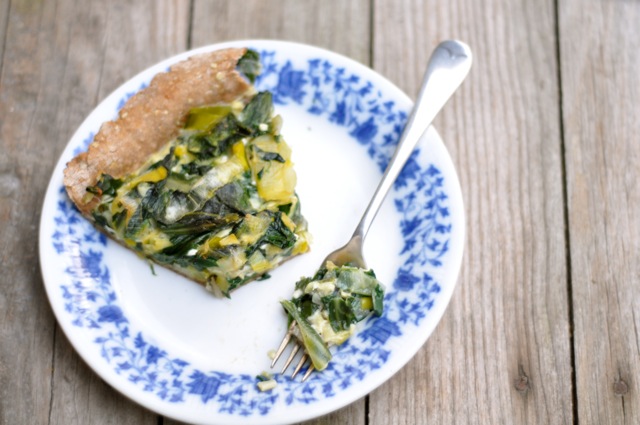 Not really the sort of thing that you probably had in mind for a pre-St. Paddy's day post, but if I was sticking to something more authentic, this might be a boiled cabbage and potatoes tart, and I'm really not sure that would fly anywhere, even merry old Ireland.
Which isn't always so merry, let me tell you. Have I mentioned the Christmas that I spent in Ireland, in the tiniest of towns (three houses, just), where dinner was turnips (yellow, and delicious, I must admit), a whole mess of cabbage, and some rather dryish chicken? Now this was decades ago and when I was married to an Irishman, and I'm not going to hold any of this against cute little Ireland, but if not for the availability of the crispy rice and caramel chocolate-coated Lion candy bars, I would've starved to death.
Lion bars. I forgot all about those.
Anyway, the other day, back in Paris (in case I totally threw you for a loop with that non-Gallic locale), I opened my fridge and was really in the mood for something green. Greens, really. And if kale was available, I would've put that in here. Ditto on the turnip greens, mustard greens or collard greens, none of which are available in the world's culinary capital.
But I did have some Swiss chard, some baby spinach, and some leeks, so I figured that I could make do, and I was right. This worked…may I say?….like a charm.
Happy St.Paddy's, y'all.
Greens Tart
Makes one 11-inch/28 cm tart
olive oil
2 garlic cloves, minced
2 leeks, sliced (white parts only)
1 bunch of Swiss chard, ribs removed and the leaves sliced into ribbons
3.5 ounces/100 grams of baby spinach
sea salt and pepper
½ teaspoon of lemon zest
a pinch of nutmeg
2.5 ounces/75 grams of feta cheese, crumbled
3 eggs
1/2 cup/10 cl of milk
1 wheat tart crust, prebaked
1. Drizzle a little olive oil in a large skillet, toss in the garlic and leeks, and turn the heat to medium. Cook for just a few minutes, or until the leeks begin to wilt and you can smell the garlic. Add the Swiss chard, baby spinach, lemon zest, and nutmeg and stir this around until the Swiss chard and spinach starts to wilt — you don't need to let this cook too long because it'll continue cooking once you remove it from the heat. Pour this mixture into a bowl and let cool.
2. Preheat the oven to 400°F/200°C. When you're ready to bake your tart, add the feta, eggs, and milk to the greens mixture, stir it up, and pour it into your prebaked tart shell. Bake for 30 to 45 minutes or until the custard is set.