Grilled Brie, Pear and Prosciutto Sandwich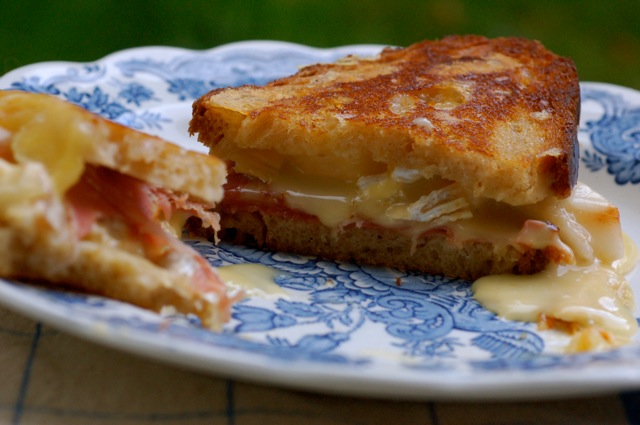 When the Twitter Letslunch bunch suggested a grilled cheese sandwich for October, I couldn't have been more excited. I LOVE grilled cheese sandwiches, from plain old cheddar  to the more Frenchy-inspired grilled Comté, which I've been enjoying lately (mainly because I don't want to walk the extra two blocks for cheddar at the cheese shop down the street). Give me a loaf of good, country-style bread (in this case, Poilane's wonderful sourdough), a block of cheese and some butter, and I'll go to town.
All summer long, I ate grilled cheese sandwiches with tomatoes and bacon, but I didn't want to post that, because it seemed too much like a BLT. I thought about a Croque Monsieur, too, but decided that I'd rather do something more fallish.
Enter the grilled brie, pear, and prosciutto sandwich, my newest tribute to cooler weather and crunching leaves underneath my boots.
I used Brie de Meaux, the sweet and creamy, slightly nutty raw cow's milk cheese from the nearby town of Meaux, just 50 kilometers east of Paris, where it's been made since the 8th century (Charlemagne wrote about it in his journals). It's only one of two cheeses in France that claim the name, brie (the other is Brie de Melun, which isn't far from Meaux), and Brie de Meaux is often called the "king of cheeses," perhaps because Louis XVI asked for a nibble of his favorite fromage before he was executed.
Cheese and guillotines. Isn't French history fun?
Of course, if you can't get your hands on this particular brie, use what you can.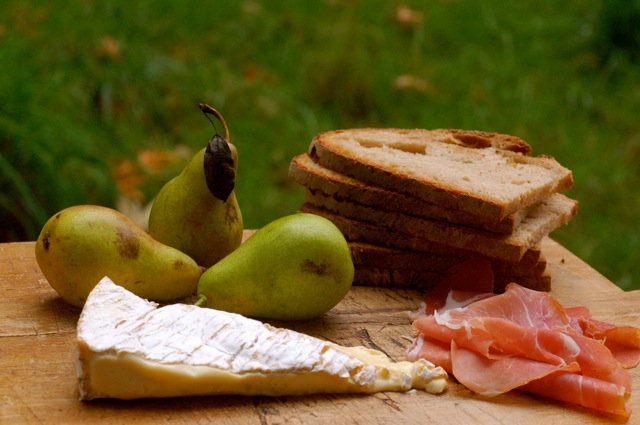 Ditto on the pears. I bought some big, fat Comice pears the other day, but they were still too hard for eating, so I ran to the market and found these lovely, petite pears that'll fit in the palm of your hand — a variety that I've never heard of, called "Louise Bonne au Beurré Hardy." I can't imagine a pear with a name like that not being absolutely delicious. Turns out, they are as delicate and sweet as the pear man said that they'd be.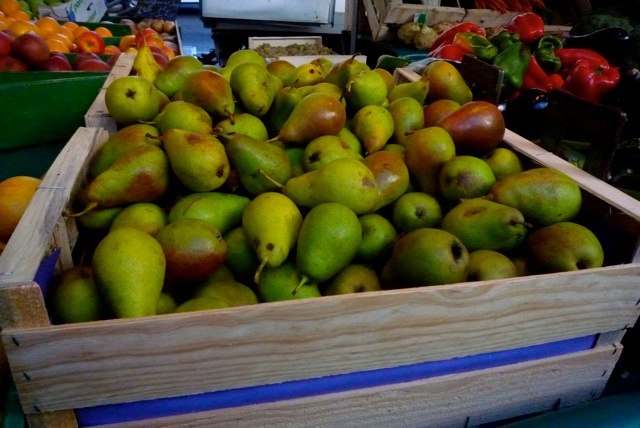 So simple!
Creamy, melty cheese + a sweet, ripe pear + slightly salty proscuitto = the perfect fall sandwich.
Here's what the others came up with:
BlogWellDone's Buffalo Chicken Grilled Cheese with Chicken and – bonus! — his Grilled Colby Jack, Black Forest Ham and Pickles
BonVivant's Mousetrap
ShowFoodChef's Breadless Grilled Cheese Sandwich
A Tiger in the Kitchen's Cheddar & Blue with Asian Pears and Rosemary Honey
Dreaming of Pots and Pans' Grilled Gouda and Provolone on Nine-Grain Bread with Truffle Oil
Free Range Cookies' Oven-Grilled Sandwich
Grilled Brie, Pear and Proscuitto Sandwich
Makes one sandwich
1 tablespoon melted butter
1 ripe pear, cored, peeled and sliced
2 thin slices prosciutto
1 3-inch wedge of brie
2 slices country bread
1. Brush half of the melted butter on one slice of the bread, and lay it down on a plate or your prep area, butter-side down.
2. Layer the ingredients in this order: brie/pears/prosciutto. You want to keep the wet pears away from the bread, and by doing it this way, the brie and prosciutto will keep the bread dry.
3. Put a skillet on the stove-top and turn the heat on medium. When it's warm, put the sandwich in the skillet, butter-side down, and press down every now and then while it cooks. When it's ready to flip to the other side, brush the rest of the butter on the top of slice first, and give it a flip. Let this cook for a few minutes, and eat immediately.
Cowgirl Tip: Brushing any grilled cheese sandwich with melted butter ensures even browning and crispness.