Homemade Hummus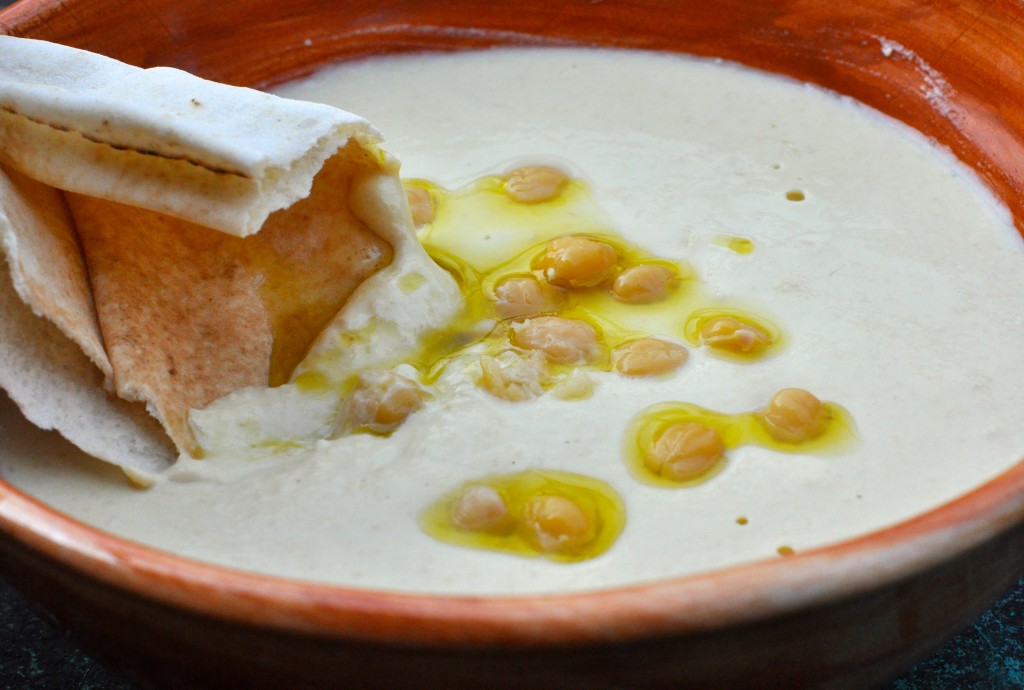 I'm as DIY as the next gal, and I used to make my own hummus, but sometime in the 90s, when you could find it anywhere, I stopped. I started buying the ready-made stuff. That was probably several hundred dollars of hummus ago.
This hit me, the wasted money on hummus, particularly hard last week, when the security guard at Orly Airport swiped my teensy 250 gram container that had never been opened (about 9 ounces) and there I was, left without a snack for the journey to Madrid, then Miami, and then, to Texas (I know. Please don't ask).
I'd just spent 5 euros and some change on this hummus at the Monop in Paris, and I was fine with that because I figured it would be an easy, fun thing to eat on the plane. I even packed pita. But my hummus was tossed in the trash, along with so many equally threatening bottles of water that my fellow travelers had forgotten to remove from their carry-ons.
For me, the Orly incident was the last straw. I vowed to stop paying so much for puréed chickpeas and go back to making my own.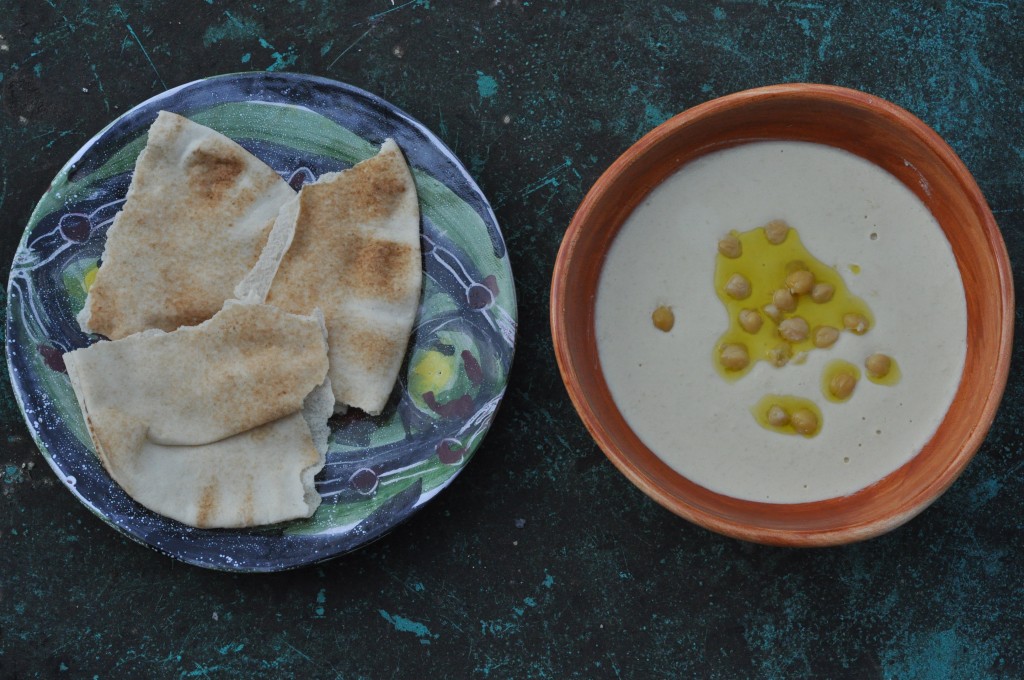 It is, as you might imagine, not a big deal to make. Nor is it expensive. I paid $1.35 for a 1-pound sack of dried chickpeas and about $6 for a 1-pound jar of tahini, which should yield about 10 batches, give or take.

But it is not quick. You must plan ahead. You must soak those suckers overnight with a whole bunch of water and then boil them up for about an hour the next day. Then – and here comes the fun part — you'll want to pinch off the "skins," if, that is, you want the smoothest and creamiest of all hummuses.
It takes some time.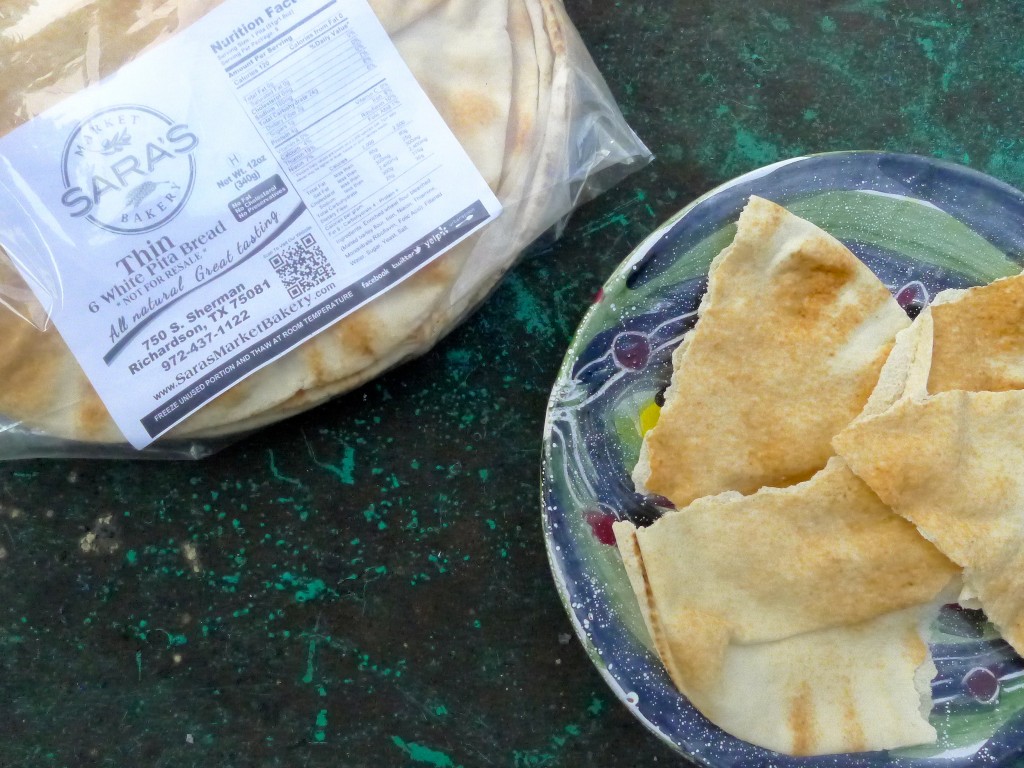 Besides the stuff itself, the other factor that's key to my enjoyment of hummus is a thin pita, one that's fresh and pliable and able to be torn and toasted. I like my pita crisp.
I found some. Right here in Dallas. Well, actually Richardson. Sara's Market & Bakery has fresh-baked pita in two sizes every day. I paid $1 for a package of six, which is exactly what I was paying for pita in Paris — and this Sara makes Paris-worthy pita, if that makes any sense at all to anyone (but me).
Sara's Market is a full grocery store that stocks all sorts of Middle Eastern and Arabic staples, from dates and date paste (which I bought) to couscous and an enormous variety of olives, teas, and dried peas, beans, and grains. There's also a small butcher shop here — most of the meats in the case are Texas-raised lamb.
For years, my yoga studio in Paris was located in Belleville, a mostly North African neighborhood, and I shopped the market after class two times a week, and often popped into the adjacent stores for dried dates and nuts and buttermilk (lait ribot). I bought fragrant bundles of mint and cilantro for 50 centimes apiece, and staples like carrots, celery and onions, which I carried home to the other side of town, where grocery prices are much higher.
Until I'm back in Paris, I'll be shopping at Sara's.
As strange as it may sound, going to Sara's Market & Bakery in Richardson feels like home.
Homemade Hummus
Makes about 3 cups
         1 pound of dried chickpeas
         a pinch of baking soda
         3 tablespoons of olive oil
         3 heaping tablespoons of tahini (sesame seed paste)
         2 tablespoons of lemon juice, plus zest of 1/2 of a lemon
         1 clove of garlic
         ½ to 1 teaspoon of salt
1. Soak the chickpeas overnight with a pinch of baking soda added to the water.
2. When ready to cook the chickpeas, rinse them and put them in a large pot and add just enough water to cover them. Bring them to a boil and let them boil for 45 minutes to 1 hour, or until most of the skins have started to come off and the peas are soft to the touch. Rinse them in cold water, remove the rest of the skins by pinching their little noses (the pointy ends), and pushing the chickpeas out.
3. Put 2 cups of the naked chickpeas (don't look!) into your food processor along with the rest of the ingredients and purée until it's smooth and creamy. Taste as you go (I like my hummus slightly lemony, which is why I add zest as well as juice) but hold back on adding too much extra garlic or salt, since these flavors will intensify in the fridge. Refrigerate your hummus for an hour or so before serving. I like to serve mine with an additional swirl of olive oil on top and a few extra chickpeas.