Indian-Style Broccoli Soup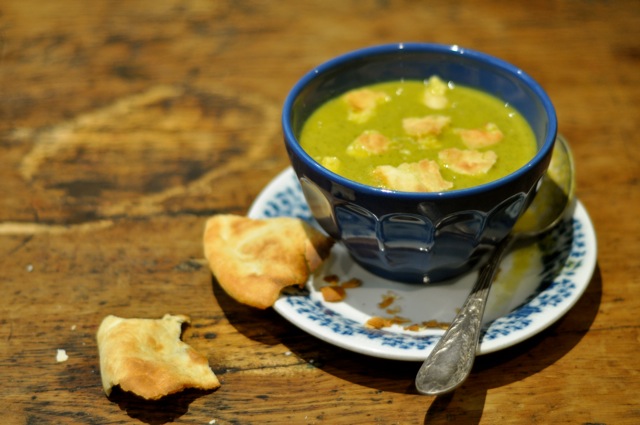 When you wake up to dark gray skies and a forecast with a high of less than zero, your whole day becomes about how to keep warm. For me – and for the population of Parisiennes over 80 — that means long underwear from the store Damart, perhaps the tackiest store in all of Paris. But even for this once-chic cowgirl, fashion takes a backseat to survival when winter gets this serious. Besides being the go-to separates shop for frumpy Frenchies, Damart is probably best known for making the warmest underthings imaginable. So last week, before I left for Brussels, where it was even colder, I made the trek to Damart and filled my basket with all sorts of tees and long things guaranteed to keep me warm.
And I started making a whole lot of soup.
And as y'all know, X does not like broccoli.
But I had a rather large head of broccoli in the fridge the other day and I wasn't going to let it go to waste. The broccoli-hater in the house will eat broccoli if it's in a stir-fry, and has, on occasion, not been able to detect my favorite cruciferious veggie when it's blended into a soup — et voilà — I had my solution.
I figured I'd hide the broccoli flavor by distracting X with Indian spices. He'd be so happy to have Indian food again, he wouldn't notice the fact that the soup would be pretty much 100% broccoli.
I was totally right. The leftover naan bread I'd made a few days before made for great croutons, too.
I plan to do the same thing with cauliflower soon. But please don't mention this to X.
Indian-Style Broccoli Soup
Makes 4 servings
olive oil
1 clove of garlic, minced
1 carrot, diced
1 large head of broccoli, florets removed, and stalk peeled and chopped into 1-inch pieces (no need to waste the stalk; it tastes great, too)
4 cups/1 litre of vegetable stock or water
½ teaspoon of garam masala (see Cowgirl Tip)
⅛ teaspoon of cayenne
sea salt and pepper
naan bread, see recipe here
1. Drizzle a little olive oil in your soup pot and add the garlic. Turn the heat to medium-low and cook just until you can smell the garlic. This won't take but a minute or two. Now add your carrots, stir, and let them cook a bit.
2. Toss in the broccoli and stems, the water, garam masala, cayenne, a pinch of salt and pepper, and cover. Let this cook for 15-20 minutes or until the broccoli and carrots are slightly soft but not mushy. Pour the mixture into a blender and blend until smooth. Add back to the pot, and either warm through to serve immediately, or let cool, refrigerate, and serve later. Either way, your old pieces of naan bread make great soup croutons.
Cowgirl Tip: You can find garam masala — a mixture of spices, including pepper, cumin, nutmeg, anise, and coriander — at any Indian food store.