Italian Breakfast Cake: Torta Ace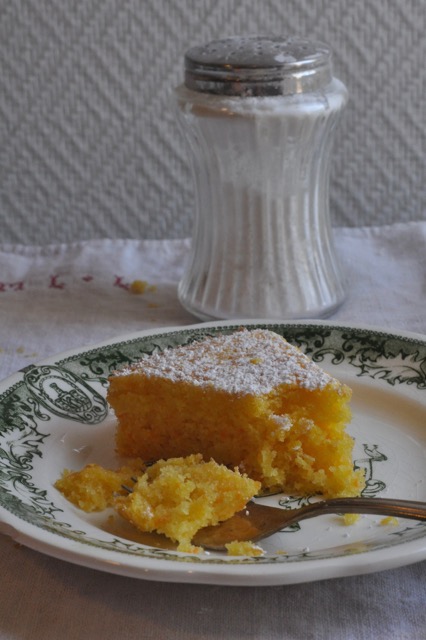 What do Italians eat for breakfast, along with the best pastries in the world, the ricotta stuffed and sea shell-shaped sfloliatelle? Repeat after me (and roll the "r" if you want to sound autentico): TORT-ah Ah-CHAY.
I saw this unassuming sugar-dusted cake on the breakfast buffet while I was staying at the Grand Hotel Excelsior Vittoria in Sorrento recently and asked what it was. A mash-up of carrot, lemon and orange cake, the "ace" turns out to mean "arranciata, carrote," and for the e, well, it doesn't relate at all to limone, which is the other main ingredient here. Or, I was also told, it might be for the three vitamins A,C, and E.
Which I'm going with, since we have orange, lemon, and carrots in this cake, along with olive oil, making this one of the healthiest choices possible for a morning go-with-your-second-cappucino snack.
It's as easy to make as it is to eat. Strawberries on the side would be a nice idea, or any other kind of berry, but I was so excited to have this cake on a plate in front of me again, I didn't bother with add-ons. I prettied it up a bit with a dusting of powdered sugar, and grabbed the nearest fork.
Torta Ace
Makes 1 (10 ½-inch) cake 
From the Grand Hotel Excelsior Vittoria in Sorrento, Italy
butter, for greasing the pan
⅔ cup/130 grams extra virgin olive oil
1 ⅓ cup/250 grams granulated sugar
1 teaspoon vanilla
1 cup/200 grams finely grated carrots (about 2 medium ones)
3 large eggs
1 lemon, juiced (about 1/3 cup/70 g) and zested
1 orange, juiced (about 1/3 cup/70 g) and zested
2 ¾ cup/250 g cake flour
⅓ cup/50 grams potato flour
2 teaspoons baking powder
¼ teaspoon sea salt
powdered sugar, for dusting the cooled cake
Preheat oven to 350°F/180°C and line a (10 1/2-inch) springform pan with parchment paper. Generously butter the parchment paper and the sides of the pan. Wrap the bottom with foil in case of leakage and place the pan on a cookie sheet.
In a bowl, mix together the oil, sugar, vanilla and grated carrot.
Add the eggs, zest and juice of lemon, zest and juice of orange and mix until the batter is a gorgeous light yellow.
In a small bowl, whisk together the cake flour, potato flour, baking powder, and salt. Add this to the batter, gently mix until blended, then pour into your prepared springform pan. Bake for 30 minutes or until a cake tester inserted into the middle comes out clean. Let cool for 15 to 20 minutes in the pan, then carefully remove the cake and let it continue cooling on a wire rack. Dust with powdered sugar right before serving. Eat.