Lazy Bones Salad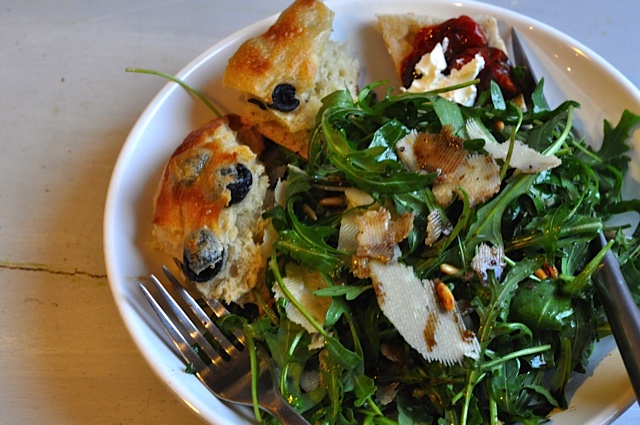 About a half-bag of roquette. Parmesan curls. A small handful of pine nuts, lightly toasted. Some balsamic vinegar and good olive oil.
The add-ons: leftover olive fougasse, warmed in the oven till crisp, and the end of the baguette from the day before that, with fresh chèvre and oven-roasted cherry tomatoes.
Perfect for those nights when you're too tired to cook and it's too late to make something big.
Many nights.
When I want to go to a lot of trouble, I'll fry an egg and put it on top. I love how the rich, runny orange yolk mixes with the vinegar.
I buy my eggs from a woman at my neighborhood market who only sells eggs and you can buy two for 70 centimes if you like, moyen or gros. I like the moyen because they are quite large enough, thank you very much, for what I use them for. Batches of cookies, cakes, and fried eggs, mostly.