Lemon Cake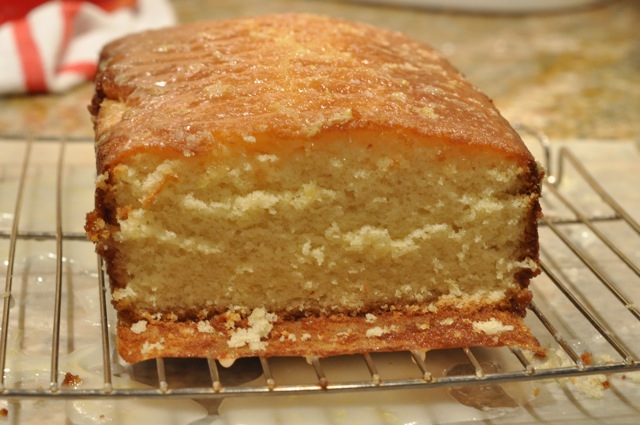 Back in February, when Mom and I were iced in for four days and unable to go to the store, things were starting to get pretty dicey, as you might imagine. We were running out of  half-and-half. Getting low on frozen blueberries, which I was using to make smoothies. And we were down to just four lemons.
Of course we had a freezer full of hearty homemade vegetable soups and chili, but when the weather gets super-cold and the skies are gray, I want something that'll cheer me up, make me think of brighter days ahead. Lemony things.
For years, my favorite lemon cake has been Maida Heatter's East 62nd Street Lemon Cake, but I didn't have this recipe — or the cookbook, "Book of Great Desserts" —  with me. I'd just bought Amanda Hesser's "The Essential New York Times Cookbook" (which doubles as a yoga block in a pinch, I found out), thought I'd see what I could find in the cake section. Well. There it was. She even talked about the East 62nd Street Lemon Cake in the notes, saying that if you liked that recipe, you'll love this one – that it's even more lemony and moist.
I was skeptical. Was it possible to dethrone my favorite lemon cake, just like that?
I put Mom on lemon zesting duty, and made the cake – with what we had on hand, mind you. Since the recipe made enough cake for two loaf pans, I cut this back to one, and hoped for the best. We didn't have buttermilk, so I used whole milk instead.
What I love about this cake is the lemon triple-threat: there's zest in the batter; a lemon juice syrup that's poured onto the cake while it's warm; and finally, as if that's not enough, a lemon glaze on top of that. I went one step further, too, and added the extra lemon zest to the lemon glaze.
Was it too much? Absolutely not.
Mom and I loved it, and had a slice for dessert, and then made it our breakfast cake the next morning. And the morning after that, too.
It didn't last long. Thankfully, neither did the ice.
Now that I'm back in Paris and the cold weather is behind me, I'm thinking of making this again – and heaping it with fresh strawberries.
Lemon Cake
Adapted from "The Essential New York Times Cookbook" by Amanda Hesser
Makes 1 loaf
1 ½ cups all-purpose flour
¼ teaspoon baking powder
¼ teaspoon baking soda
½ teaspoon kosher salt
1 stick (1/2 cup) unsalted butter, softenened
1 cup sugar
2 extra-large eggs, at room temperature
¼ cup grated lemon zest (if you have any more, just sprinkle it in the glaze, like I did)
¼ cup lemon juice
½ cup whole milk or buttermilk (I used milk because that's what I had)
1 teaspoon vanilla extract
Lemon Syrup:
¼ cup sugar
¼ cup lemon juice
Lemon Glaze:
1 cup confectioner's sugar
2 tablespoons lemon juice
1. Preheat oven to 350 degrees. Grease and flour one 8 1/2-by-4 1/4-by-2 1/2-inch loaf pan and line the bottom with parchment paper – or, if you're like my mom, just line the bottom of your pan with waxed paper to fit the bottom only (which works just fine, I found out).
2. Sift together the flour, baking powder, baking soda, and salt in a medium bowl.
3. In a stand mixer, beat the butter and the sugar on high until fluffy, for about 5 minutes. Turn the speed down to medium and add the eggs one at a time (after each egg, I mixed about 1 minute). Now, add the lemon zest.
4. Whisk the lemon juice, milk or buttermilk, and vanilla in a small bowl.
5. Starting and ending with the sifted flour mixture, alternatively add the flour, then the wet ingredients to the large mixing bowl. Pour the batter into the pan and bake for 45 minutes, or until a cake tester in the center comes out clean. Remove and let the cake slightly cool in the pan on a rack.
6. After about 10 minutes, remove the cake from the pan and put it back on the rack. It should still be warm, but not hot. Now, simply whisk the 1/4 cup sugar and 1/4 cup lemon juice together, and slowly spoon this lemony syrup on top, so it soaks into the cake.
7. Once the cake is completely cool, sift 1 cup of confectioner's sugar into a small bowl, whisk in the 2 tablespoons of lemon juice, and drizzle the lemon glaze on top of the cake. It sounds like too much, but I promise, it's not. It's perfect.
Cowgirl Tip: Like many cakes, this is better – and more lemony, even — the next day.