Lentils and Quinoa with Slow-Roasted Tomatoes, Baby Spinach and Mushrooms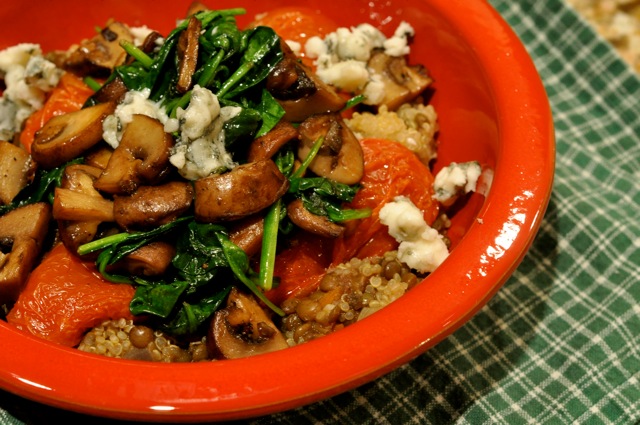 Iceapalooza, Day 2: Mom and I didn't plan on being iced in for more than a day, and hadn't bought groceries for more than what we needed for our spaghetti sauce. But Mom being Mom, she had lots on hand, anyway, so we weren't in danger of going without.
On top of her  super-stocked pantry, I'd brought some du Puy lentils from France, and the week before, picked up some quinoa at Whole Foods that I wanted to make for her. I figured that the two of them would be a super-protein packed dinner, and would be easy to throw together, too.
In the fridge, we had a package of baby spinach, some Baby Bella mushrooms, and roasted tomatoes that she'd made the week before, and I thought all of them would be nice together on top of a lentil-quinoa base. Mom always buys Roquefort when she's in Dallas, so I crumbled some of that on top of it all, along with some lemon zest, too, to brighten it up.
Mom had never eaten anything like this before and I figured that she'd like it, but wasn't sure.
"It's wonderful," she said, after her second or third bite. "I love these lentils. The taste reminds me of black-eyed peas."
Full disclosure: I've been known to add sliced, pickled jalapenos — or Tabasco's jalapeno sauce — to my lentils, as I often do with black-eyed peas (and pizza, burgers, scrambled eggs, and just about anything else I can think of).
Lentils and Quinoa with Slow-Roasted Tomatoes, Baby Spinach and Mushrooms
Maks 2 dinner-size servings
2 cups cooked lentils, recipe here
1 cup cooked quinoa*
2 tablespoons olive oil
1 tablespoon butter
10 oz. Baby Bella mushrooms
sea salt
freshly cracked pepper
6 oz. baby spinach
8 slow-roasted tomatoes, recipe here
1 teaspoon lemon zest, for serving (optional)
2 oz. Roquefort
1. In a medium bowl, mix 2 cups of the cooked lentils with 1 cup of the cooked quinoa. Gently warm together in a skillet if the lentils and quinoa are not still warm.
2. In a large skillet, add the 2 tablespoons olive oil, 1 tablespoon butter and turn the heat on medium. Cook the mushrooms until they're browned on the edges, and add a pinch of salt and pepper as you go. You may need to do this in batches; it's important not to crowd the mushrooms, or they won't brown properly. Add the spinach to the cooked mushrooms in the large skillet, turning gently with prongs until the spinach wilts.
3. Divide the warm lentil-quinoa mixture between two bowls, top with half of the slow-roasted tomatoes, then the spinach and mushroom mixture, and sprinkle with lemon zest and Roquefort crumbles.
*To make 1 cup cooked quinoa, bring 1 cup of salted water to boil, add 1/2 cup dry quinoa, turn heat to simmer, cover, and set timer for 10 minutes. Let rest for another 5 minutes before you fluff with a fork.