Les Fines Gueules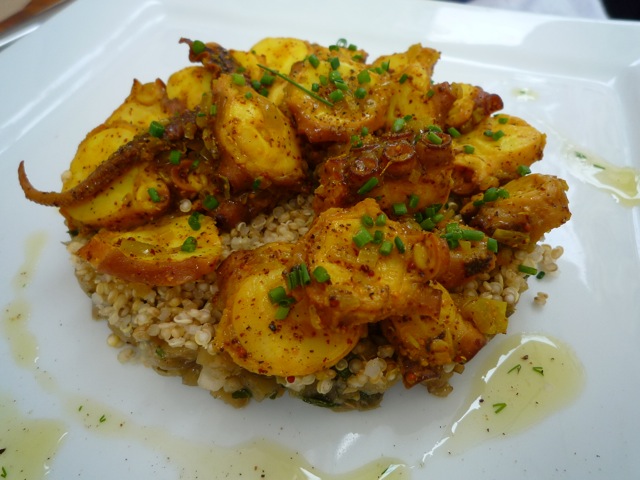 It seemed appropriate to be meeting James Beard award winner and culinary superstar Dorie Greenspan for lunch at a place called Les Fines Gueules, which is French for "refined mouths," "gourmets," or even more loosely, "good taste."
Good tasting things, whether it's sampling apricot eclairs with Hugues Pouget of the city's newest pastry shop, Hugo & Victor, or noshing on Sadaharu's Aoki's black sesame-chocolate sable ice cream sandwiches, are what Dorie gets up in the morning for — after a very milky, sugary coffee, that is.
After her blinding success with a six-day pop-up, CookieBar, in Manhattan earlier this year with her son, Josh, and now, on the eve of the launch of her newest book, "At My French Table," which comes out this October (you can preorder now by clinking on the hyperlink), you'd think that Dorie would be taking a bit of a breather, but she's not.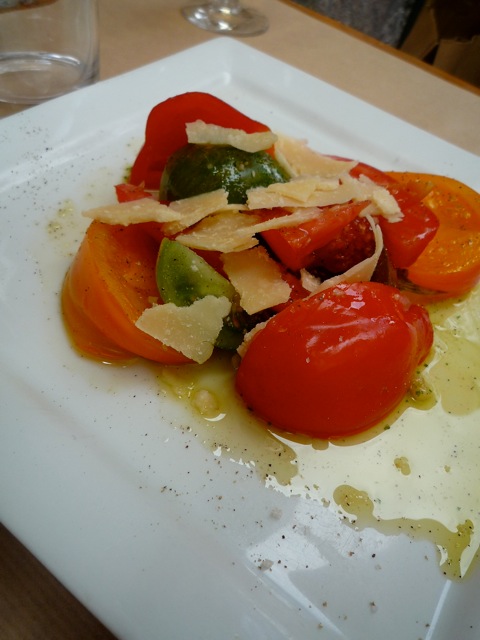 Another cookbook is already in the works, and soon she'll be packing for a 15-city tour in October, which includes a stopover to my old stomping grounds (Dallas/Fort Worth for those of y'all who don't know this), where she'll be whipping up recipes from her new book at the Central Market stores. (Texas people, please check your local Central Market websites for the exact dates and times.)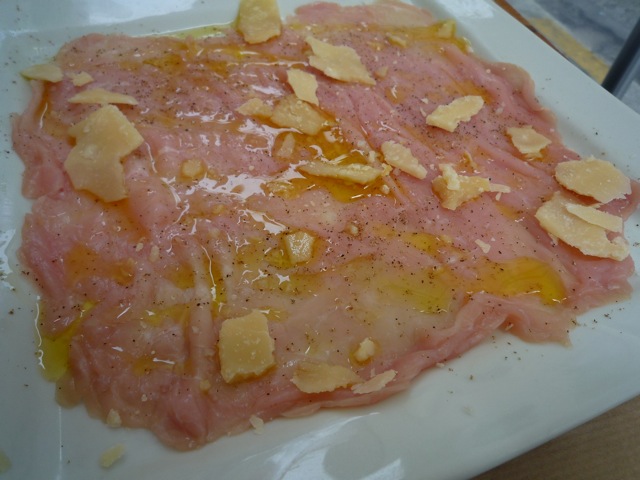 To be honest, I didn't plan on writing a post about having lunch with Dorie — and certainly didn't think that we'd spend half the afternoon together, laughing and drinking Vouvray (OK, that was me), but we did, and there you are.
We had lunch at this little place at Dorie's suggestion, because all of the restaurants that I'd thought about going to had already closed up for les vacances. (FYI, y'all: August is not a kind month for foodies in Paris.)
Lucky for us, this tiny corner bistro, with Frenchy/Italian/island -inspired dishes created by a Japanese chef (!), was not only open — and always is, year-round, seven days a week — it was perfect. And delicious.
From top to bottom, that's octopus, in the traditional Mauritius Vindaye-style, laced with saffron and other spices, served over a layer of eggplant/onion and of quinoa; a collection of heirloom tomatoes with olive oil and Parmesan; and veal carpaccio. Not shown but on the table, too, was a basket of pain de campagne, that hard-to-find, old school brown bread that's nutty-tasting and with a crust that's so crunchy it's almost burned. In other words, exactly as it should be.
As was our afternoon.
Les Fines Gueules
43 rue Croix des Petits Champs, 1e
01 42 61 35 41
ALSO OPEN IN AUGUST:
Both of Yves Camdeborde's places; his bistro, Le Comptoir, and tapas bar, Avant Comptoir. At Le Comptoir, you'll find some of the best brandade de morue this side of the Pays Basque; Avant Comptoir will instantly transport you there. 9 and 3 Carrefour de l'Odeon, 6e, 01-43-29-12-05
Christian Constant's corner bistro, Cafe Constant. If piperade's on the menu, don't miss it. 139 rue St. Dominique, 7e, 01-47-53-73-34
Brasserie Lipp, for people-watching (French politicians, actors) and great steak tartare. 151 blvd St. Germain, 6e, 01-45-48-53-91
Le Petit Josselin, the little sister of Creperie Josselin, where you'll find what many consider the best crepes in the city. Save room for the salty caramel dessert crepe. 67 rue du Montparnasse, 14e, 01-43-20-93-50
Le Relais d'Entrecote, the city's most famous all-you-can-eat steak frites place. 20 bis rue St. Benoit, 6e, 01 45 49 16 00