Lime Poppyseed Cake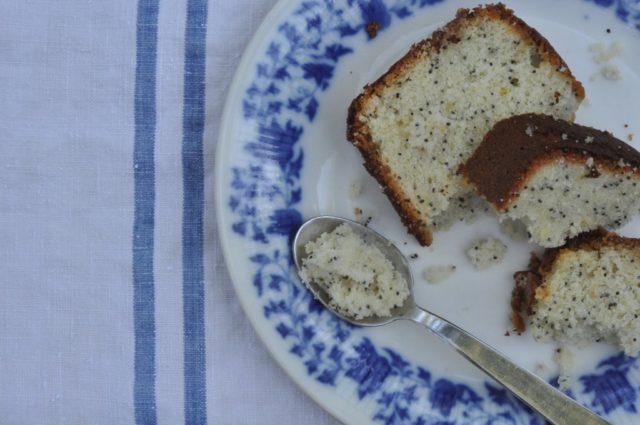 I've wanted to make this for a long time, since my coffee-filled, editing-the-book-manuscript afternoons at Kooka Boora (now KB Cafeshop) in Montmartre, when I nearly always had a thick piece of a lemony poppyseed cake with my triple lattes. I always wondered how it would taste if the lemon were lime.
Swapping out the lime for the lemon and adding poppyseeds to a recipe I've tried before totally worked. I love this cake more than I thought I would.
Then again, I'm a lime girl. Limeade or lemonade? Not even a decision. Margaritas? I think y'all know how I feel about those.
But this cake…limey, moist, and sorta perfect, actually. I had my first piece after dinner, and it was still slightly warm. The next day, even better. With coffee. Naturellement.
A word about the spoon in the photo as opposed to a fork. This is something that X always did — he'd use a small spoon for any dessert in the world — and I remember thinking how odd it was.  Spoons for cakes? How silly.
Then, like so many French things I thought were completely crazy (like a monthly metro card that only begins on the first day of the month as opposed to a 4-week card; stores closing at lunchtime), at some point, I started using a smallish spoon, too. I've learned it's a really good crumb scooper.
Now I can't imagine why the metro wouldn't start on the first of the month, or a Monday only for a weeklong pass, and why on earth would a store be open during lunch?
Lunchtime is lunchtime, I've learned, and cake time, well, that's all the time.
Lime Poppyseed Cake
Makes 1 loaf
Adapted from a recipe in The Essential New York Times Cookbook
             1 ½ cups of all-purpose flour
            ¼ teaspoon of baking powder
            ¼ teaspoon of baking soda
            ½ teaspoon of sea salt
            1 stick/½ cup of butter, softened
            1 cup of sugar
            2 extra-large eggs, at room temperature
            ¼ cup of grated lime zest
            ½ cup of milk or buttermilk
            ¼ cup of lime juice
            1 teaspoon of vanilla
            3 tablespoons of poppyseeds
            1 cup of powdered sugar
            2 to 3 tablespoons of lime juice
1. Preheat your oven to 350°F. Line the bottom of an 8 1/2-by-4 1/4-by-2 1/2-inch loaf pan with parchment paper – or, if you're like my mom, just line the bottom of your pan with waxed paper to fit the bottom only (which works just fine, I found out).
2. In a medium bowl, sift together the flour, baking powder, baking soda, and salt.
3. In your stand mixer, beat together the butter and the sugar until fluffy, for about 5 minutes. Turn the speed down to medium and add the eggs one at a time (after each egg, I mixed about 1 minute). Now, add the lime zest.
4. In a small bowl, whisk together the lemon juice, milk or buttermilk, and vanilla.
5. Starting and ending with the sifted flour mixture, alternatively add the flour, then the wet ingredients to the large mixing bowl. Mix in the poppyseeds. Pour the batter into the pan and bake for 45 minutes, or until a cake tester in the center comes out clean. Remove and let cool in the pan on a rack.
6. While the cake is still warm, sift 1 cup of confectioner's sugar into a small bowl, whisk in the 2 tablespoons of lemon juice, and drizzle the lemon glaze on top of the cake.