Macaron Class at La Cuisine Paris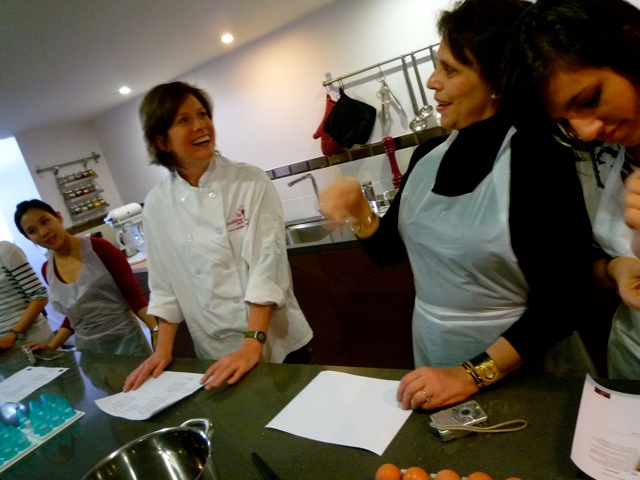 I have a confession to make about le macaron: for a long time, I didn't like them. But oh, how I tried! For years, I sampled macarons all over France — at weddings, where they're often made into a conical tower, resembling a Christmas tree; at patisseries in cities and in the country — and with few exceptions, they were always a disappointment; two soggy cookie outsides with a gooey filling. Bleh.
Not long ago, I was at a dinner party where Diane Anthonissen (our teacher, above, at La Cuisine Paris), brought some of her macarons for dessert. And in that first bite of a pale pink cookie– with a perfectly crisp outside and a light and delicate inside, with a creamy chocolatey-raspberry filling — like Marie-Antoinette, the macaron's most famous addict, I, too, became a fan.
Macarons are simply meringue cookies amped up with a ground almonds and flour, with ganache middles, but as it goes with anything meringue, the variables working against a perfect result are endless. Humid weather, egg whites that are too fresh (best to use old ones), and hitting the right temperature of the sugar-water mixture to make Italian meringue — precisely 118 C — and then letting the mixture cool to 50 C before mixing it with the ground almond-flour mixture. And opening and closing the oven door three times while baking – there's some kind of magic in that, too.
Is it any wonder that most macarons are awful, even in France?
Pierre Herme, the country's famous pastry chef who put his name on the map by adding a bit of salt to Laduree's croissants (where he was then working), is best-known perhaps for his wild-flavored macarons. Each season, he unveils a new "collection," fashion-show style, so before class last week, I decided to try his macarons out again.
I ordered the two new fall flavors — cassis and noisette prailine — along with olive oil and vanilla (which I've had before and forgot that I really liked), and chocolate-passion fruit (another one of his signature flavors). I took them home and tried them all, and decided that I'd been too hasty about the whole macaron business. Herme's little cookies were indeed wonderful. I just didn't like standing in line to get them.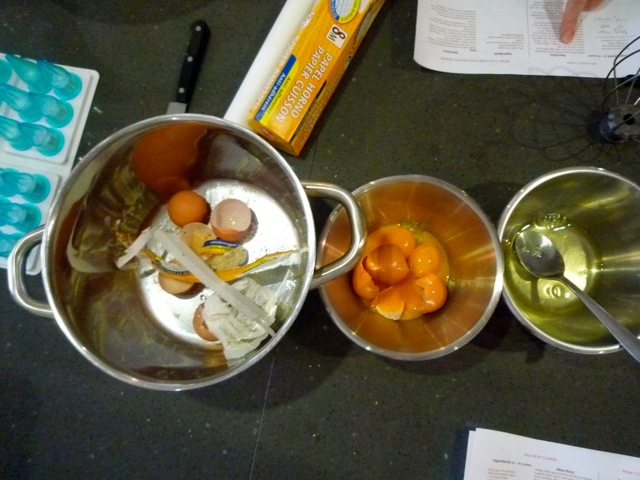 Imagine my glee when Diane said that the macarons that I and the 10 others who'd signed up for the two-hour macaron-making class at La Cuisine Paris on a recent Saturday afternoon were going to be making Pierre Herme's recipe.
All macarons, no matter what flavor, from pistachio to chocolate to raspberry to salty caramel, are made with the same cookie — what gives each macaron its unique taste is what's in the middle. And the rainbow colors? Well, that's just good old-fashioned food coloring.
Today, despite the rainy weather forecast,  Diane tells us that we're going to make two different macarons – raspberry-chocolate and raspberry-white chocolate — with pink cookies (I'm giving you the recipe for the chocolate-raspberry ones below.)
First, we make the two ganaches, which are really easy. Just boil up some whipping cream, then pour it over your chocolate, and add the butter. Mix it all up and put in in a pastry bag and slide into the fridge to cool or a half-hour or so.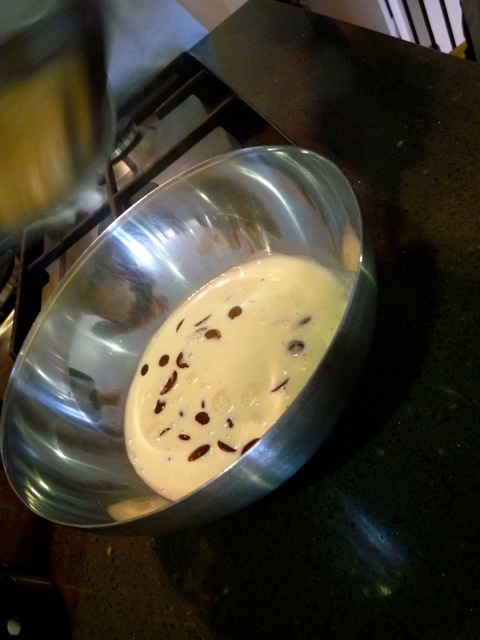 Then we spend the rest of the class making and baking the little cookies. They're probably not going to win any beauty contests, but they crunched just as they should, and even though we didn't wait the requisite time period to eat them (they're normally refrigerated for two days before eaten, so the ganache can soften the insides),  we all thought that they were just perfect – and there were enough so we each got boxes of our just-made macarons to take home.
To share (or not).
La Cuisine Paris offers classes in both savory and sweet French classics, in two large spaces on the Right Bank overlooking the Seine,  in an easy, non-cheffy format.
80 Quai de la Hotel de Ville
Paris 75004
+33 (0)1 40 51 78 18
Macarons
Adapted from a recipe by Pierre Herme
Makes about 70 macarons
INGREDIENTS
300 grams ground almonds
300 grams powdered sugar (in France, use the sucre glace extra fluide)
110 grams egg whites
few drops food coloring
300 grams sugar
75 grams water
110 grams egg whites
1 recipe dark chocolate ganache, recipe follows

1. In a large bowl, sift the ground almonds and the powdered sugar. Note: some chefs do this up to 3 times if it's humid.
2. In a small bowl, mix together 110 grams of egg whites with the food coloring. Pour into the large bowl with the ground almonds and powdered sugar and let rest for now.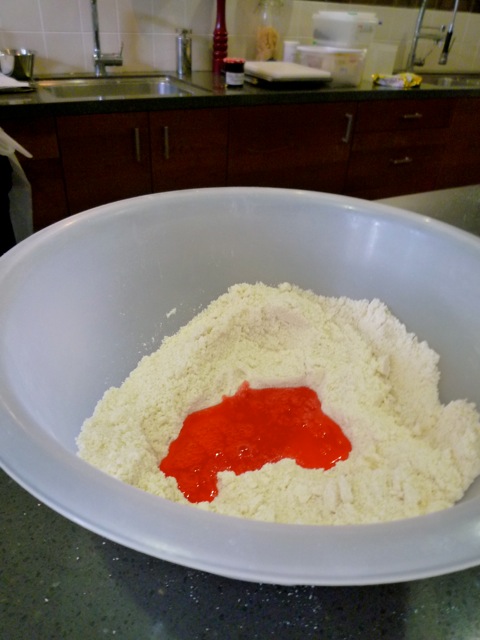 3. Make an Italian meringue. Bring the 300 grams of granulated sugar and 75 grams of water to a boil and cook to 115 C. Now, begin mixing on medium speed the other 110 grams of egg whites in a Kitchenaid mixer. Check the temperature again of the sugar-water mixture. It's ready when it's 118 C. If it's a little too warm, remove from the heat and let cool to 118 C. Now, slowly pour a stream of the hot sugar-water into the egg whites that are still mixing in the bowl (key here is to not stop beating the whites). Keep beating the whites until they're firm and glossy and the temperature has lowered to 50 C.
4. Now mix the food coloring-egg whites with the ground almonds and sugar. It'll form a thick paste.
5. Carefully fold the meringue into the paste. First, add about 1/4 of the meringue, making sure to completely incorporate all of the egg whites (you don't want streaks, which will form bubbles in the cookies).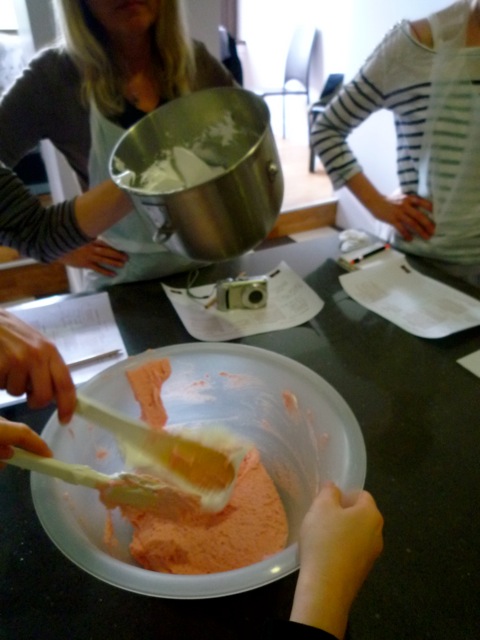 Keep adding a bit at a time, making sure to scrape down the sides and completely incorporate all of the whites. When you're about to add the last bit of meringue, use a spatula and be a bit more careful — the batter should fall off of the spatula easily now. Put the batter into one or two pastry bags and using an 11 cm tip, pipe onto silpat-lined (or parchment paper-lined) cookie sheets.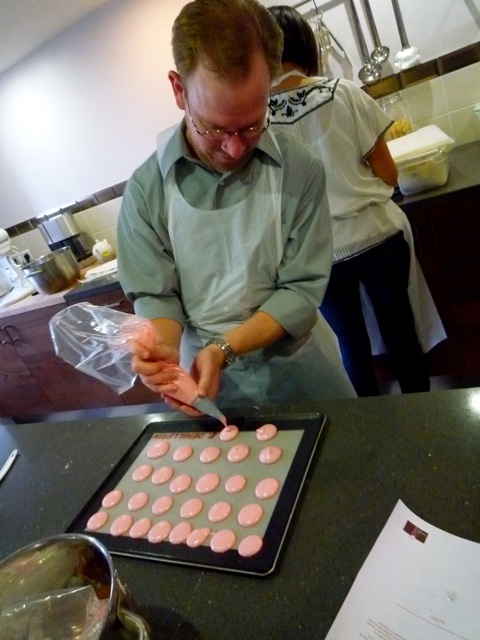 6. Put into a 160 C/convection oven and cook for about 12 minutes. You're looking for a "foot," a little crust that forms on the bottom of the cookie.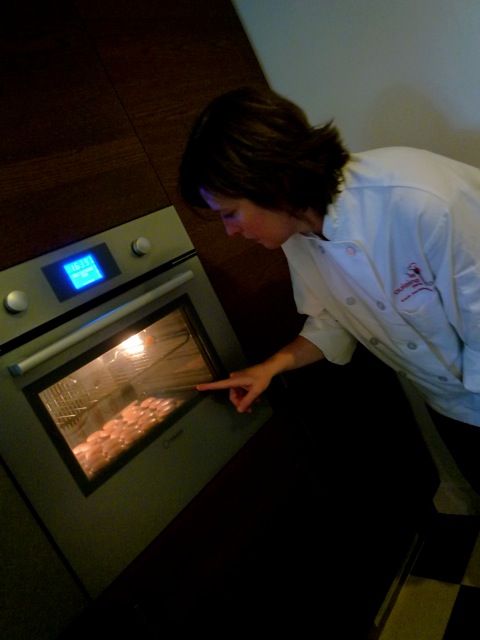 Remove and let cool on rack and remove from paper or silpat. Fill, and chill for 2 days before serving.
Chocolate Ganache for Macarons
Adapted from Diane Anthonissen, La Cuisine Paris
INGREDIENTS
150 grams whipping cream
150 grams dark chocolate (64% cocoa content minimum)
53 grams butter, cubed, at room temperature
Jar of seedless raspberry jam (you won't need all of this)
1. Chop chocolate into small pieces and put into a medium bowl.
2. Put whipping cream in a small saucepan and turn heat on medium-high. When it boils, pour the cream over the chocolate. Let this sit for a few minutes and when the chocolate has melted a bit, go ahead and stir to combine. Let the mixture cool a bit before adding the butter. Mix until smooth and shiny, and spoon into a piping bag with an 11mm tip. Refrigerate for 40 minutes or until you can work with the texture.
3. Spoon a bit of the raspberry jam on top of the ganache.
4. To assemble, pipe chocolate ganache onto one cookie and top with the other one (the key is to find two cookies that are the same size).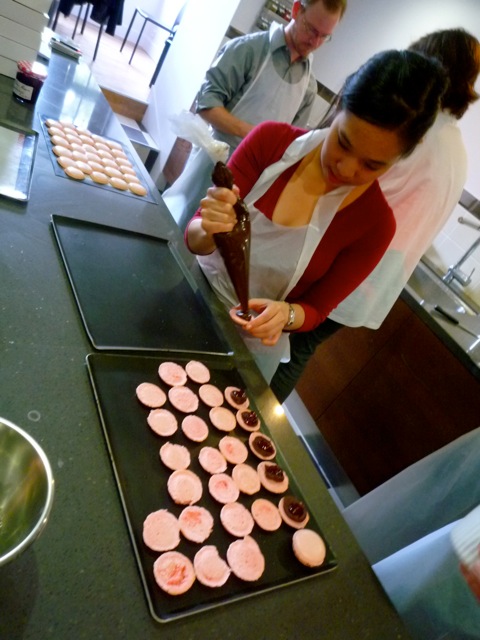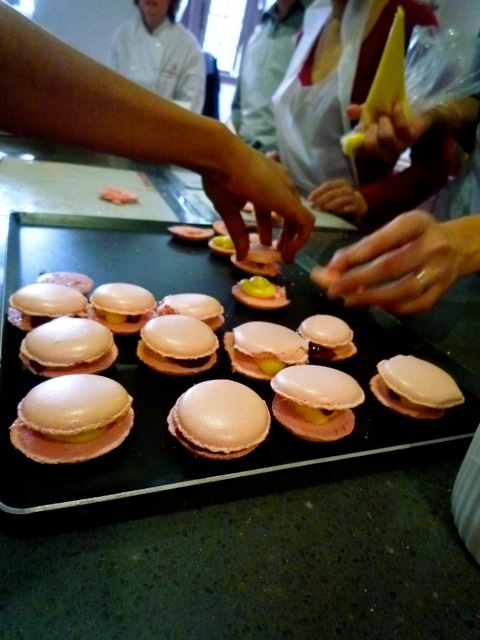 Ta da!