Mandarin Orange and Arugula Salad with Honey Vinaigrette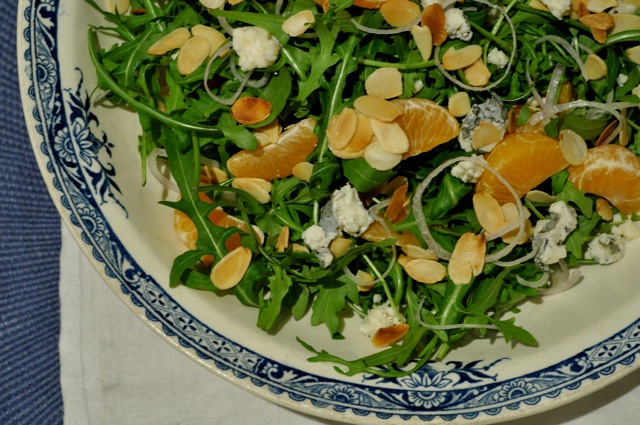 Crunchy. Salty. Peppery. Nutty. Sweet.
Today, dear readers, I give you the salad that's got it all. Right in the middle of winter, no less.
Oh how I love that.
I hope you do, too.
I've been mad about the little Mandarins lately – and who wouldn't be, when they're heaped up like bumpy orange mountains at the market, and they're practically giving them away at 1 euro a kilo? I can't stop buying them, can't stop eating them, can't stop thinking about how lovely they are, these cheerful little sunshiney orbs, in the midst of the coldest winter Paris has seen since 1969.
Or so they say.
For the record, I'm no longer going on and on about how much I love winter (I do love winter as long as it's not too cold, and not for too long). Winter, this year, has been completely unreasonable. Like an unwanted relative, it came too soon, without so much as a phone call to warn of its arrival, and it appears that it has moved in for good.
So thank goodness for the Mandarins, which are doing a darn fine job in brightening the gloomy winter days around here.
I don't mind telling you that I ate most of what you see in this rather large bowl for dinner the other night, and it lifted my spirits like you wouldn't believe.
Which is why I chose this salad for our healthy, get-the-New-Year-off-to-a-good-start #LetsLunch post today. Our little group has grown and we've gotten to know each other bit by bit over the last – gasp – year and a half, it's been bright, and fun, and lively all the way — it's been a great ride so far, hasn't it, y'all?
Can't wait to see what 2011 brings for all of us.
Here's what the others have posted:
Emma's Quinoa with Veggies
Rasha's Curried Black-eyed Peas, Brown Rice and Beer
Steff's Story of the Good, the Bad, the Frittata
Cheryl's Watercress Soup
Linda's Mesquite Date Muffins
Cathy's Avocado, Grapefruit and Shrimp Tartine
Mai's Spicy Cauliflower
By the way, f you're just joining in, you may also check out the goings on Twitter, by typing in the hashtag, #LetsLunch. If you'd like to be a part of the group, come on, then – the more, the merrier!
Mandarin Orange and Arugula Salad with Honey Vinaigrette
Makes 4 small or 2 large-ish servings
1 shallot, minced
1 teaspoon Dijon mustard
1 teaspoon honey
¼ cup sherry vinegar
½ cup grapeseed oil
sea salt
freshly cracked black pepper
1 shallot, thinly sliced
6 oz. arugula
4-5 Mandarin oranges, peeled, sectioned and big pieces of pith removed
2 oz. sliced almonds, toasted
2 oz. Roquefort, crumbled
1. Make the vinaigrette. Put the minced shallot, Dijon mustard, honey and sherry vinegar in a jam jar and give it a shake. Let it rest for 10 minutes, at least, before you add the rest. Then, add the grapeseed oil, and a pinch of sea salt and pepper, and give it a taste. If you need to add more salt or pepper, now's the time.
2. Assemble the salad. In a large serving bowl, put the arugula, orange pieces, almonds, Roquefort, and thin slices of shallot. At the very last moment before serving, drizzle about one-third of the dressing, gently toss, and taste.
Serve immediately. 
The leftover dressing will keep in the fridge for a few days.