Maple Glazed Cookies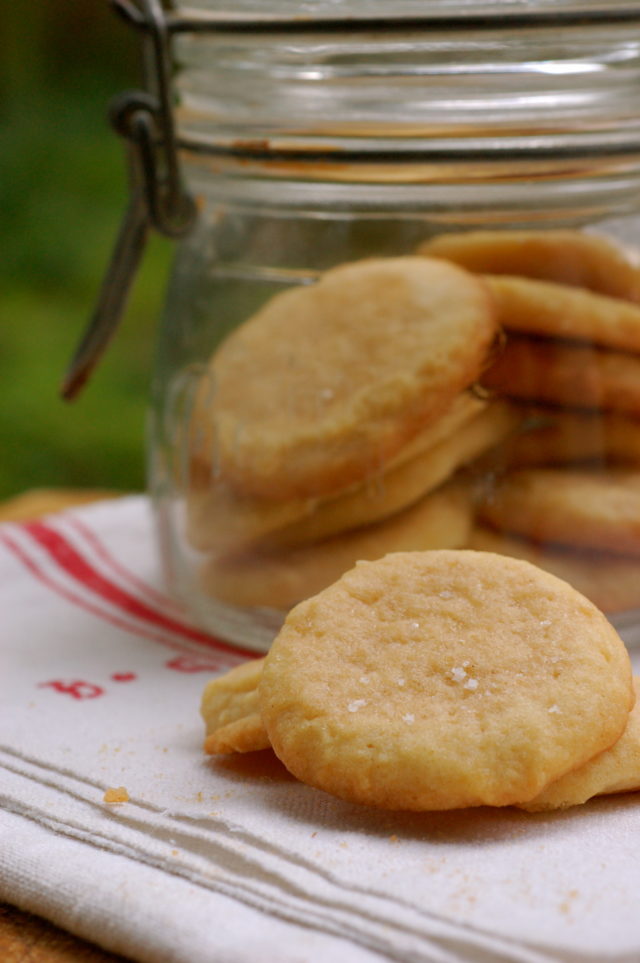 I know you're what you're thinking. Where's the maple glaze?
Well, it sort of sunk into the cookies, but it's there — just not sitting on top of the cookie, like glazes are supposed to, and like the photograph on Martha Stewart's website so beautifully demonstrated. (What did they use? A cookie glaze photoshop app?)
Truth is, these cookies were headed for the trash. I made them, waited for them to cool, as the recipe said, and then I spooned the reduced maple syrup on these little buttery cookies, just as I should have. Trouble is, the cookies soaked up the maple syrup like a Swing Ernie sponge, and soon I was looking at dozens of wet, soggy cookies on my counter that tasted, well, like mushy maple-syrup disasters. Tasty, but not exactly scoring high on the cookie scale.
"I'm throwing these away!" I said to X from the kitchen, where I'd spent the last hour and a half, mixing, scooping, and pressing down dough, then turning pans 7 minutes, exactly, into the baking time, so they'd be Martha-perfect.
"Don't throw them away!" he said from the sofa in the other room. "I'll eat them!"
So I reluctantly packed them up and put them away.
The next morning, out of curiosity, I decided to try one. Then another. After the fourth (or was it the fifth?) cookie, I decided that my cookie failure decree was premature. These may not look like Martha's, and they may not have a picture-perfect glaze, but they're one of the yummiest little cookies that I've ever eaten.
Here's the thing to remember. Wait, two things. First, be patient. They'll be good the next day, when they dry out, so no matter how much you think that they're trash-worthy, they're not. That's really the main thing. But onto more practical matters, remember to let the maple syrup cool down and thicken up before you spoon it on top of the cookies, and don't forget the sea salt — it makes all the difference.
Patience. I've got to find some of this. And fast.
Maple Glazed Cookies
Adapted from Martha Stewart's website
680 grams/24 oz/3 cups all-purpose flour
1 teaspoon course sea salt
225 grams/8 oz/1 cup unsalted butter, room temperature
225 grams/8 oz/1 cup sugar
35 cl/12 oz/ 1 1/2 cups maple syrup
2 large egg yolks
Preheat oven to 175 C/ 350 F.
1. In a medium bowl, whisk together the flour and the salt.
2. In a mixer, cream the butter and sugar until fluffy. Add 1/2 cup maple syrup and egg yolks. With mixer on low, slowly add flour.
3. Spoon batter onto parchment-lined cookie sheets using a small scoop or tablespoon. Dip the bottom of a glass in flour and slightly press down to flatten the dough to about a 1/4-inch thickness. Bake for 12-15 minutes (or a bit more – you want the edges to brown a bit), rotating the cookies halfway through. Let cookies cool completely.
4. While cookies are cooking, pour the rest of the maple syrup (1 cup) in a small saucepan, and turn the heat on low. Let cook until the maple syrup reduces to about 3/4 cup. Let maple syrup cool and thicken. Now drizzle over the cookies.
Note: The maple syrup glaze will completely sog up the cookies. Don't throw them away! They'll need to stay out and dry completely before you store them. They're also better the next day.