Mediterranean Olive Bread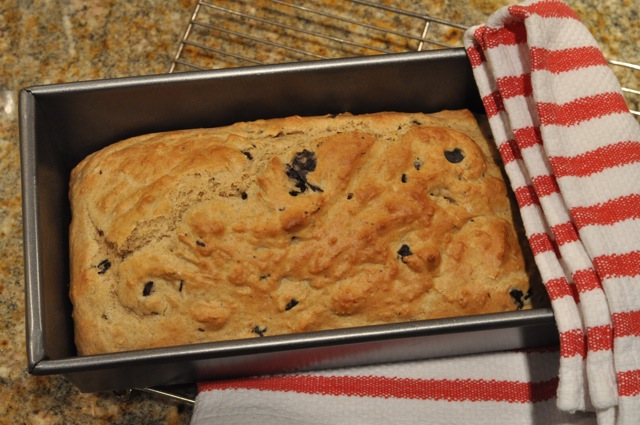 Mediterranean Olive Bread
Adapted from Merrill on the food52 website
Makes 1 loaf
INGREDIENTS
1 ½ cups all-purpose flour
¾ cup whole wheat flour
2 ½ teaspoons baking powder
1 teaspoon chopped fresh rosemary
½ teaspoon salt
2 large eggs, lightly beaten
1 cup whole milk
¼ cup olive oil, plus a bit more for oiling the bowl for the dough to rest
½ cup chopped pitted Kalamata olives
Position rack in lower third of the oven and preheat to 350 F.
Lightly grease a 10-by-5 1/4-by-2 3/4-inch loaf pan (or any pan that will easily hold six cups of batter).
1. In a medium bowl, whisk together the flours, baking powder, rosemary, and salt. In a large bowl, whisk the eggs with the milk and the olive oil. Add the flour mixture to the large bowl and fold just until most of the dry ingredients are incorporated; you don't want to overmix. Now, fold in the olives and pour into the prepared pan.
2. Bake for 45 minutes or until a toothpick or cake tester inserted in the middle comes out clean. Let cool in the pan on a rack for 10 minutes before slicing.
Cowgirl Tip: I liked this bread even better the next day, toasted. It would also be terrific for grilled cheese sandwiches or croutons.