Mediterranean Tuna Tartines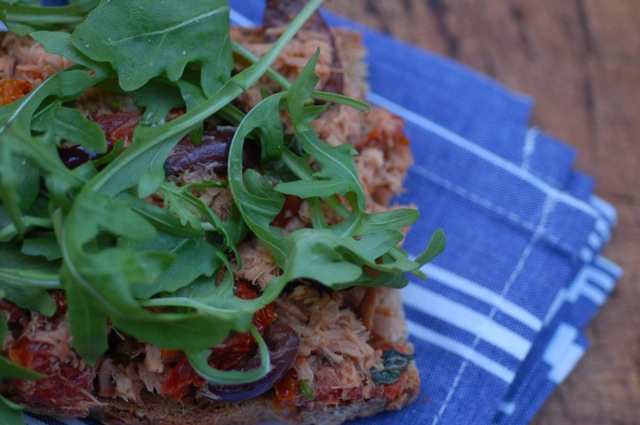 It's funny how things come together.
There I was, in the kitchen, testing recipes for haricots verts, when I thought, Hmm, what about making a little Salade Nicoise for dinner? I'd already cooked the haricots verts, had the olives, and found this great can of tuna packed in olive oil, too. So I opened it up. I was ready.
Then, just as suddenly, I wasn't. I needed coffee. I was tired of chopping. Tired of roasting. The idea of washing potatoes, then cutting them up, parboiling them, and putting them back in the oven seemed overwhelming.
The can of  tuna was open. I had to do something with it.
I remembered that I had a new loaf of Poilane bread.
I decided that I'd make tuna fish sandwiches – no, I'd make tartines, the Frenchy, open-faced sandwiches — and because I'd cut back on the bread by one slice, I'd reward myself (!) with a batch of brownies. Oh yes, that's what I'd do, I thought, shooing kitchen fatigue out the door like an Amway salesman.
I put my tuna and olives in a bowl, and added some chopped up sundried tomatoes, some basil, and some capers — all of my favorite things. Then, for good measure (and because I'd just made some), I drizzled some basil oil over it all, mixed it together, and put it in the fridge for a half-hour.
When X came back from walking Rose, I toasted up a couple slices of  bread, spooned out the tuna, added some arugula, and drizzled a bit more basil oil on top.
Fabulously easy. Delicious.
Then we had brownies.
Mediterranean Tuna Tartines
Makes 2
160 gram (5.64 oz) can tuna in olive oil, drained
4 sundried tomatoes, chopped in slivers
6 Kalamata olives, halved lengthwise
1 teaspoon capers, drained
2 leaves fresh basil, chopped
pepper
2 tablespoons basil oil, recipe follows
handful arugula
2 pieces country bread, toasted
Put drained tuna, sundried tomatoes, Kalamata olives, capers, and basil in bowl and toss to combine. Add basil oil, give the pepper mill a couple of cranks, and taste. Serve on toast with a heap of arugula, and drizzle a bit more basil oil on top.
Basil Oil
1 tablespoon basil, chopped
1 clove garlic, minced
⅓ cup olive oil
sea salt
Put first 3 ingredients in a jam jar, and shake. Salt and pepper to taste. Let sit for an hour, at least, before using. Will keep for a week or two in the fridge.