Melon Gazpacho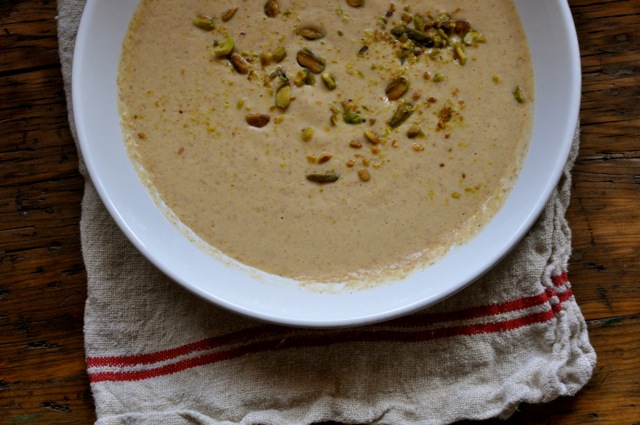 It's been boiling hot in Santa Fe lately, which is to say that it's been in the 80s. Not Texas-style heat, but too hot as far as I'm concerned, and just like my apartment in Paris, my sweet little adobe is air conditioner-free, which is fine as long as I'm not in the kitchen wanting to cook. But I'm always wanting to be in the kitchen, so it's a bit of a challenge.
Sigh.
So to cool down, I drink lots of iced tea, mango-blueberry smoothies, and I make lots of cold soups, just like I did in France.
The other day, I was feeling especially homesick for Paris and while listening to France 24 on my iPad, I found a recipe for Melon Gazpacho on the Elle à Table website.
I watched the video of a chef making this soup with barely audible sound and tried to follow along with the recipe that didn't include the main ingredient, melon, which is typical of French recipes in magazines — you can't trust them. But I love gazpacho and liked the idea of making one with melon, which is abundant right now, and figured I could wing it.
So I bought a melon, brought it home, and in about 15 minutes, I made this soup in the blender and let it chill down all day.  I loved it. It was far better than I'd imagined it would be…the sweetness of the melon bumping up against the unmistakable bite of Sherry vinegar, with ground almonds and breadcrumbs providing texture and a solid background. This soup cooled me down to my toes.
I'm still thinking about buying a portable A/C unit, but I'm afraid if I did, my cold soup days would be over. I'm definitely not ready for that.
Melon Gazpacho
Makes 2 large or 4 small servings
Adapted from a recipe from Fogon restaurant in Paris
1 ripe melon
¼ cup/60 ml olive oil
2 to 3 cups/500 to 750 ml of water
2 tablespoons of Sherry vinegar
¾ cup/

80 grams

of breadcrumbs
5 ounces/140 grams of finely ground almonds
1 small garlic clove, minced
sea salt and pepper
about ¼ cup/30 grams of pistachios, toasted and crushed
Put everything in your blender and purée until it's very smooth and well-blended, 3 to 5 minutes. Refrigerate for 3 to 4 hours before serving. Garnish with crushed pistachios. Yum.