Melon Soup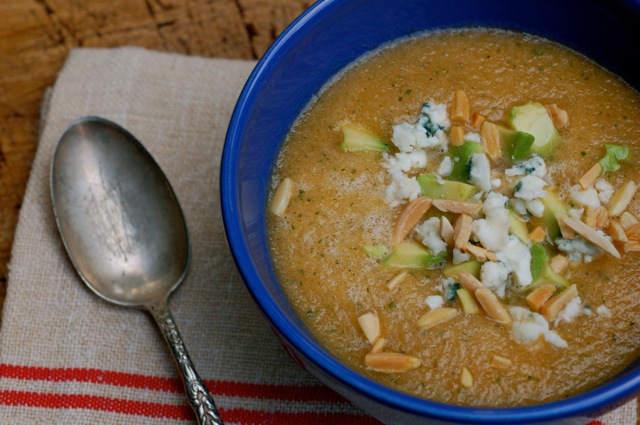 I've never been one to sit down and eat a bowl of whatever-fruit-that's-in-season and that be that.
I blame my mother, who always served fresh fruit mixed up in a large crystal bowl, and with the most incredible poppyseed dressing on the side. (It was years before I learned that people actually ate melon in a non-ball shape, just cut up in chunks, willy-nilly.) So while I've always loved fruit, I've always enjoyed doing something with it — putting it in a tart, pie or crumble; serving it over pancakes or ice cream; mixed into yogurt; whirred into a smoothie; freezing it to make a granita; or in this case, whipping up a cold soup in the blender.
I made this about a week ago when the temperature was climbing into the 90s, and three fans were doing nothing to cool me off.
This little soup, however, did the trick. I thought about the traditional proscuitto-melon combo, and toyed with the idea of frying up some bacon and crumbling it on top; in fact, I even went out and bought some bacon. Then I decided that I didn't even want to heat up a skillet, and instead, added Roquefort for a bit of salty — and creamy, too. I toasted some almonds to give the soup some crunch, too. (You'll notice avocado in the photo above; I'd skip this next time because I really didn't taste it.)
I served this as a first course, but you can always opt to make this your dessert — just add a bit of whipped cream at the end and a little additional chopped mint and basil.
Now that the weather's cooled off a bit, I'm secretly wishing for the heat to return.
Melon Soup with Basil and Mint
Serves 2
2 ripe cantaloupes, peeled, seeded and chopped into 4-inch pieces
juice of 1 lemon
6 leaves basil
8 leaves mint
pinch sea salt
appx 1 oz Roquefort, for garnish (optional)
appx 1 oz toasted almonds, for garnish (optional)
Put everything in the blender and puree until very smooth. Chill for 3-4 hours before serving.