Mexico City: El Bajio's Pepian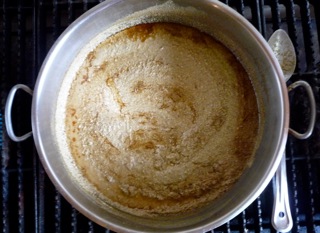 A couple of weeks back, when I was in Mexico City, I went (for the second time) to El Bajio, but this time, for breakfast. Carmen Titita, the chef/owner, came out and introduced herself, and as an extra treat, before the chilaquiles arrived, served us each folded corn tortillas with pepian on top. I asked her how to make it, and she happily told me how to make this super-simple little sauce, which is nutty, spicy, and has a fabulous texture.
Thought y'all would like to know about this, too, since we're getting into what-do-I-do-with-all-these-leftovers season, and this would be perfect to add a little zippety-do-dah (as my mother likes to say) to just about any old thing that you've got in the fridge. (Turkey and corn tortillas, get outta here!)
Pepian
Adapted from Carmen Titita at El Bajio in Mexico City
1 cup pepitas, toasted
4-5 chiles pequin*
1 clove garlic, toasted
sea salt
water
1. Put toasted pepitas, garlic, and chiles pequin in a small food processor and blend until combined. This will take 3-4 minutes, at least.
2. Put mixture in a small, heavy saucepan and add just enough water to make the paste more sauce-like. Warm through.
*Pequin chiles are available at most Mexican food markets, and by the way, don't let their size fool you – these are some of the hottest chiles around.