Mom's Spaghetti Sauce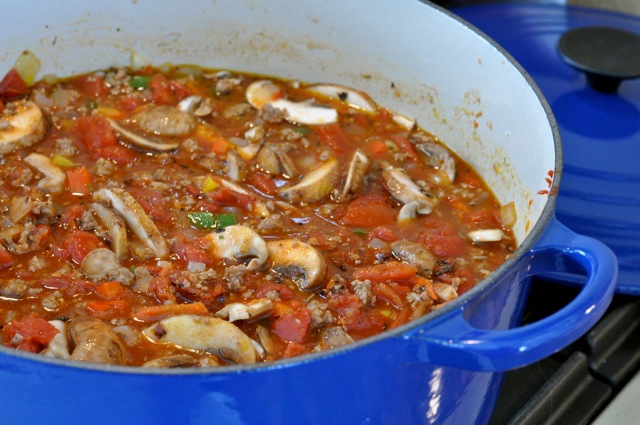 When Cheryl Tan asked a few of us to post family recipes to celebrate the release of her new book, "A Tiger in the Kitchen," I wasn't sure which one I'd choose, but I figured that since I was staying — and cooking — with mom in Texas, we'd come up with something fun.
This is an old favorite, and it seemed fitting, since Tan's book is a memoir about tracing her family roots and culture through the dishes of her childhood in Singapore.
Cheryl and I bonded over our love of bacon a couple of years ago – she actually made a lattice-style bacon layer in a BLT — and have been meeting virtually (and globally) for lunch about every month since then. Together, we've noshed, our online friendship has grown, and I feel like I've been on the sidelines cheering (Cheryl, did you hear me?) as she moved through the transcontinental process of putting her book together.
Congrats again, Cheryl – *clink* — I'm thrilled to bits about your new title — author!
When the big iceapalooza hit North Texas recently, Mom and I decided that our one-day of vacation (little did we know it would be the first of many) would be a cooking day, and I requested that she make her famous spaghetti sauce, the same one from my childhood.
It always went like this: I'd come home from school, and Mom's meaty, tomatoey sauce would be simmering in the big red enamel pot; my job was to set the table and lay out the red-and-white cloth napkins and get out the wax-covered Chianti bottle kept underneath the sink. When it was dinnertime, she'd light the candle, just as she and Daddy had done for years and years, and after dinner, we'd put it away until we had spaghetti again.
Spaghetti nights were always the most special of all.
After hundreds of batches of spaghetti, chili, and other big pot-things, Mom's red pot was donated to Goodwill, and she replaced it, as you can see, with the prettiest blue Le Creuset.
When the temperature dropped to 16 degrees recently, we stayed in and chopped mushrooms and onions, and together, made her spaghetti sauce.
A slightly updated version. Instead of button mushrooms, Mom now uses Baby Bellas; she also adds red and orange bell pepper along with the green because it makes the sauce more colorful; and fire-roasted diced tomatoes instead of plain. And the Parmesan's now the real thing instead of the stuff in the green can, which was all that they had at the Piggly Wiggly back in the day.
After the sauce had a chance to simmer for a couple of hours, we sat down together at the kitchen table, and unfolded the same red-and-white napkins in our lap, just as we'd always done. Before I took my first bite, though, Mom pushed back her chair and stood up.
"Wait a minute," she said.
She opened a drawer, grabbed some matches, and lit a pair of fat red candles that were already on the table.
"Now," she said, smiling.
It may have just been the two of us, and we might be iced in, but it was spaghetti night, after all.
Mom's Spaghetti Sauce
1 pound ground sirloin (91%)
1 pound ground chuck (85%)
1 large onion, diced
4 cloves garlic, minced
1 medium carrot, grated finely
10 oz. Baby Bella mushrooms, sliced
⅓ red bell pepper, diced
⅓ green bell pepper, diced
⅓ yellow bell pepper, diced
4 14.5 oz. cans of diced tomatoes (fire-roasted are best)
2 6 oz. cans tomato paste
1 8 oz. can tomato sauce
1 14.5 oz. can tomato sauce
½ teaspoon oregano (powder)
1 tablespoon Italian seasoning
1 teaspoon dried basil
sea salt
freshly cracked black pepper
1 13.25 oz. box package spaghetti
grated Parmesan, for serving (optional)
In a large stockpot, put the ground sirloin and ground chuck and turn the heat on medium. Cook until meat is evenly browned, then add the onion, garlic and carrots and cook until the onions begin to soften, about 5 minutes. Now, add the sliced mushrooms, bell peppers, and cans of diced tomatoes, tomato paste, tomato sauce and spices. Cover and reduce heat to a simmer and let cook for an hour. Taste for seasonings.
Put a large pot of salted water on to boil. Cook spaghetti according to directions on package, drain, and serve with spaghetti sauce, and grated Parmesan.