Mom's Vegetable Beef Stew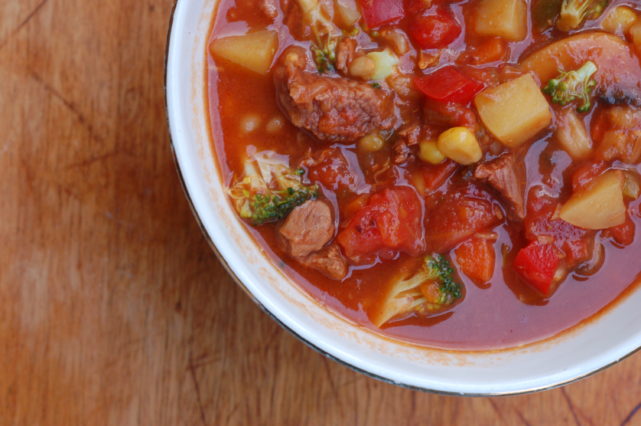 When I go home to Dallas, there are a few things that I can count on. 1. The sun will be shining. 2. I'll be wearing t-shirts, even in the winter. 3. Mom will make her fabulous vegetable beef stew, which we'll eat out of the same strawberry-design bowls with the green rims that we've used as long as I can remember — and with it, we'll have jalapeno cornbread.
I only recently managed to find V8-juice in Paris, and when I did, I nearly jumped for joy, right there in front of the teensy bottles of Oranginas. I threw a couple of cartons in my lime green wheely cart and knew that soon (oh so very soon), this soup would be mine – right here in Frenchyland.
V8, you see, is the key to this soup's deliciousness – and its simplicity. This really is just a whole lot of veggies, — in veggie juice, for god's sake — with some bits of beef and barley thrown in for fun. Like so many other chunky soups and stews, the work here is done upfront. Once everything's chopped, you can throw it in the pot and get on with your day.
I love meals-in-a-bowl anyway, and this one's so satisfying, and so healthy, I thought that it would be a perfect soup to share with y'all to kick off 2010 (which I just love saying, by the way), and to share with the #letslunch bunch on Twitter. For the rest of the hearty soups and stews recipes that'll be posted today, just go to www.twitter.com, and type in the hashtag, #letslunch.
Here are some of the other fabulous hearty winter stews that the gang has posted:
Show Food Chef's Pichelsteiner
Tiger in the Kitchen's Chicken Adobo
Cosmic Cowgirl's Lentil Stew with Sausage
Pinch My Salt's Butternut Squash and Chickpea Stew
Vegetable Beef Stew
1-2 pounds arm or chuck roast, cut into one-inch cubes
1 large onion, diced finely
2 sticks celery, diced finely
32 oz V-8 juice
2 cups water
2 14.5 oz cans diced tomatoes
½ red bell pepper, diced finely
½ green bell pepper, diced finely
2 large carrots, cut into 1/2-inch dice
2 medium potatoes , cut into 1/2-inch dice
⅓ cup corn (canned or frozen)
⅓ cup baby peas (canned or frozen)
1 cup broccoli florets
¼ cup barley
olive oil
12 medium mushrooms (button or baby portobello), cut in thick slices
sea salt
pepper
1. Saute beef, onion, celery in olive oil in a large stockpot on medium heat until onions become translucent, about 10 minutes.
2. Add all of the vegetables (except the broccoli and mushrooms), the barley, the V-8, diced tomatoes, and water, and cook on low heat for 2 hours (or if you're using a slow cooker, on low for 4 hours).
3. Ten minutes before serving, cook the sliced mushrooms in a bit of olive oil and add them to the soup, and add the broccoli florets.