Mom's Vinegar and Dill Cucumbers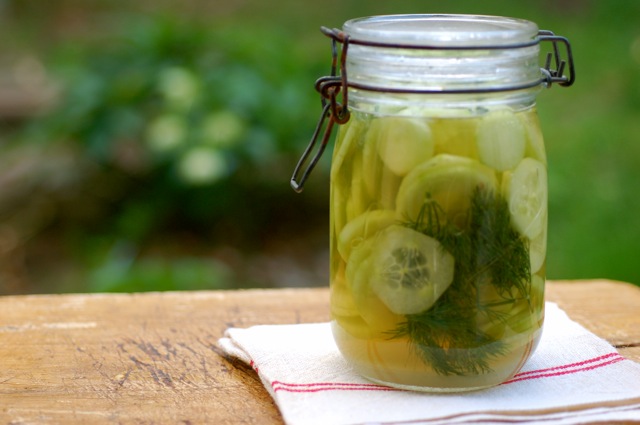 When I saw French cucumbers on sale at the market — crazy-looking things as long as your arm — for one euro apiece the other day, I knew exactly what I was going to do with them. I was going to slice them up and make my Dad's cucumbers — crunchy, cold, and sweet with a bite of vinegar, they were a spring and summer staple around my house growing up.
Turns out, I was wrong. When I called Mom to ask her about the recipe, she told me that they weren't Daddy's cucumbers. "Your dad made bread and butter pickles, and I made the refrigerator cucumbers," she said. "My mother always made these in the summertime in an old peanut butter jar." Also, she told me, she made beets and onions with the same recipe in the winter, which I'm going to try.
All right then. Now I've got it straight.
Since Mom didn't have measurements – just a list of ingredients —  I just guestimated, so you may want to make these, taste in 24 hours, and add a bit more sugar if you think that it needs it, or a bit more water to dilute the mixture (as I did).
"My mother always served these with fresh veggies, such as corn on the cob, sauteed fresh corn, baby limas, fried okra, and sliced tomatoes," Mom said. "I loved cucumbers this way."
Me, too.
Mom's Vinegar and Dill Cucumbers
1 pound (500 grams) cucumber, peeled and sliced
¾ cup  apple cider vinegar
½ cup sugar
1 cup water
1 teaspoon sea salt
6-8 sprigs dill, left whole
Put the water, vinegar, salt and sugar in the jar and stir until the sugar dissolves. Add the cucumbers and dill and refrigerate for 24 hours. Taste and correct seasonings, if necessary.