Mushroom-Leek Quinoa Salad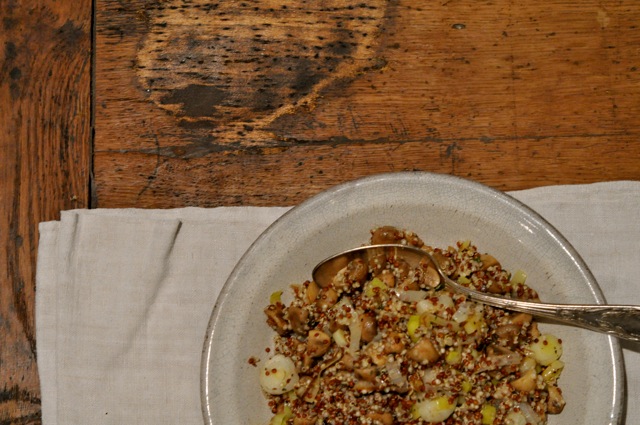 Like so many things around here, this little salad was born from a mistake — a half-pound of button mushrooms cooked to that just-brown -around-the-edges-crispy-perfection that I thought would work in a savory tart, but didn't. I'd already promised X mushroom something for dinner, and I didn't want to waste them, either.
I wasn't leaving the house again. Not even to the stinky Franprix down the street. It had snowed. Then it rained. It was still below freezing, and I was tired of leaving the apartment dry, and then coming home wet and cold. So whatever I made, it would be with what I had on hand.
I had leeks, already roasted, also in the fridge – some would be for the tart, I decided, and the rest, for this — a great, nutty side that's super-protein packed with both red and regular-colored quinoa.
So we had our tart for dinner and I served up this salad, too — and got rave reviews from X, the mushroom fanatic. Now that I've easily put this salad together completely by accident, I think that I'll make it a fall-winter regular.
I don't know about y'all, but this happens to me all the time. I start out in one direction, something unexpected happens, and I take a different route altogether, and end up in a much more interesting place then I'd imagined.
Let the spirit of adventure – in the kitchen and otherwise – take us into the holiday season and into the new year.
And of culinary camaraderie, too — this is my offering for this Friday's "Let's Lunch" gang of food bloggers across the globe. Cheers, y'all!
Today's assignment: a holiday side (but I think that I'm going to make this whenever the mood strikes).
Come join us! Just type in the hashtag, #letslunch, on Twitter, or check out the links below.
Hot Curries & Cold Beer's Green Beans with a Taste of Bengal
The Kitchen Trials' Parker House Rolls with Molasses Butter
A Tiger in the Kitchen's Spicy Pickled Beets
Free Range Cookies' Green Bean Casserole
Cooking in the Fruit Bowl's Kimchi Risotto Bake
Geofooding's Side Dish of Life
Bon Vivant's Leek Gratin
Dreaming of Pots and Pans' Dave's Peasant Bread
Mushroom, Leek and Quinoa Salad
Makes 4 servings
½ pound button mushrooms, cleaned and quartered
2 tablespoons olive oil
2 leeks, sliced (white parts only)
1 tablespoon olive oil
sea salt
freshly cracked black pepper
½ cup regular quinoa
½ cup red quinoa*
zest of 1 lemon
1 tablespoon lemon juice
¼ teaspoon fresh thyme
Preheat oven to broil.
1. While the oven's heating, cook the mushrooms. In a large skillet, drizzle the 2 tablespoons of olive oil, and turn the heat on medium. When the skillet's hot, add the mushrooms, a bit of salt and freshly ground pepper, and cook until they're crispy and brown. (Cowgirl Tip: Be sure and give the mushrooms plenty of room. A crowded skillet makes for soggy 'shrooms.)
2. Put the leeks on a foil-lined cookie sheet and toss with the 1 tablespoon of olive oil and a bit of sea salt and freshly ground pepper. Slide into the oven and cook for 10-15 minutes, or until they begin to brown on the edges.
3. Cook the quinoa. Remember, it's always 2:1/water to quinoa. Put 2 cups of water onto boil, and add a pinch or two of salt. When the water boils, stir in both the regular and red quinoa, cover, and turn off the heat. Set the timer for 10 minutes. When it buzzes, it's done.
4. Assemble the salad. Simply fluff up the quinoa and put in a large bowl, add the cooked mushrooms, the leeks, the lemon juice, zest, and thyme. Taste for additional seasonings.
*If you can't find red quinoa, no worries. Simply use 1 cup of regular quinoa.