My Big Fat Santa Fe Salad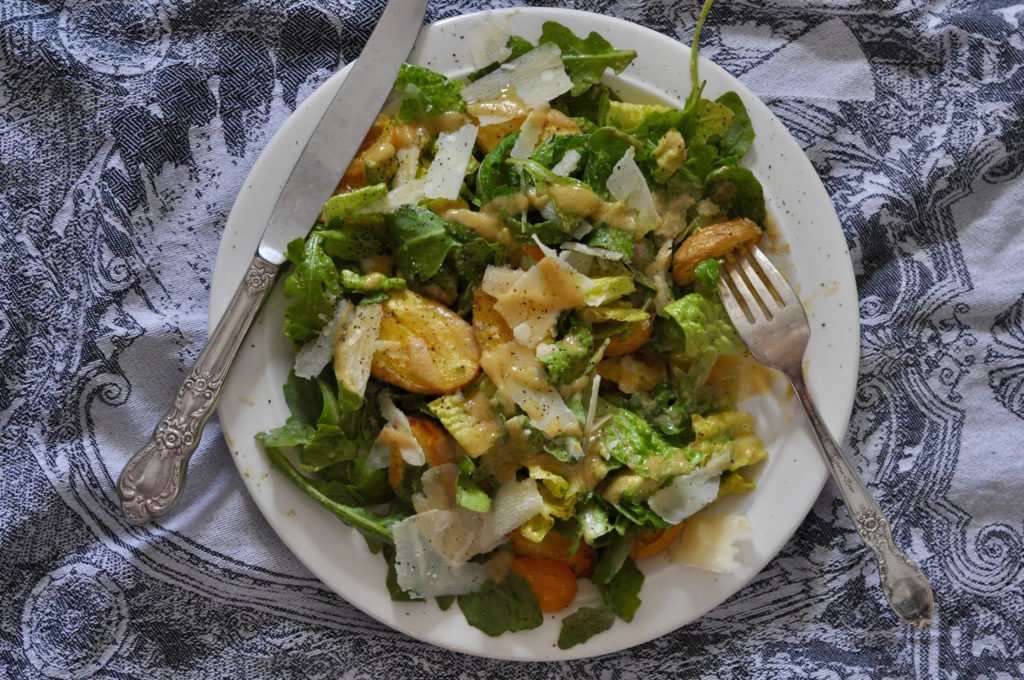 The first time I saw heaps of fried potatoes on top of a salad – at Le Relais Gascogne in Montmartre – I thought I was dreaming. I was so excited about this (along with the super-cheap carafes of Gamay I'd order with my friend Suzanne), I came up with a recipe inspired by these wine-and-salad evenings and wrote about it in my book.
Until then, potatoes and salad weren't something I'd put together, but now I can hardly separate the two. So naturally when I was at the little farmer's market last week in Pojoaque, New Mexico and saw the sweet little potatoes for sale, I thought, "Hello, Salad!"
Rose was far more interested in the beef jerky.
This salad's super-speedy to put together and simple to make. Besides the potatoes – a quick roast in the oven will do it – I chopped up some pear-shaped cherry tomatoes, another score at the Pojoaque market, then tossed it all into a bowl with romaine and arugula. The Parmesan vinaigrette, inspired by one made at Paley in Los Angeles, is what pulls this salad together. Can you have too much Parmesan? I don't think so.
Easy enough as a side, and adaptable enough to be a light dinner. I'm adding grilled wild salmon next time– the Coho was on sale for $10 a pound and I'm planning to eat as much as I can while it's affordable.
My Big Fat Santa Fe Salad
Makes 2 dinner-size salads
1 pound fingerling potatoes
2 tablespoons olive oil
salt and pepper to taste
2 big handfuls arugula
½ head romaine, chopped
1 avocado chopped
10 cherry tomatoes, halved
Parmesan vinaigrette, recipe follows
Parmesan, for serving
Preheat your oven to 450°F.
Cut the potatoes in half lengthwise and put them in a large bowl. Add the olive oil and salt and pepper, toss, and lay on a baking sheet insides-down. Bake for 30 to 40 minutes, or until browned, turning once.
In a large bowl, toss the arugula, romaine, avocado, cherry tomatoes. Add some of the potatoes (you might not need all of them), half of the dressing (ditto; whatever you don't use you can refrigerate and use later) and toss. Taste for seasonings. Divide between 2 dinner plates. Add more Parmesan. Eat.
Add-ons: leftover salmon, roasted chicken, lardons or bacon, fresh herbs
Parmesan vinaigrette
Makes about 1 1/2 cups
1 tablespoon Dijon mustard
¼ cup fresh lemon juice
¼ cup red wine vinegar
½ teaspoon Mexican hot sauce (I like Tapatio)
1 teaspoon Worchestershire sauce
⅓ cup grated Parmesan
salt and pepper to taste
1 cup olive oil
Put all of the ingredients except the olive oil in your blender. Mix until blended. Slowly, while the mixer is running, add the oil until the vinaigrette comes together. Taste for seasonings.