Naan Bread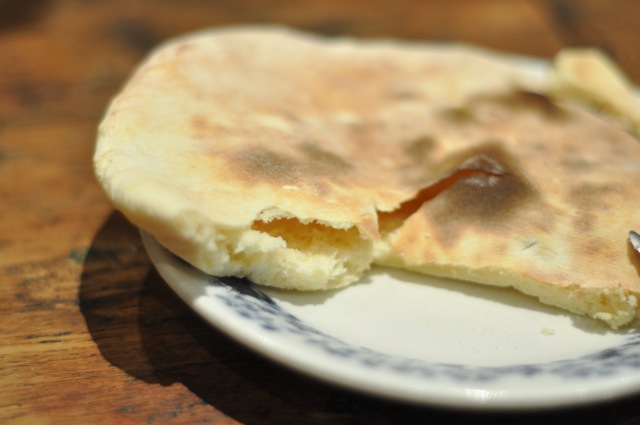 After traveling around the northern part of India a few years ago, I was determined to make naan bread at home. I bought cookbooks and researched recipes on the internet. And I failed time after time. I figured that there was some sort of magic in the clay (tandoor) ovens that were used to make this bread that I could just never replicate in my little Sears oven. I eventually gave up.
And I really don't like giving up. Especially on something that's supposed to be so simple.
So the other week, to accompany some Green Chicken Masala that I found on the Lisa Is Cooking website (which was fabulous, by the way), I once again googled "naan bread," and this time, I found a Madhur Jaffrey recipe.
For those of y'all that don't know Madhur Jaffrey, she's written tons of cookbooks and is considered to be the authority on Indian cuisine. I figured if anyone knew how to translate naan bread from the tandoor to the home kitchen, she would. So I gave it a go.
And it worked!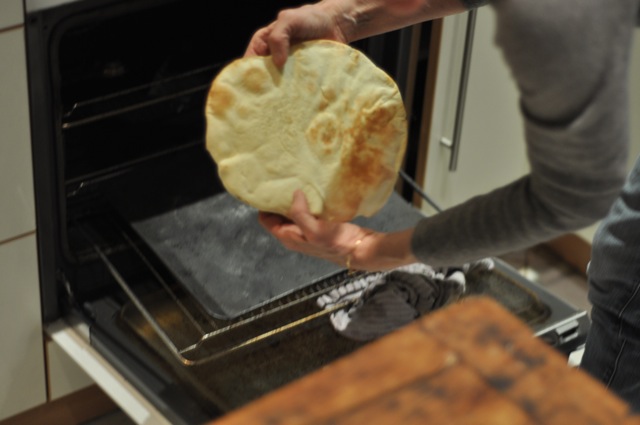 I made just a few adjustments along the way: The first bread was a bit undercooked and doughy, so I made sure to roll out the rest of the pieces of dough super, super-thin, and then I moved the rack to the BOTTOM of the oven, still with the broiler on, which seemed to give the breads enough time to cook on the inside before they puffed and became brown. Then I flipped them over (and with my hands, which you may not want to do at home unless you've got Teflon fingertips like I now do), and let them cook on the other side.
I wouldn't say that these are exactly like the naan breads that I ate in India, but they're really good — a bit richer and with a taste that's a little Parker House roll-ish, in fact —  and I'm going to make them again whenever I make Indian food, because Indian without naan is like Tex-Mex without chips.
Naan Bread
Makes 6 breads
Adapted from a Madhur Jaffrey recipe
5 ounces/150 ml of whole milk, warmed (see Cowgirl Tip)
2 teaspoons of sugar, divided
1 package of dry active yeast
3 2/3 cups/450 grams of flour
a pinch of sea salt
1 teaspoon of baking powder
2 tablespoons of vegetable oil, plus extra for oiling the bowl
⅔ cup/150 grams of Greek or plain yogurt
1 egg, lightly beaten
1. Pour your warmed milk in a bowl and stir in 1 teaspoon of the sugar and the yeast. Let rest for 15 to 20 minutes or until the yeast has dissolved and the mixture is foamy.
2. Meanwhile, sift the flour, salt, and baking powder into another bowl. Add the other 1 teaspoon of sugar, the yeast mixture, vegetable oil, yogurt, and beaten egg. If you're using a stand mixer, let the mixer knead the dough for a couple of minutes; if not, put the dough on a lightly floured surface and knead it by hand.
3. Drizzle a little bit of olive oil in a clean bowl, spread it around with your hands, and add the dough; this will keep the dough from sticking to the sides. Cover the bowl with a piece of plastic wrap and put it in a warm place for about 1 hour or until the dough has doubled in size.
4. To make your naans: Put a cookie sheet on the lowest rack of your oven and preheat the oven to broil.
5. Punch down the dough and divide it into six parts; make balls out of each one and cover them with a towel. Take one ball of dough and roll it out as thin as you can – I often make an oblong, rather than round shape because it's easier this way — and then open the oven and slap the dough onto the cookie sheet. Watch as it cooks – it'll puff up after a minute or two and brown, and when it does, just open the oven and turn it over to the other side. Make sure both sides are brown before you pull it out. Repeat with the other pieces of dough and stack them on a plate covered with a towel. Serve immediately.
Cowgirl Tip: To simply warm – not boil – milk, pour it in your saucepan and turn the heat to low. Milk is warm when tiny bubbles appear along the sides of the pot. You don't want the milk to get any warmer than "warm," because if you do, it'll literally kill your yeast!