New Mexico Must-Stop Ins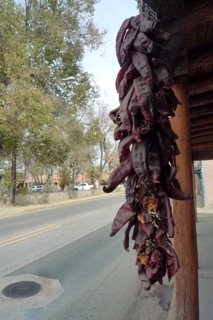 Red or green? Why choose when both (aka "Christmas") is an option. So I always red and green it up when in New Mexico, on everything and anything.
On my recent trip to Taos and Santa Fe, we stopped at JoAnn's Rancho O Cascados in Espanola, which has the vibe of a diner, New Mexican style — a long counter with bolted-down swirly stools at the front, deep booths against windowed walls, and Formica tables scattered about, filled with locals, not tourists.
Except for us.
I'd been to JoAnn's before, years ago, at the recommendation of a friend of mine who lives in Albuquerque, and whenever I'm on the road to Taos, I always try to stop in.
Since it was lunchtime, I ordered up a bean-stuffed sopapilla, with the ubiquitous red and green, rice and posole.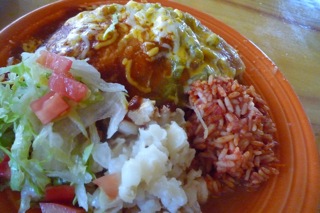 To start, more sopapillas, which I know you can't tell here, but they're big as half of a dinner plate. I ate three.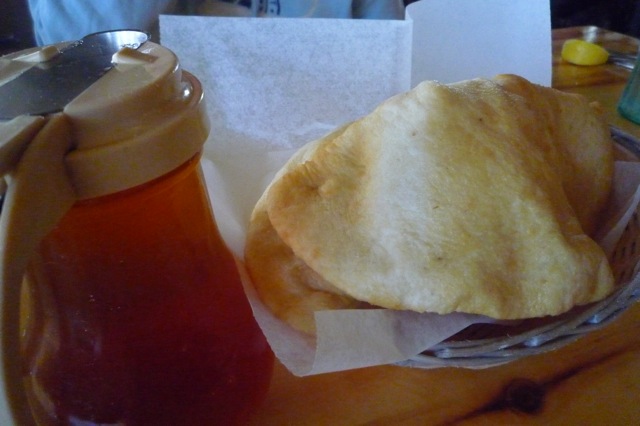 Of course, along with the meal, blue corn tortillas.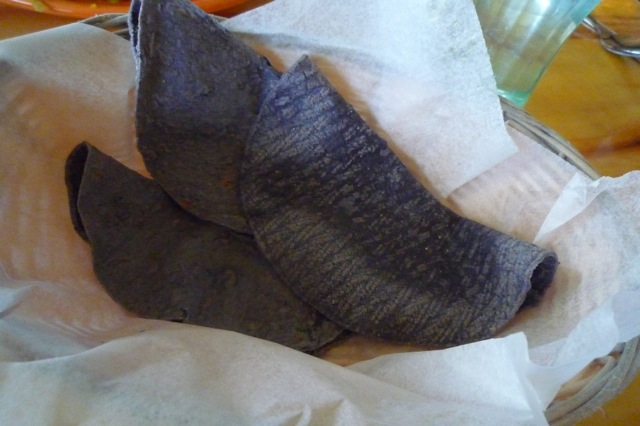 I don't know if it's the drive, the altitude, or the fact that if I don't get (more) coffee in my system by 4 pm each day, I start to growl, but I always find the coffee at World Cup Cafe in Taos just what I need to get through the next few hours, until dinnertime.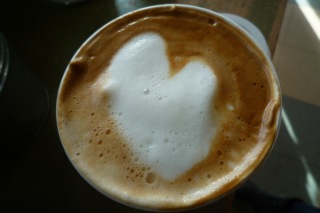 Normally, when I'm in Santa Fe, breakfast is a toss-up between Cafe Pasqual's and Tecolote, another diner sort of place that has lovely blue corn pancakes. But this time, I decided to try out a new spot, just open a year, called Tune-Up Cafe.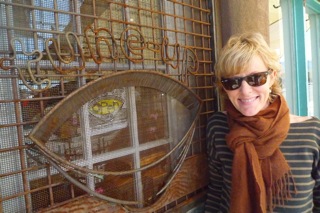 Whoo-boy, I'm glad I did. Look at this signature breakfast, a chile relleno with roasted tomato sauce, served with a couple of eggs, some beans and tortillas.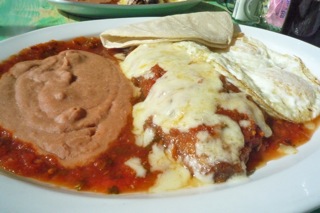 It was the perfect last day meal.
Next stop, as always: Aztec Cafe in Santa Fe, for a coffee for the road. The coffee here is some of the best I've tasted outside of Italy (and an exboyfriend from Milan agrees) — robust, strong, and complex.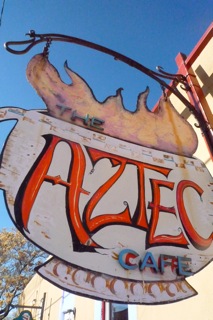 Until next time, New Mexico. See ya soon.
JoAnn's Rancho O Cascados
938 Riverside Dr.
Espanola
505-753-1335
World Cup Cafe
102 Cam Del Paseo Pueblo Norte
Taos
575-737-5299
Tune-Up Cafe
1115 Hickox St.
Santa Fe
505-983-7060
Aztec Cafe
317 Aztec St.
Santa Fe
505-820-0025