Nutella-Hazelnut Tart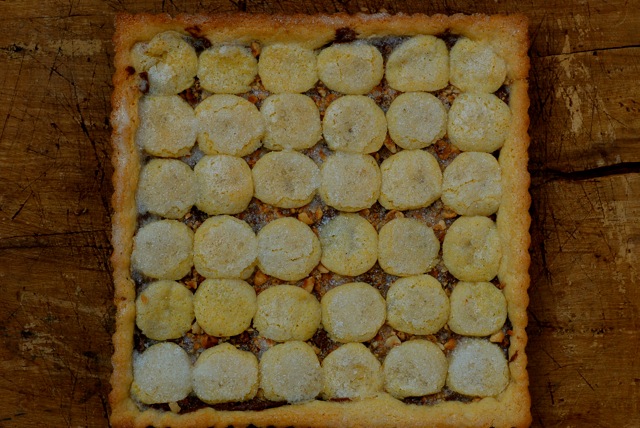 I know. I had myself at Nutella, too. I'm not kidding when I tell you that I made this three times in less than two weeks, and each and every time, I said, "No more! This has got to stop!"
You see, I am weak. When it comes to Nutella, the hazelnutty-chocolatey spread, I cannot say non.
I made this the first time after I saw David Lebovitz's "Easy Jam Tart" on Smitten Kitchen's blog a couple of weeks ago. I'm also a sucker for anything with the word, easy, in the title, so I was off and running even before I got to the bottom of her post, my mind inserting "Nutella" for "jam" right off the bat.
Now, this recipe is in David's new book, "Ready For Dessert: My Best Recipes," which I'm still waiting for, and I suppose my book delivery got caught up in the volcanic ash cloud situation over in the U.K. I've been putting off writing this post, thinking that my book will arrive, and I'll be able to give you a full report on the wonderfulness that David brings to his latest batch of recipes, but, alas, that will have to wait.
I'm quite sure that his new book will be as fabulous as the others, all sitting on my shelf, dog-eared, with little fuchsia and bright blue flags sticking out of the top, and splattered with chocolate, most of them.
What's so great about David's recipes is that he makes the seemingly inaccessible accessible – when I read in his book, "The Great Book of Chocolate," that the first thing that he ever made was a chocolate souffle, with Pyrex glass ramekins, when he was young, it changed how I viewed souffles forever. Souffles were easy! Now I can't stop making them, tinkering around with one recipe or another. I keep eggs in a basket, on my table, in case I get the sudden urge.
I hope to report back to you very soon about David's latest; I'm going to the kitchen now to assess the Nutella situation. Hopefully, there's enough…
Nutella-Hazelnut Tart
1 ½ cups (210 grams) all-purpose flour
½ cup (70 grams) stone-ground cornmeal or polenta
2 teaspoons baking powder
½ teaspoon salt
9 tablespoons ( 4 1/2 oz or 130 grams) unsalted butter, room temperature
½ cup (100 grams) granulated sugar
1 large egg, whole
1 large egg, separated
1 teaspoon vanilla
1 ½ to 2 cups Nutella
2 tablespoons coarse sugar or granulated sugar
2.20 oz or 62.5 grams hazelnuts
Preheat the oven to 375 (200 C).
1.     Roast the hazelnuts by putting them in a cast-iron skillet on medium-low heat until the skins begin to split and pull away from the nut. Be patient; this may take 10 or 15 minutes or so. When you begin to smell the nuts and when the skins begin to lift, pour them into a bowl, and with a clean kitchen towel, take each hazelnut and rub the skins off. Then pop them into a small food processor and pulse a few times (you'll want these to be coarsely ground).
2.     In a small bowl, whisk together the flour, cornmeal, baking powder and salt.
3.     In a KitchenAid mixer or in a food processor (I've used both and like the KitchenAid best), mix together the butter and sugar until smooth. Add the egg, egg yolk (keep the egg white to use for the shiny crust later) and vanilla extract and beat until combined. Gradually add the flour mixture and mix until dough comes together.
4.     Put the dough on a floured surface, and take one-third of the dough, roll it into a log and wrap it in plastic wrap. Put in the freezer for a half-hour. 
Press the rest of the dough into a 9-inch tart pan with a removable bottom, and up the sides. Freeze for a half-hour, too.
5.     After a half hour, take the tart crust out of the freezer, along with the dough log. Spread the Nutella all over the tart bottom, so there's a nice, thick layer. Sprinkle the crushed hazelnuts on top. Slice thin discs and place them on top of the tart, side by side (there will be a little room in between each one, so the Nutella peeks through). 

Whisk the egg white with a bit of water and brush it on top of the discs and the crust edges. Sprinkle the top with 2 tablespoons of sugar.
Bake until the crust is done — it'll be nice and golden brown — about 20-25 minutes. Be sure to let the tart cool completely before you slice it.
Cowgirl Tip: Bake any leftover dough discs on a cookie sheet, and spoon some jam on them to make jam sandwich cookies.