Oatmeal Blueberry Walnut Muffins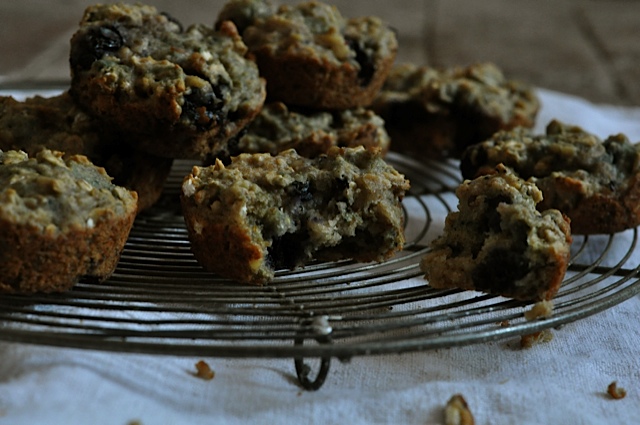 Oh I know what you're thinking. These are not the prettiest muffins in the world. They are not like the big poofy, cakelike muffins you see in the coffee shop chains (does anyone really eat those?). They are, in fact, kind of squatty as far as muffins go. But don't be too quick to judge.
I ate three of them doing the photo shoot. Research, mind you.
While searching the internet for a healthy oatmeal muffin — I'm marching into the new year with a renewed commitment to staying in my skinny (not fat) jeans– I found this recipe on the Joy the Baker website, and decided to tweak it just a little, by adding lemon zest, crushed walnuts, flaxseed, and just a few more blueberries.
These muffins aren't too sweet (only 1/2 cup of brown sugar) and are made with applesauce instead of lots of  oil (just 2 tablespoons). I was a little worried that they might be dry.
But they're not. They're moist…and delicious. I'm thinking they'd be great for road trips, plane trips, afternoon coffee…or even breakfast, a meal I usually just skip on over so I can get to lunch.
I put these muffins in a bag in the fridge and every morning, I pulled out a couple of them and warmed them up. Just enough of a breakfast for me, a little something with my first coffee of the day. I'm now onto my second batch.
Just don't call them ugly. They'll get their feelings hurt.
Oatmeal Blueberry Walnut Muffins
Makes about 1 1/2 dozen
Adapted from a recipe from Joy the Baker website
            1 ¼ cups of whole wheat flour (I used white)
            1 ¼ cups of oats (not quick)
            1 teaspoon of baking powder
            ½ teaspoon of baking soda
            ¼ teaspoon of sea salt
            ½ teaspoon of cinnamon
            2 tablespoons of flaxseed
            ¼ teaspoon of lemon zest
            1 cup of blueberries (I used frozen)
            1 cup of unsweetened applesauce
            ½ cup of low-fat buttermilk
            ½ cup of brown sugar, packed
            2 tablespoons of canola oil
            1 large egg, lightly beaten
            ½ cup of chopped walnuts
1. Preheat the oven to 375°F and lightly grease a 12-cup muffin tin with canola oil.
2. In one bowl, mix together the flour, oats, baking powder, baking soda, salt, cinnamon, flaxseed and lemon zest.
3. Spoon out some of flour mixture and carefully toss the blueberries with this. This will keep them from oozing blue when baking.
4. In another bowl, whisk together the applesauce, buttermilk, brown sugar, oil and egg. Add this to the dry ingredients and stir just until everything's moist. Gently fold in the blueberries and chopped walnuts. Fill your muffin cups about 2/3 full and bake for 15 minutes or until the edges are just barely browned.