Orange-Curaçao Chocolate Chip Ice Cream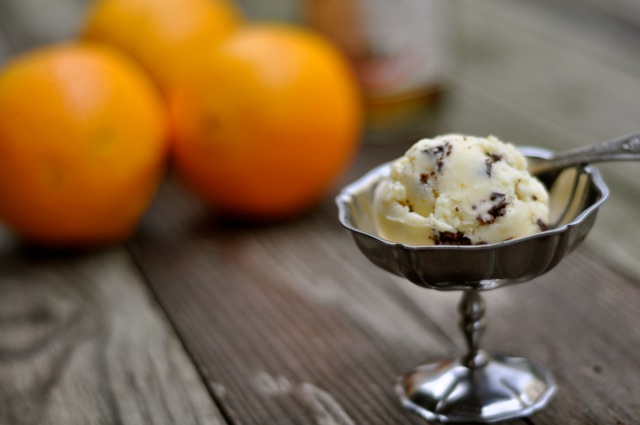 Let me just get this out of the way right now. As much as I love a good margarita, my limit is two, and other than tequila (and the rare eau de vie, grappa, or Armagnac), I don't drink spirits.
So when Alexandre Gabriel, the husband of my friend Debbie, offered me a sip of his new Curaçao after dinner at their house the other night, I reluctantly accepted, thinking that I wouldn't like it, because how on earth could I if it's not tequila or one of the few others on my very short list of boozy likes?
A little background. Alexandre Gabriel owns Cognac Ferrand, a boutique producer of spirits, including: Pierre Ferrand Cognac, Citadelle Gin, Mathilde Liqueurs, Plantation Rum, Landy Cognac, Cerbois Armagnac, and Daron Calvados. He makes award-winning liqueurs that mixologists the world over – a who's who in the world of bartending — are simply crazy for. They come to France to learn about what he does, and to taste these liqueurs themselves, in Cognac, where it's all made. Like making a pilgrimage to Mecca. Put simply, Alexandre Gabriel is a very big deal in the cocktail world because he makes all of these very fine things with great passion. Plus he's as charming as they come. He makes me want to try them all – gins, Cognac, whatever.
Which is how I found myself gleefully swilling a glass of his newest creation, Pierre Ferrand Dry Curaçao Ancienne Méthode, then leaving his house with the bottle itself tucked under my arm.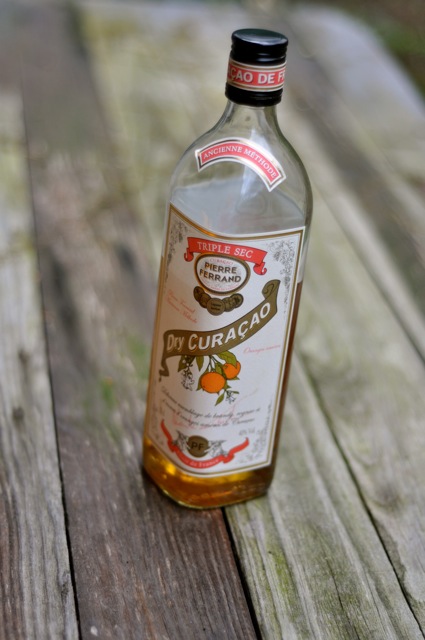 Know that this isn't any old Curaçao, and it certainly isn't blue. It is instead a gorgeous tawny-colored liqueur made from Cognac, brandy, the sundried peels from the bitter oranges which come from the island of Curaçao, along with some lemon, sweet oranges, and spices that's steeped and blended and aged till it turns into this, a modern take on one of the most popular spirits of the 18th and 19th centuries. Back then it was hard to find a cocktail that didn't include Curaçao. It was that loved.
Now I get it. I'd not had the bottle in the house three days before I made this, ice cream that's reminiscent of an orangette, a sliver of candied orange peel dipped in dark chocolate (and one of the best things on this earth). Eating an orangette makes me dizzy with happiness. Crazy with the happy. Happy Dance happy.
And this ice cream, made with orange zest, juice, and spiked with this fabulousness, takes that whole orangette happy to a whole new place. The ice cream itself doesn't have that heavy-on-the-tongue creamy business after you take a bite or two; instead, there's a clean, cool finish along with a hit of orange along with the bittersweet chocolate.
Lucky for me, Pierre Ferrand Dry Curaçao Ancienne Méthode is going to be available in Texas (and the rest of the U.S.) in May, when I arrive to do my book tour…and drink margaritas. Which I think will work quite nicely with this, too.
Orange-Curaçao Chocolate Chip Ice Cream
Makes 1 ½ quarts
2 cups/475 ml of cream
juice of two oranges
1 tablespoon of vanilla
1 ½ tablespoons of Pierre Ferrand Dry Curaçao Anciene Méthode
3 cups/710 ml of whole milk
zest of two oranges
1 cup/200 grams of sugar
3 eggs
a pinch of sea salt
4 ounces/113 grams of 70% chocolate
1. Pour the cream, orange juice, vanilla, and Curaçao into a large bowl, and set a colander over this.
2. Put your milk in a heavy saucepan over medium heat.
3. While the milk's warming up, rub the orange zest with the sugar with your fingers and make sure it's completely mixed together.
4. Beat your eggs in a bowl. Add the orange zest-sugar, salt, and mix well.
5. When the milk begins to show tiny bubbles along the side, it's ready.
6. Temper the eggs by slowly pouring a little milk into the bowl, while continuously whisking. Add enough milk to completely warm the eggs. Then add egg mixture back to saucepan and continue to cook for 3 more minutes, or until it thickens enough to coat the back of a spoon.
7. Cool the mixture in an ice bath, then refrigerate for 4 to 6 hours or until you're ready to freeze.
8. While the ice cream's freezing, melt your chocolate over a double-boiler, then remove from heat. When it's warm but not too hot, and when the ice cream is just about set, drizzling spoonfuls of the melted chocolate into the ice cream maker (you may need to break this up with your spoon as you go or when you put the ice cream in a container). Serve right away if you want soft ice cream or put in the freezer for a half-hour or more if you want firmer, scoopable ice cream. Can't go wrong either way.