Ottolenghi's Roasted Cauliflower with Dill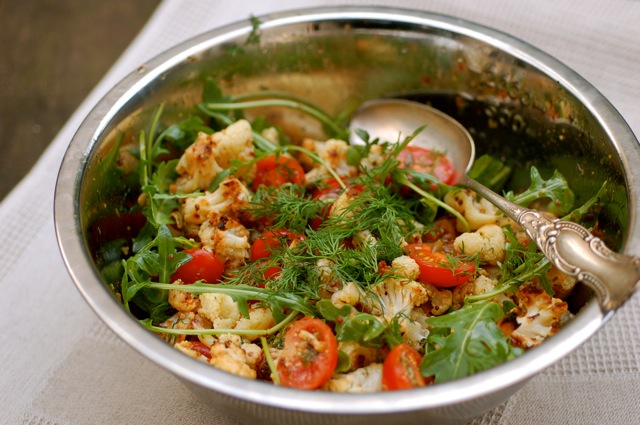 I'd love to be able to say that I popped into Ottolenghi in Notting Hill for lunch one day, and then bought the cookbook and have henceforth been roasting and throwing around handfuls of herbs like Yotam himself.
But if I did, I'd just be a big liar.
The truth is, my friend Julie was in London and she discovered Ottolenghi and she was the one who not only told me that I must buy this cookbook, Ottolenghi the Cookbook (which I did), she is also the one who first made this roasted cauliflower salad for a group of us this past winter, and I swore that I would make it (and I have).
Many times, in fact.
Yes, yes, I know, cauliflower. Don't just sit there thinking, Well, I'd never make this, as pretty as it may be.
Remember the power of the high-temperature roast. Think about how lovely all things can be on the grill. That's all we're talking about. That big high heat can turn the the most banal into something marvelous. I'm not trying to put down cauliflower, but I know that there's an image problem to deal with here.
Cauliflower isn't visually that appealing. It's not fluffy and green like broccoli, its cruciferous family cousin, or cute, like Brussels sprouts. Just sitting there, those big old lumpy round globes, heaped on top of each other near the cabbages in the vegetable section's no man's land, cauliflower has all the appeal of a pair of khaki pants.
But just wait a minute. You know how khaki can be sort of cool if you roll up the hems a bit and put them with a great old pair of vintage boots and a western belt? Cauliflower's just like that. Ready and willing to be part of whatever you'd like to do with it.
If you're not already a member of Team C, then this recipe — with the bite of the capers and the grainy mustard, the brightness of the dill, and, as I believe I've mentioned, the roasting — will put you there.
One more bit of business before we get to the recipe. A new Ottolenghi cookbook was just released, called Plenty, that's based on Yotam Ottolenghi's vegetarian columns (his first book, nor is he, vegetarian, but he does a wonderful job with veggies and gives them top billing) for The Guardian. I've just gotten it, but haven't had a chance to cook from it yet. You may want to check them both out, too.
Ottolenghi's Roasted Cauliflower
Adapted from Ottolenghi the Cookbook
1 large head of cauliflower (about 2 pounds)
10 cherry tomatoes, halved
handful of arugula
1 tablespoon dill, chopped
1 tablespoon whole grain mustard
2 tablespoons capers, roughly chopped
2 cloves garlic, minced
2 tablespoons cider vinegar
120 ml (1/2 cup) olive oil, plus more for drizzling
sea salt
pepper
Turn on oven to broil.
1. Make the dressing. In a jam jar, mix the capers, mustard, garlic and vinegar. Let sit for 15 minutes to a half-hour. Add the oil, shake it up, and add salt and pepper. Set this aside while you cook the cauliflower.
2. Put the cauliflower florets on a parchment-lined cookie sheet and drizzle with a bit of olive oil and sprinkle on some sea salt and fresh pepper, too. Slide into the oven until it begins to brown, about 15 minutes. Take out the pan and turn the cauliflower over, so the other side gets brown, too. This will take about 10 more minutes. When the cauliflower is nice and roasted, remove from oven and set aside.
3. In a large bowl, put the cauliflower, tomatoes, arugula and dill. Add the dressing and gently toss.
I like to eat this warm or at room temperature (or as leftovers, cold, the next day).