Oven-Baked Eggplant with Thyme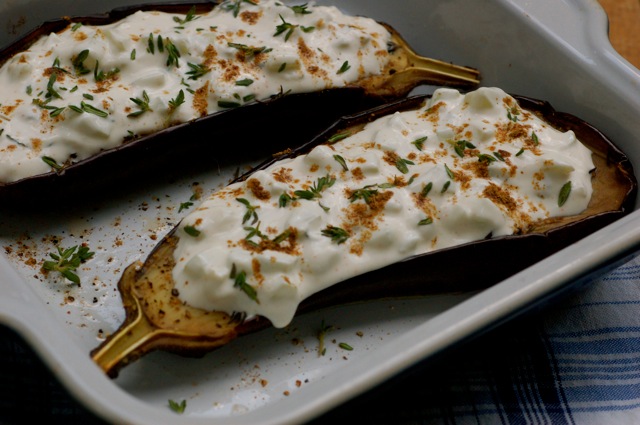 There may not be an easier recipe for eggplant in the world. Or one that's more delicious.
I saw this recipe in "Plenty," Yottam Ottolenghi's new cookbook, and thought that it sounded too good to be true: eggplant, split and brushed with olive oil, some herbs, salt and pepper, and that's it.
Seriously. That's it.
You know how eggplant can be so, so wrong? It can be mushy. Greasy. Or both. Well, this eggplant is neither. It's soft, yes, but it's so tender and lovely and inherently eggplanty, that you'll not believe that there's not more to it.
The original recipe calls for a buttermilk-yogurt sauce, which I was planning to make, but the stinky stinky (and always understocked) Franprix, naturally, didn't have buttermilk, so I nixed that plan and just whipped up some raita instead. It was fabulous. Perfect.
In keeping with my "eat cool" mantra of the summer, I made this early in the day, and X and I ate the eggplant at room temperature later, for dinner. The crunch of the cucumbers in the chilled yogurt gives this a great textural contrast, and makes for a totally satisfying, light summer meal.
Oven-Roasted Eggplant with Thyme
Adapted from "Plenty" by Yottam Ottolenghi
Serves 2
1 large eggplant, split down the middle, stem intact
4 tablespoons olive oil
pepper
sea salt
1 teaspoon thyme leaves
1 pinch garam masala, for garnish (optional)
1 recipe raita, recipe follows
Preheat oven to 200 C/400 F.
Place the split eggplant in a Pyrex dish. Make a few slices in the flesh so it'll better soak up the oil, then brush with olive oil. Slide into the oven and cook until soft, about 45 minutes to 1 hour. Remove from oven and let cool.
When ready to serve, top with raita, more fresh thyme leaves and a pinch of garam masala.
Raita
300 grams/10 oz/1 1/4 cup Greek yogurt
225 grams/8 oz/1 cup cucumber, seeded and chopped
1 clove garlic
2 teaspoons olive oil
¼ teaspoon sea salt
1 pinch cumin
2 pinches cayenne
1 teaspoon mint, chopped
In a medium bowl, gently mix all of the ingredients. Refrigerate for an hour, at least, before using.