Pain d'Epices (Spice Bread)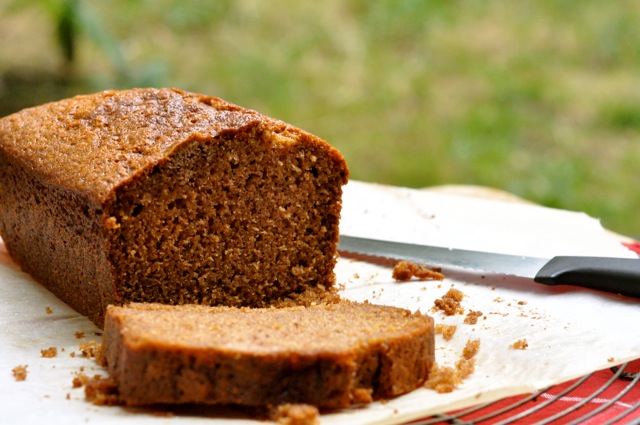 Every country has its own way of celebrating the holidays with food. In the States, we have our gingerbread, and in France, they have pain d'epices, or spice bread.
Just one more small difference. In the U.S., we eat gingerbread with a big spoonful of whipped cream, and for dessert. Here, pain d'epices is usually trotted out with a first-course with foie gras — the slightly sweet bread strikes a mighty fine balance with super-rich goose (or duck) liver, it turns out. There's often a tiny spoonful of jam or caramelized onions served on the side, too.
As simple as this looks (and actually is), pain d'epices is one of those things that people seem to get wrong more than right. Over the last few years, I've tasted more dry pain d'epices than moist; I've had it with chocolate chips, with lavender, and or just as it is, plain, and sweetened with honey.
I pretty much gave up on liking pain d'epices until this summer, when I was at Philou (the Canal St. Martin bistro recently named one of the top 15 in Paris by Le Figaro). There, I was served pain d'epices like no other…sweet, crispy, and toasted, served with some of the best foie gras I'd ever tasted.
So I decided it was time to give this a try at home. I played around with a few recipes and after a few fails, came up with this, inspired by La Pâtisserie des Rêves' Philippe Conticini's version and a few others. It's actually more cakey than breadlike, but that's why I like it. I haven't tried it with fois gras yet, but barring that, I think it'll work just fine as it is, or toasted with salty butter…
Pain d'Epices (Spice Bread)
Makes one loaf
⅓ cup/80 grams of brown sugar
1 stick/125 grams of butter
⅓ cup/110 grams of honey
½ cup/12 cl of milk
¾ cup/105 grams of all-purpose flour
½ cup/60 grams of sarasin flour/buckwheat flour
¼ teaspoon of sea salt
1 teaspoon of baking soda
¼ teaspoon of ginger
¼ teaspoon of cinnamon
1-2 teaspoons of quatre epices or pumpkin pie spice
the zest of 1/2 lemon
2 eggs, lightly beaten
1. Preheat oven to 350°F/175°C, and line a 10-inch by 4-inch loaf pan with parchment paper.
2. Melt your brown sugar, butter, honey, and milk in a saucepan over low heat.
3. Whisk together the flours and spices, and add the beaten eggs to this mixture. Pour the melted sugar mixture into this and mix until the lumps disappear — you can do all of this by hand, with a wooden spoon. Pour into the loaf pan and bake for about 35 minutes or until the cake springs back slightly when you touch it. Let cool on a rack. Slice and serve with salty butter, cream cheese, or a bit of jam – or you may want to dust with confectioner's sugar. So festive and snowlike!