Pappa al Pomodoro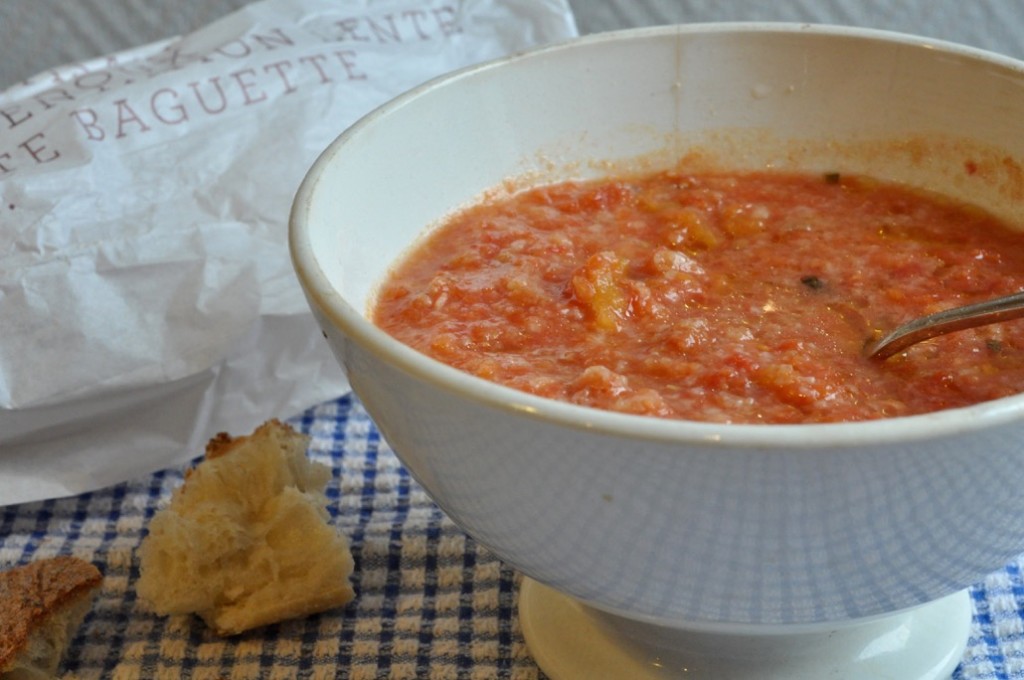 The other day, as I was embracing the idea of fall and wearing a sweater (not a coat yet), we had a very rude, unwanted guest show up. A high of 46 degrees is not fall, thank you very much.
Thankfully, the heat in the building had been turned on the day before, so inside it was okay, but outside, with rain plus near icy temps, the only reasonable thing to do was to make soup.
I also made cookies, because…well, just because.
I haven't made this soup in years. When I was living in Florence one fall, I went to a cooking class outside of town and learned how to make this rustic, peasant soup. I remember the woman standing over the stove, stirring an enormous restaurant-size pot, filled with tomatoes that she'd put up herself that summer, and torn bits of the dense, saltless bread that I mostly used for a Nutella holder in the mornings, pane Toscana. There wasn't much more to the soup than that. But I remember her husband coming in about halfway through our meal, offering us sandwiches of butter and aromatic white truffles that he and the dog had just found on the property an hour before.
Truffle and butter sandwiches instead of grilled cheese with tomato soup? Now that's an idea I can get behind.
Alas, here in Paris, I had only a fresh-baked baguette from the boulangerie down the street, plus ricotta. So I toasted the bread that I didn't use in the soup, spooned some ricotta on each half, and drizzled it with Italian spicy oil that I use on my pizza.
Not truffles or grilled cheese, but along with a big bowl of the thick Italian tomato soup on a too-cold fall night, it was just the thing to warm me down to my fuzzy-socked toes…and for a moment, transport me back to Florence.
Pappa al Pomodoro
Makes 2 servings
20 ounces/600 grams canned or frozen tomatoes
1 cup/250 ml vegetable stock
3 basil leaves, roughly torn
1 Parmesan rind
½ teaspoon sugar
salt and pepper to taste
2 cups torn stale bread (about 1/3 of a baguette)
olive oil, for serving
fresh grated Parmesan, for serving
Put everything but the bread in a medium saucepan over medium heat. Cook for about a half-hour, or until the tomatoes soften and you can mash them easily against the side of the pot with your wooden spoon. Using your hand stick blender, blend half of the soup.
Add the bread and let it cook until the bread softens completely, about 15 more minutes. Serve with a swirl of olive oil and fresh Parmesan.