Paris' Best Baguette

There's nothing more Parisian – or satisfying – than tearing off the end of a crunchy, just-baked baguette, and eating it while walking down the street, on my way home. And with good reason. Since the iconic, slender loaf was first created — food historians' best guess it that it was around the time of the Industrial Revolution, because Viennese steam ovens were used — it literally has been the daily bread of its citizens, who would no more dream of giving up their loaves than I would tortilla chips.
According to the game show, "Gross Gagnant" (which I just happened to be watching the other day), baguettes make up an average 74% of sales at boulangeries across France.
But there are baguettes, and there are baguettes.
The baguette tradition (pronounced "trah-diss-zee-AWN", as the surly woman behind the counter at Bechu, my neighborhood boulangerie, always says, correcting my French), is the most revered – it's required by law to be handmade, with wheat flour and no additives, and with slashes across the top – and every year since 1994, there's been a competition to find out who makes the best in Paris.
The criteria for judging the Grand Prix de la Baguette de la Ville de Paris is as tough as the Miss America swimsuit competition. It must be between 50 and 70 centimeters long and weight between 240 and 340 grams. Besides that, the bread must score high on taste, smell, appearance, the mie (the interior), and the crumb.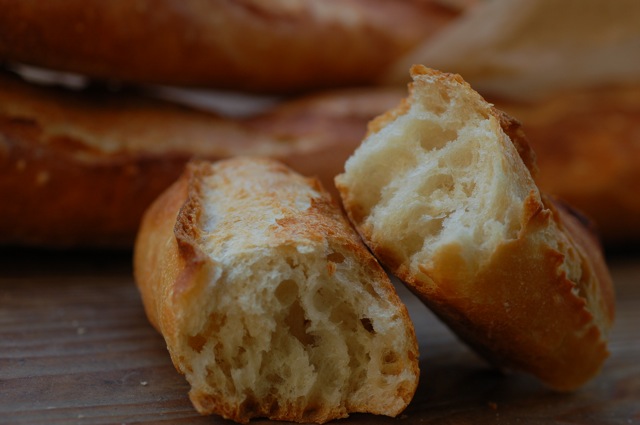 This year's winner, 33-year-old Dijbril Bodian at Le Grenier a Pain in Montmartre, beat 162 other boulangers to walk away with the prize, which includes a 4000 euro check and the opportunity to supply bread to the Elysee Palace for the year.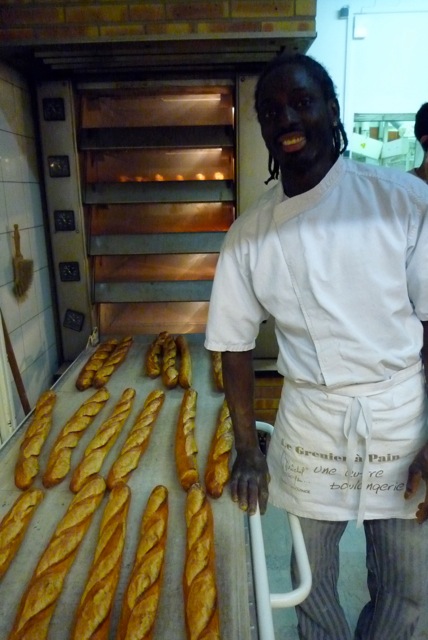 But the financial rewards may outweigh the prestige of keeping Sarko and Carla carb-happy.  Bodian told me that he has already seen a 40% increase in overall sales since he won the prize three months ago. The small boulangerie, about halfway up the steep hill to Sacre Coeur, has wooden shelves filled with homemade jams and cookies on one side, and on the other, a case filled with just-baked pain chocolats and croissants, lardon-studded fougasse, the buttery (and highly addictive) kouign amanns, and of course, its famous baguettes, at just 1.10 euros apiece (in some parts of Paris, including my neighborhood, baguettes go for as much as 1.40, which really irks X).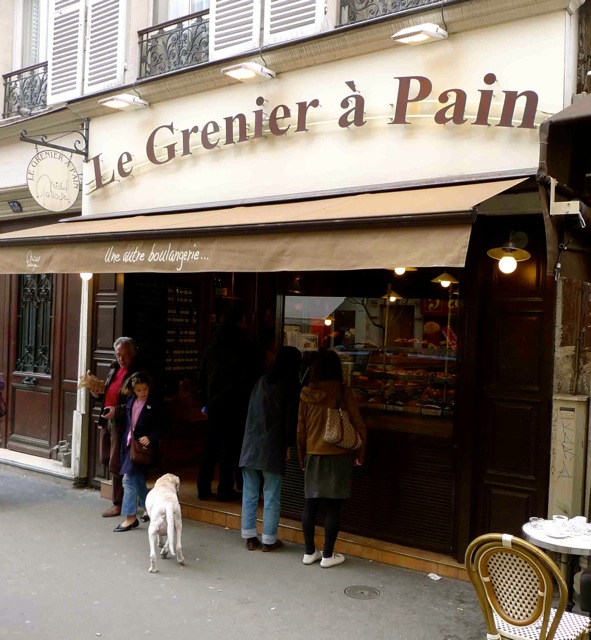 So, what makes his baguettes so special?
"The flour," he said one morning, as he stood by a conveyor belt where a baguette-filled oven soon spit out dozens of caramel-colored loaves. "It's the most imporant thing."
His flour comes from Chartres, 96 kilometres southwest of Paris, better known, perhaps, for the 13th century cathedral in the center of town. Besides flour, his baguettes, which take seven hours to make from start to finish (and include two proofs), have only water, salt, and starter.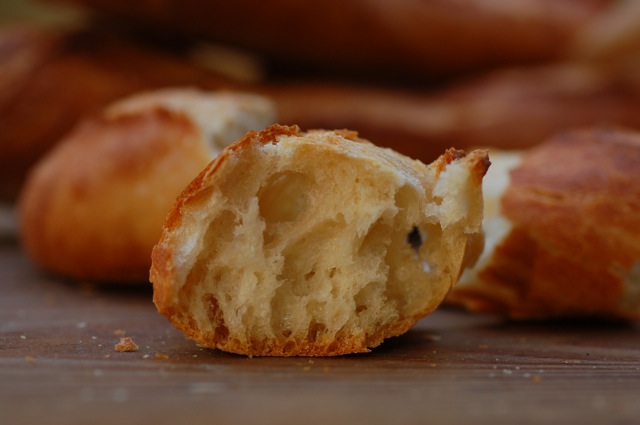 Bodian, who was born in Senegal and moved to France when he was six, learned the art of bread making in father's boulangerie outside of Paris. His apprenticeship began at 12, he attended pastry school in nearby Pantin, and since then, has focused on making the best bread possible.
When I asked him if he was surprised to receive the highest honor in breadmaking, he just shook his head.
"Non," he said, smiling, as he gathered up another batch of baguettes and put them in a wicker basket. "I've been in the top ten three times."
Here's the full list of this year's winners:
Le Grenier a Pain, 38 rue des Abbesses, 18e
Daniel Pouphary, 28 rue Monge, 5e
Macaron's Café, Dominique Saibron, 77 av du Gal Leclerc, 14e
Yves Desgranges, 6 rue de Passy, 16e
Philippe Gosselin, 258 bld St. Germain, 7e
Xavier Doue, 163 av de Versailles, 16e
Jocelyn Lohezic, 143 rue de Courcelles, 17e
La Boulangerie d'Isa, Isabel Gaveta, 127 rue de Charenton, 12e
Mohamed Zerzour, 50 rue de L'Ameril Roussin, 15e
Mohamed Zerzour 324 rue Lecourbe, 15e