Parmesan Grits with Double Mushrooms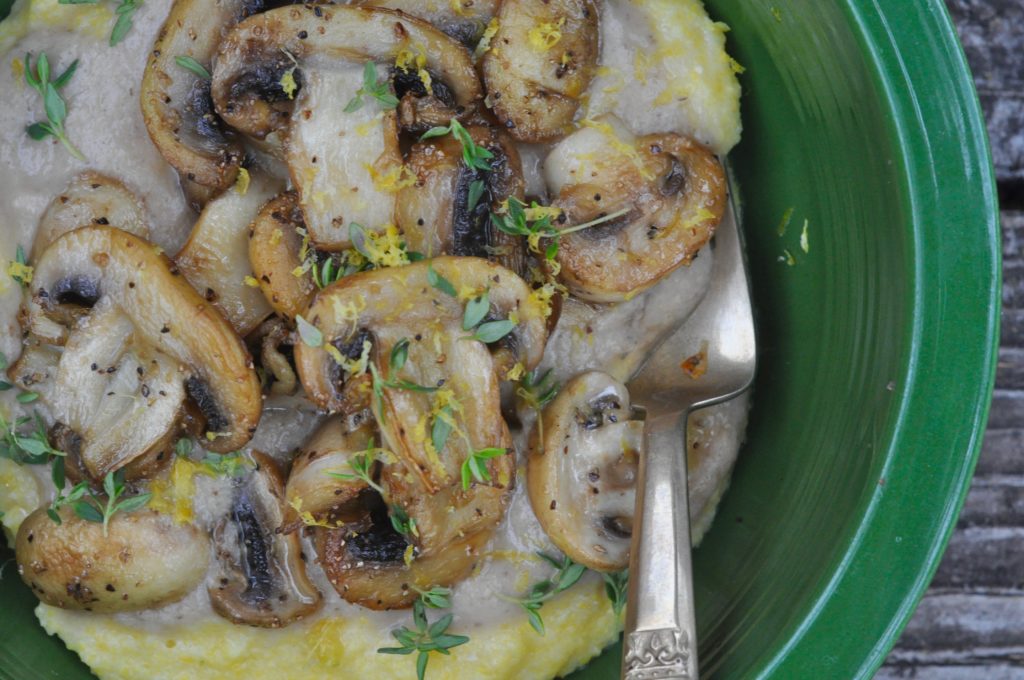 I thought about calling this polenta, but I'm in Texas right now, so I figure there's no need to call it anything other than what I've always known it to be.
Grits.
Growing up in Denton, we always had white grits with our scrambled egg and bacon breakfasts. Plain, with butter and salt and pepper; or for special occasions, with lots of cheddar cheese and Tabasco. The fancy grits were always yellowy-orange because of all of the cheese.
Once I tasted grits with cheese, there was no going back to the plain.
With cheesey grits in mind, I thought mushrooms on top would make a nice transition-into-spring dish, especially for the cool days that still pop up every now and then. Morilles are lovely spring mushrooms, but insanely pricey. Turns out there's a sneaky way to get that deep, rich mushroom flavor without spending a ton.
Besides two boxes of Texas-grown button mushrooms, (they're local, and just $1.38 a box) I bought dried shitakes, which are total flavor bombs. At $42 a pound, they're pricey indeed, but who needs a pound of dried mushrooms, anyway? I paid less than a buck for a handful.
My idea was to build different layers of flavors, and even distinguish between the two different mushrooms. The cheesey grits would be the foundation. Then a purée of shitakes with a couple of splashes of Cognac, which I know sounds posh and hard to pull off, but it isn't.  On top of it all, a mountain of sautéed 'til brown and crispy button mushrooms, with some thyme and lemon zest.
So easy. Yet seemingly so dinner party. You might want to call it polenta after all.
Parmesan Grits with Double Mushrooms
Makes 4 servings
¼ ounce dried shitake mushrooms
4 to 6 tablespoons olive oil
2 (8-ounce) boxes button mushrooms
salt and pepper to taste
2 cups grits or polenta
2 tablespoons butter
Parmesan
2 tablespoons Cognac or other brandy
a few sprigs fresh thyme
zest of 1 lemon
1. Put the dried shiitakes in a small bowl and pour about 2 cups of boiling water over them. Let them steep while sauté the white mushrooms and prepare the polenta.
2. Clean and slice the mushrooms, leaving the stems intact (there's no need to waste the stems), trimming the ends if necessary. Put your largest sauté pan over medium-high heat and add as much olive oil as necessary to cover the bottom, probably 2 to 3 tablespoons. Add just enough mushrooms to fill the skillet, but not so many that they're crowding each other — if you do, they won't brown and caramelize; they'll steam and go soft. You'll need to work in batches and add oil as you go. Salt and pepper the mushrooms while cooking, too. Set them aside on a plate or wide bowl.
3. Pour the shiitakes, the water, and the Cognac into a saucepan over medium-high heat. Let it boil until the liquid reduces by half. Carefully pour into your blender and purée until the mixture is creamy. Taste for seasonings.
4. Make the polenta. Put 6 cups of salty water onto boil. Add the grits or polenta, stir, add the butter, and when it starts to thicken, stir in the Parmesan. Taste for seasonings and thickness. Divide the grits between four shallow bowls, add a big spoonful of the shiitake mushroom purée, and top with the browned mushrooms. Garnish with thyme leaves and lemon zest. Eat.