Pasta Puttanesca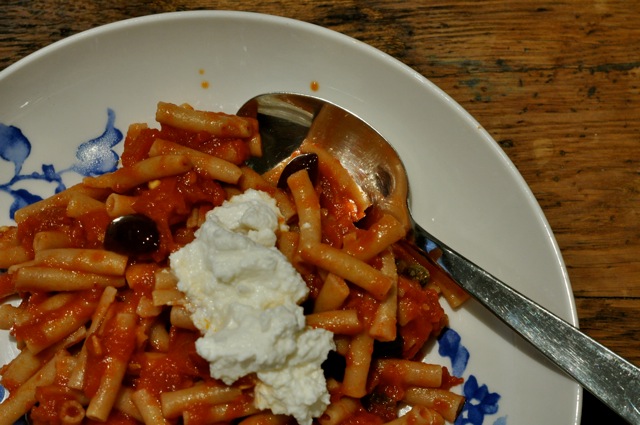 Pasta Puttanesca has been my go-to pasta for years. Decades, I'd guess. But the other day I was in the mood for this, but I hesitated. I thought, Oh, wait. I can't make that because X doesn't like olives.
When I met him, he also didn't like carrots (and once picked them out one by one of a Beef Bourguignon that I'd spent the afternoon making), and wouldn't touch broccoli or cauliflower, either.  Or beets. Or anything with lemon or lime. As for olives, he'd only eat black ones – not green — and only at room temperature,  as they often are at the Spanish place here, along with a carafe of wine.
Thankfully, my lapse of judgment passed, and I decided to just go on and make my favorite pasta sauce, anyway, whether he liked it or not. I figured he'd just have to get past his warm olive-phobia as he has with his dislike of the aforementioned cruciferous veggies, and carrots, too.
I did take some liberties with this Italian classic sauce, so-called for the, ahem, working girls that made it, between, um, appointments (just trying to keep the blog clean, y'all). I didn't have any anchovies, but I thought that I did, and I just didn't want to make that long walk to the stinky stinky Franprix down the street, so I left them out.
Then I added jalapenos. There. I said it.
It was damn tasty. And I must confess, it's not the first time I've added jalapenos to an Italian sauce. They seem to get along just fine.
I heaped a spoonful of ricotta on top of it all, too, because I wanted something fluffy and neutral to counter the spicy sauce.
I loved it.
Guess who else did, too?
Pasta Puttanesca
Makes two dinner-size portions
2 tablespoons olive oil
1-2 cloves garlic
1 32 oz. can diced tomatoes in juice
1 teaspoon honey (it helps cut the tomatoes' acidity)
2 teaspoons capers
15 Kalamata olives, halves
1 pickled jalapeno, chopped
½ teaspoon red pepper flakes
½ teaspoon sea salt (or more to taste)
10 oz. pasta of your choice
2 large spoonfuls of ricotta
1. Drizzle the olive oil in a medium saucepan and add the garlic. Turn the heat on medium-low and let cook until the garlic gives off an aroma. Now add everything else. Cook for 30 minutes to one hour. The sauce will reduce a bit and should be nice and thick.
2. Cook the pasta per directions on the package. Drain the pasta and add it to the sauce. Stir and let cook for a minute or two more and serve with a heaping spoonful of ricotta.