Peach Galette for One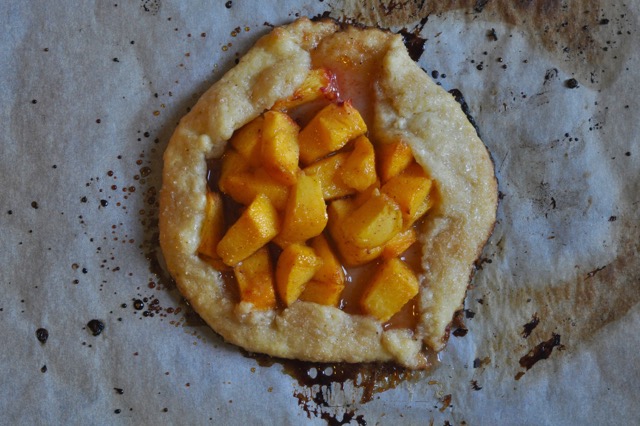 No need to adjust your screen. The uneven folds and flopped over parts, which leaked on the parchment paper (and in doing so, created a crispy sugary bottom), were not intentional, but it's fine. Really.
There's a lot of hope involved in baking. You hope that what you pull out of the oven is what you'd envisioned, but this isn't always the case. It's often a variation of what you thought it would be, or something else entirely. Mistakes. Surprises. Sometimes a little of both. You leave room for things to not turn out the way you thought they would.
But we're just talking about appearances here. The thing itself is as delicious with the leaky sides as without. It may even be better this way. I am not a perfect baker, but I am an enthusiastic one.
Galettes are the no brainers of the pastry world; uncomplicated, what you see is what you get desserts. There's nothing hidden beneath an elaborate and intimidating lattice crust. Afraid of pies? Make this instead.
I am more galette than pie. Slightly messy, with imperfections showing. Which I probably don't need to remind you is what ice cream is for.
Peach Galette for One
Makes 1
Call it rustic, call it handmade, it's easier than pie to put together because there's nothing to crimp or pinch or fit into a dish.
½ cup/1 stick unsalted butter
8 ounces/1 cup flour
3 tablespoons sugar
¼ teaspon sea salt
3 to 4 tablespoons ice water
1 medium peach
½ teaspoon corn starch
1 tablespoon cassonade sugar, plus a bit more for the crust
¼ teaspoon cinnamon
a pinch of nutmeg
1 tablespoon cream or half and half
Cut the butter into small cubes and put in the freezer for at least an hour. You may also do this in advance.
Make the dough. Put the flour, sugar, and salt in a food processor, and pulse a few times to combine. Add the butter and pulse until the butter is the size of small peas or pebbles, but it doesn't have to be uniform. Slowly add the ice water, and pulse just until the dough begins to come together (it'll still be a bit crumbly, but don't worry. It'll come together. You don't want to overblend or overwork the dough.) Put the dough onto a piece of plastic wrap and shape it into a large rectangle about 2 inches thick and pop into the fridge for an hour.
Divide the dough into four even pieces and gently shape into squares. Wrap all but one in plastic wrap, and pop these in a plastic bag and keep in the freezer until you're ready to use them.
When you want to make your galette, preheat your oven to 450°F,
Make your galette shell. On a lightly floured surface, roll out the dough until it's approximately 5 inches by 5 inches, or thereabouts. Don't worry about how it looks. The crust doesn't need to be perfectly shaped – in fact, part of the charm is its odd shape. Once rolled out, place the dough on a piece of parchment paper on a cookie sheet and pop back into the fridge until you're ready to assemble.
Peel, remove the pit and chop up your peach into small 1/2-inch chunks and toss with the cornstarch, sugar, cinnamon, and nutmeg.
Pull the dough from the fridge and place the peach mixture in the center. Fold over the edges and lightly brush them with cream or half and half. Put this back in the fridge to chill and firm up.
Bake for 15 minutes or until the crust turns brown. Let cool slightly before serving. Ice cream is always a good idea.