Pear-Cucumber Ginger Juice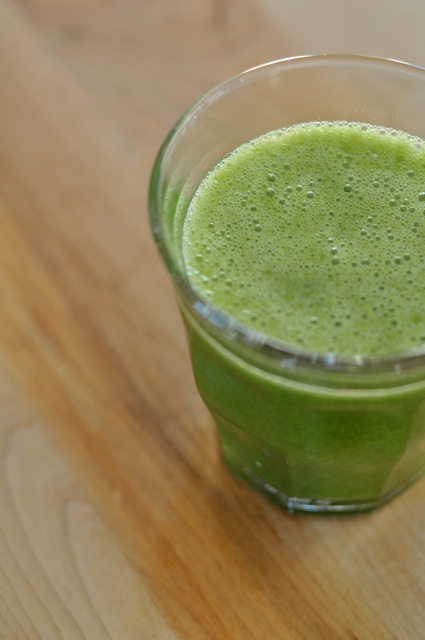 I know, I know. A glass of something green that's not a margarita? What on earth is going on over here?
Well, after sampling: the new 1921 creme de tequila (think tequila meets mocha milkshake and you're close), served on the rocks with a generous splash of reposado at Steve and Steffie's one night; super-strong margaritas made with jalapeño-infused tequila at Wild Salsa another; and plain ol' garden variety margaritas at Lee Harvey's with my best pal, a pistol-packin' P.I. to ring in Christmas; and then, the super-strong ones at La Choza and Inn of the Anasazi while I was in Santa Fe, it was time for a new drink.
Hello, Mr. Pear-Cucumber Gingerman.
Now, please don't worry. I'm not saying au revoir to tequila or anything crazy like that. Nosirrebob. I'm simply trying to find some kind of balance –even a smidgen–for the new year.
So last week I went out and bought a juicer and this is the first thing I made with it. I found some pretty Comice pears at Whole Foods and thought that they'd go quite nicely with some cucumber, spinach, and ginger…and I was totally right. It was so good that I made it again the next day.
Thing is, I've been wanting to buy a juicer since last summer, when I was in the throes of testing, testing, testing every single day…and now that I have, I wish I'd gotten one a long time ago. I spent so much of the last few months on such a caffeine + sugar supercharged buzz in order to get the cookbook finished, I just felt like I needed to mix things up a bit, and swap out a coffee or two each day with something green. Or orange. Or red. Just for fun.
Tequila — or what I now like to call "agave juice" — is for the weekends.
Pear-Cucumber Ginger Juice
Makes about 4 servings (appx 45 ounces/1200 ml)
1 lime, skin and pith removed
1 large cucumber, peeled
3 to 4 big handfuls of fresh baby spinach
2 fat pears, such as Comice, stems removed
1-inch piece of peeled ginger, left whole
Turn the motor on and add the lime and spinach to your juicer, turned to the lowest speed. After a few seconds, increase your speed a notch or two and add the cucumber. Finally, crank up the speed to high and add the pears and ginger…et voila!…you've got juice. Total time: about 30 seconds. (Seriously!)