Pecan Cornmeal Butter Cake with Pears and Caramel Sauce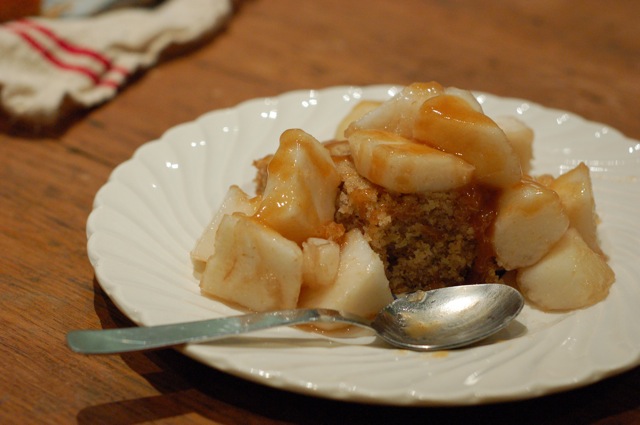 This cake had me at pecans — and cornmeal. A cake that used more cornmeal than flour, and with ground-up toasted pecans and nutty, browned butter?
I was a goner before the first bite.
This recipe is adapted from Smitten Kitchen, who adapted it from a recipe from Watt's Grocery from Durham, N.C. which ran in The New York Times earlier this year — whew! —  and what I love about it, besides the obvious (listed above) is that the texture is just like cornbread, which reminds me of  home. We had cornbread with dinner more than anything else, and with a spoonful or two of sorghum smashed with butter and mixed until it was a light golden paste, it also served as dessert — we'd simply dip the cornpone into the sorghum-butter, or spoon it on top. So I'm always looking for any recipe that uses cornmeal or polenta – it takes me back to my Denton, Texas dinner table, and the texture and the sweet taste of corn is like nothing else.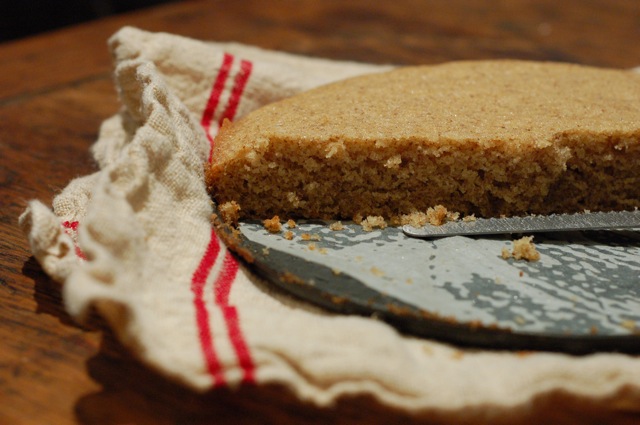 Even though this little cake would be wonderful on its own, I had a perfectly ripe, fat Comice pear, which I thought would be lovely on top, and at the last moment, I decided to make a little caramel sauce, too — all of which came together to make a perfect fall/winter dessert. But this cake would be great any time of year. It would be fabulous with berries, or a spoonful of whipped cream, or ice cream on the side — or all three.
And for those of y'all still scared of making caramel, click right here and look at the video to see just how easy it is.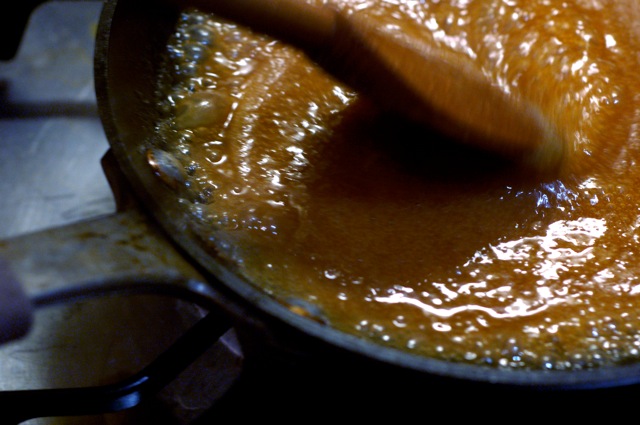 Pecan Cornmeal Butter Cake
Adapted from Watts Grocery, in Durham, N.C. and the Smitten Kitchen website
8-10 servings
9 tablespoons (4.5 oz.) butter, plus extra for buttering the pan
½ cup pecans, toasted in a cast-iron skillet and cooled
1 cup powdered sugar
2 tablespoons sugar
3 tablespoons all-purpose flour
1 teaspoon baking powder
7 tablespoons cornmeal
¼ teaspoon sea salt
4 egg whites
1 teaspoon vanilla
pears, for serving
salty caramel sauce, for serving
1. In a small pan or skillet, heat the butter on low until it begins to brown, about 10 minutes. When it smells nutty, remove from heat and strain. Let cool.
2. In a food processor, pulse the pecans, confectioner's sugar and granulated sugar until a fine powder. Whisk together the flour, baking powder, cornmeal and salt in a medium bowl and add the pecan-sugar mixture.
3. In a small bowl, whisk the egg whites, then add the vanilla and whisk again. Add this to the dry ingredients, mix well, and add the cooled brown butter and mix just until combined. Cover with plastic wrap and refrigerate for 3 hours or overnight.
4. When ready to bake the cake, preheat the oven to 325 degrees and thickly butter the sides and parchment-lined bottom of a 9-inch springform pan. Bake for 25-35 minutes, or until a tester comes out clean. 

Serve with chopped pears and a drizzle of homemade salty caramel sauce.