Penne with Spicy Italian Sausage and Kale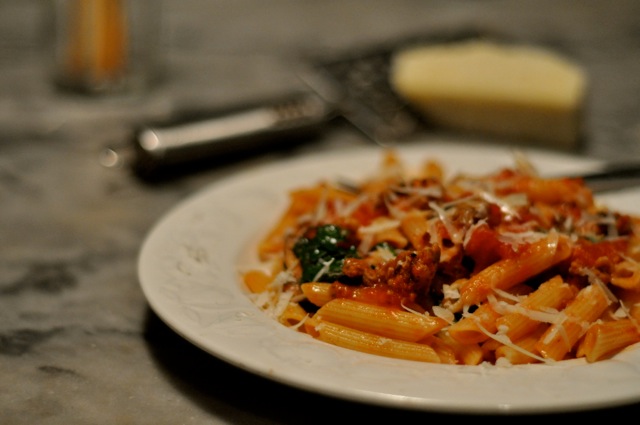 It's been cold, below-freezing cold, in Dallas lately, and when I have little time to make dinner, like the other day, after I spent the afternoon with Anne Jones at Latte Da Dairy for an upcoming story for the Fort Worth Star-Telegram's INDULGE (more on that later), my mind goes straight to pasta.
It's warming, easy, quick…and oh so dee-lish!
Especially when you've got great spicy sausage like this one from Jimmy's Food Store in Dallas.
A little background: I started going to Jimmy's about 15 years ago when I was obsessed with all things Italian, and was making my own ravioli, Tuscan bread, gnocchi, and just about anything else I could put together that reminded me of Florence, where I was spending lots of time back then.
Jimmy's had it all – the Oreo-like cookies with hazelnut creme insides I'd eat in the afternoons with my cappuccino while studying Italian – along with Baci candies, big cans of San Marzano tomatoes, the best Parmesan in town, and lots of homemade sausages. Still does.
So at 5 p.m. the other day, with still-numb fingers from standing outside and admiring Anne's herd of floppy-eared goats at her Flower Mound ranch, I drove straight to Jimmy's for some sausage, cheese, and tomatoes. Pasta was in my sights.
Dinner was on the table less than an hour later. But more than that, as I've often complained about the overwhelming size of grocery stores back in the States, it's nice to be reminded that there are also places like Jimmy's — small, family-run, and filled with fresh and wonderful products, a lot of them directly imported from Italy, and many, too, made right here in Texas.
Penne with Spicy Italian Sausage and Kale
Makes 4 dinner-size servings
4 tablespoons of olive oil (divided)
2 cloves of garlic, minced
1 pound/500 grams of spicy Italian sausage (in Dallas, I like the bulk sausage at Jimmy's)
1 (28-ounce/794 gram) can of whole San Marzano tomatoes
sea salt and pepper
6 ounces/170 grams of crimini mushrooms, cut into thick slices
10 ounces/454 grams penne pasta
a half bunch of kale leaves, chopped into bite-size pieces
lots of grated fresh Pecorino Romano cheese
1. Put 2 tablespoons of your olive oil along with the minced garlic in a medium saucepan and turn the heat to medium-low. Let the garlic cook a minute or two, and when you can smell the garlic's aroma, toss in your ground Italian sausage and cook it through. While the sausage is cooking, tear up the tomatoes with your hands and add them to the pot. Let this cook for 30 minutes (which is what I did), or a bit longer if you want the sauce to thicken a little more.
2. Add the other 2 tablespoons of olive oil to a skillet, toss in the mushrooms and cook till browned. Set these aside.
3. Put the pasta water onto boil with a big pinch of sea salt, and when it's ready, toss in your penne and set the timer as directed (8 minutes or thereabouts usually does it for al dente). While the pasta's cooking, add the mushrooms and raw kale to the sauce and stir this up.
4. Drain the pasta, add it to the sauce, give it a few stirs so the sauce oozes into the little penne pasta, and serve right away. Pass the freshly grated Pecorino Romano — the perfect for a cold winter's night.