Perfect Chocolate Chip Cookies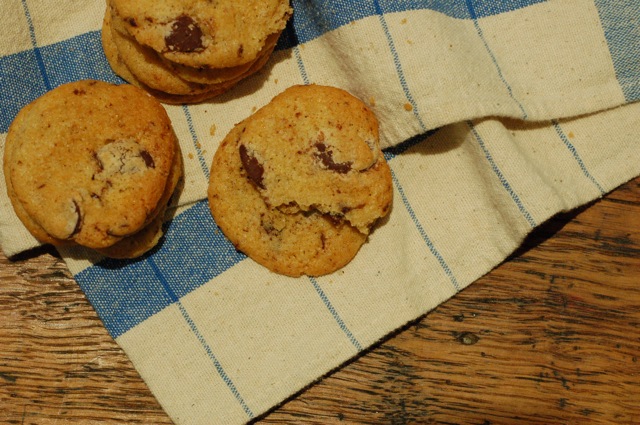 After four years of living in Paris, I've figured out a few things. I know that bread flour makes the best oatmeal cookies, British all-purpose for Snickerdoodles, and the French brand Francine for sugar cookies and sablés, but the perfect chocolate chip cookie has remained elusive. I've used different flours. I've let the dough rest for one, two, and even three days. I have done all but hold a chocolate chip cookie dance in my kitchen to the gods that oversee this sort of thing. I have cursed the French butter that I love for being too fatty and for ruining my cookies, making them spread like, well, butter, on a hot skillet. I have wished for bad, bad things to happen to my oven that kicks up the temperature when I turn my back to get a cup of coffee between batches. I had fairly good batch once — once — with the British flour, but every time after that, I have had mediocre results. I had all but given up when I saw the recipe for Jacques Torres' Secret Chocolate Chip Cookies on Martha Stewart's website (which has, by the way, an entire section devoted to chocolate chip cookies).
I watched the video with some skepticism as Martha declared these her favorite chocolate chip cookie. I was ready for something complicated. I knew that there would be an agonizing three-day wait.
But I am pleased to tell you all that I was wrong. Wrong, wrong, wrong. These cookies were easy. They were make-and-bake. Best of all, they were perfect.
Crispy on the outside with a slightly soft center, these cookies reminded me of the ones that I used to make back home – with ease.
The key, apparently, is the mixture of bread flour and pastry flour – both of which are easily found at my stinky stinky Franprix — and slightly more brown sugar than white.
Now, Martha made jumbo-size cookies, which you may certainly do, but I like to make small ones – so you can eat more. Plus, smaller means crispier, which I really like, and what I've not been able to achieve since I've been living here.
Now I'm happily baking my favorite cookie again – and again – and I'm doing the happy baking dance.
Chocolate Chip Cookies
Adapted from a recipe by Jacques Torres
Makes 6-7 dozen 2-inch cookies
1 ½ cup plus 1 tablespoon pastry flour
1 ½ cups bread flour
2 teaspoons sea salt, plus more for sprinkling on top of cookies
1 teaspoon baking poder
1 teaspoon baking soda
1 cup (2 sticks) butter
⅞ cup granulated sugar
1 cup plus 2 tablespoons light brown sugar
2 large eggs
2 teaspoons vanilla
1 pound (16 oz.) bittersweet chocolate, coarsely chopped
Preheat oven to 350 F.
1. Whisk together the pastry flour, bread flour, salt, baking powder, and baking soda in a medium bowl. Set aside.
2. In a stand mixer, cream the butter and sugars until light and fluffy. Add the eggs one at a time, mixing well between each one. While the mixer is running on low, slowly add the flour mixture. Now add the vanilla and mix well. Finally, add the chocolate and mix just until combined.
3. For 2-inch cookies, using a teaspoon, scoop just enough dough to make large marble-size balls. Place on a parchment or Silpat-lined baking sheet about 2 inches apart. Bake for 10 minutes or just until the edges begin to slightly brown. Be careful – don't overbake these babies. They'll get too crispy if you do.  Cool on a wire rack. Eat 'til they disappear, then do it all over again.