Pita Nachos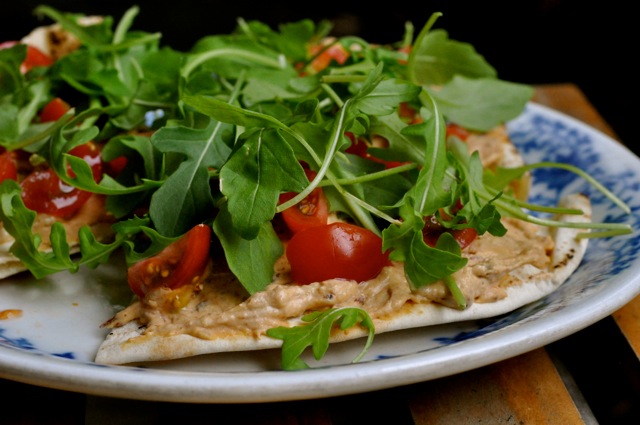 I love traveling, don't get me wrong. But when I'm on the road (or plane, or boat, as the case was most recently), it doesn't take long until I miss my own cooking. Anything, really. Just something I've made in my kitchen. I've always been like this. The longer I'm away, the greater the chances you'll find me talking to the chef wherever I happen to be, or to anyone who'll talk about food, and hopefully be able to share my enthusiasm.
As odd as it may sound, what I like to do to relax from a day of cooking is quite often just that…to get right back into the kitchen. To wind down from a catering gig that required three solid days of cooking, I decided to make croissants for the first time. It was hot, it was July, and they were a complete disaster. But I couldn't wait to get in there and give them a try, even though I was dead dog tired.
Naturally, when I returned home from 11 days of being away from Paris, on assignment in both Spain and Morocco (more on that later), I dashed right into my kitchen, even though I'd hardly slept the night before, and decided to make a tart crust so I could make a spinach tart the next day. That same afternoon, I went to Lebanese traiteur nearby and bought some hummus; to the Moroccan grocer down the street for pita; and to the Monoprix for arugula and tomatoes, because for some reason I was in the mood for this: pita nachos.
Don't ask me where my strange cravings come from, but I used to make a version of this — just doctored-up hummus on crispy pitas with tomatoes and arugula — all the time when I lived in Dallas. And I guess this easy-to-throw-together concoction somewhere along the way became comfort food to me.
I'm still a bit tired from all of that reading on the beach and all of those perfect 85-degree days (sigh), but I'm thrilled to be back in Paris again, where it's gray and overcast and quite blustery and fall-like.
My favorite time of year. It feels good to be home.
Pita Nachos
Makes 4 servings
12 ounces/360 grams of store-bought hummus
5 ounces/140 grams of grilled artichokes in oil, drained
1 fat chipotle chile (in adobo)
4 large pitas, quartered
about 15 cherry tomatoes, quartered
4 handfuls of arugula
1. Put the hummus, artichoke hearts, and chipotle into your baby food processor and pulse a few times till it's pretty well mixed. Transfer into a container and keep in the fridge for a half-hour or so.
2. Make your nachos: Pop the pita quarters into your toaster till they're slightly crisp. Slather them with as much smoky artichoke hummus as you'd like, add a few tomatoes, and arrange these on your plate. Top with a handful of arugula and serve.