Potato-Kale Soup with Italian Sausage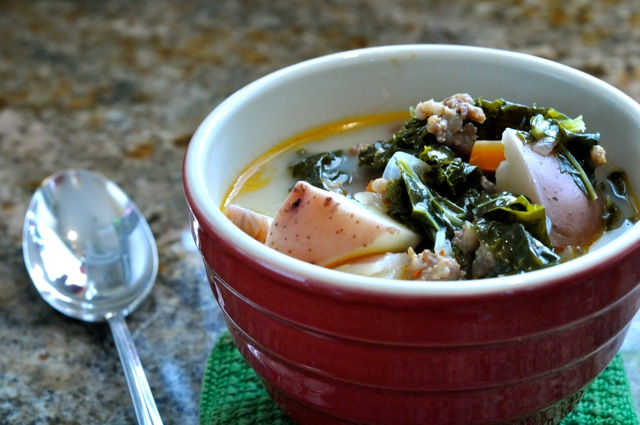 Mom's been telling me about how much she loves this soup for the last couple of years, and since we don't have kale in France – or spicy Italian sausage like the one that she buys at the Kroger in Denton — I've not asked Mom for the recipe, or thought too much about this soup, really, at all.
But that was before I tasted it.
Let me just say one word about this soup. Wow.
Chunky with potatoes, sausage, and carrots with ribbons of curly kale running through a milk-thickened broth, this rustic, throw-together-in-a-half-hour soup is one of the most satisfying winter meals that I've tasted in a long time.
I watched Mom put this together the other day between nonstop updates on Texas' erratic and dramatic weather (cold/sunny and 75/thundersnow and 17 degrees F), and marveled at how such simple ingredients could create such a terrific dinner.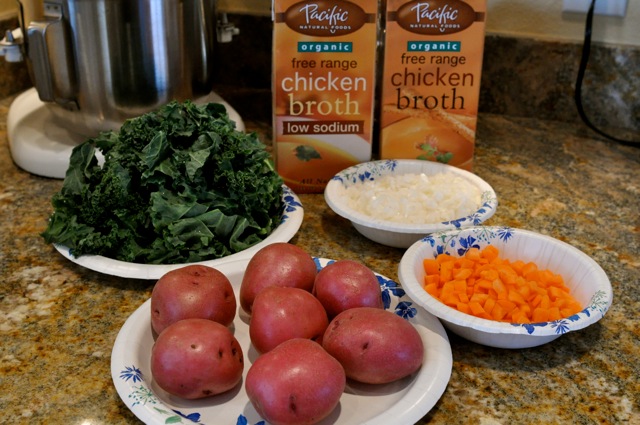 I wasn't surprised, of course. Just happy. Happy to be sitting at my mom's kitchen table on a cold winter's night and eating our bowls of soup while the nightly NCIS 'thon ran in the background and her kitty slept in the rocking chair.
P.S. Mom wanted me to point out the no salt, no pepper-ness of this recipe, so please take note. The Italian sausage provides enough oompf for the soup, and it doesn't need any additional seasonings.
Potato-Kale Soup with Italian Sausage
Makes 6 large servings
1 ½ pounds spicy Italian sausage (Mom uses Johnsonville's Hot Italian sausage)
1 medium white or yellow onion, diced
3 medium carrots, diced
2 32-oz. cartons chicken stock
2 pounds red-skinned potatoes, cut into 2-inch pieces
1 bunch kale, ribs removed and sliced into 1-inch ribbons
1 cup whole milk
1. Remove the casings from the sausage, crumble into a large skillet, and cook over medium heat until brown. Put the sausage on a paper towel-lined plate to drain. Pour off all but 1 tablespoon of the oil from the sausage, and let the skillet and oil cool for about 10 minutes.
2. Add the onions to the oil in the skillet and sauté over medium heat until they begin to soften, about 5 minutes. Add the diced carrots and cook for another 5 minutes. Turn of the heat.
3. Into a large stockpot, pour the chicken broth, and add the cooked sausage, onion and carrot mixture, along with the potatoes and kale. Turn the heat on medium, let the soup come to a boil, and then cover and turn the heat down to a low simmer. Cook only until the potatoes are tender; about 30 minutes. Then add the 1 cup of milk, let it heat through, and serve.
Cowgirl Tip: Mom says collard greens would work well in this soup, too. (We don't have kale or collards in France, so I'd use Swiss chard or spinach.)