Potato-Rosemary Pizza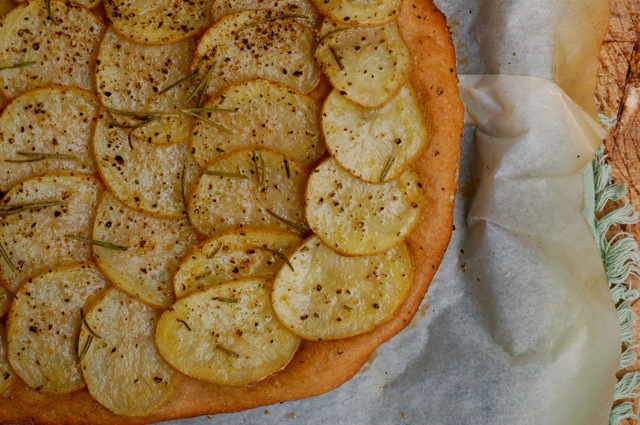 I picked up a new mandoline (plus one of those great gloves that'll keep you from slicing off your finger) when I was in Texas last month, and I've been dying to give it a spin. I had some potatoes that looked like they were ready  to be eaten, just sitting there in my big blue bowl, and I figured this would be a great way to see if the new V-slice system was superior to my old straight-edge mandoline (now in la poubelle), as I was hoping.
As you can see from the photo above, the new ride worked beautifully. The potatoes sliced up evenly, and stacked themselves quite neatly below. That took about, oh, 3 minutes. Then, all I did was smoosh the dough that I'd made earlier that day onto my cookie sheet, make a rectangle shape, press it down so it was even(ish), and fan out the taters.
Extremely facile.
Now, for those of you that are still mandoline-less, don't despair. If you've got a sharp knife and a steady hand, just slice up your potatoes as thin as you can. If they're not perfect, don't worry about it. They'll cook up just fine, anyway. Plus, you can always just call it "rustic," and people will swoon. Rustic is always in.
Just remember you heard it here first.
Rosemary-Potato Pizza
Makes six 4" x 4" slices
3 medium potatoes
1 teaspoon active dry yeast
1 teaspoon honey
1 ⅓ cups lukewarm water
1 tablespoon olive oil (plus a bit more for the plastic bag, and for brushing the pan and dough later)
1 teaspoon sea salt
2 cups wheat flour
1 ¾ cup bread flour, plus extra for dusting the board and rolling pin
1 tablespoon fresh rosemary
sea salt
pepper
1. With a mandoline, slice the potatoes and set aside.
2. Put the yeast, water, honey and olive inot a bowl and stir a bit. Let rest for 5 minutes, until foamy.
3. Add salt and flours, and knead the dough for 3-5 minutes on medium-high, if you're using a Kitchenaid mixer. Drizzle a bit of olive oil into a large Ziploc bag or bowl, put the dough inside, cover, and put in the fridge for 6-8 hours, or overnight.
Preheat the oven to 225C/450F.
4. On a 10 X 13 cookie sheet lined with parchment paper that's been brushed with olive oil, press out half of the dough until it's about ¼-inch thick. You don't need a rolling pin for this; just use your hands and you'll be fine.
5. Brush a thin later of olive oil onto the dough, and starting from one end, lay the potatoes out in rows overlapping slightly. When you've covered the dough in potatoes, brush with a little bit more oil, and then sprinkle the rosemary and a bit of sea salt and pepper on top.
Cook for 30 minutes or until the dough crisps.
Makes a fab light supper with a salad, or works equally well as an appetizer.