Pumpkin Lasagna with Sage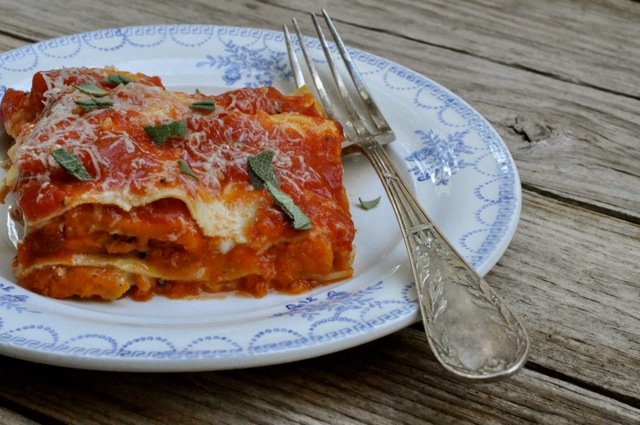 I love this lasagna so much I've already made it twice this month.
Inspired by a pizza that I had at Al Taglio, the Roman-style pizzeria in the 11th arrondisement that serves up pizza by the slice, I could hardly wait for fall and the pumpkins that come along with it. Who knew pumpkin and tomato sauce would be such great pals?
I don't know how pumpkin became so relegated to the dessert cart. Its squash cousins – butternut, spaghetti, acorn, etc. – never had any trouble finding their way onto the savory menu. But for some reason, in the U.S. pumpkin became best known as something that you put in a pie. A muffin. Or — Mon Dieu! — a latte flavor at Starbucks.
In France and elsewhere, pumpkin shows up in savory dishes all over the place. In couscous, soups, or curries. Stuffed in ravioli or tossed into a salad.
Yes, carving a pumpkin is a fair amount of work, but with a serrated vegetable peeler and a sharp knife, you can break it down in no time.
This lasagne is basically a three-step process. I use no-boil noodles to save time. You can make this a day in advance and pop it in the fridge until you're ready to cook it, as I often do. Although this makes a great weeknight dinner, it's also impressive enough to make for a dinner party, which I plan to do soon.
I know. It's almost Halloween. But the only pumpkins that I'm carving are for eating.
Pumpkin Lasagna with Sage
a 1-pound pumpkin (see note)
olive oil
sea salt and pepper
1 clove of garlic, minced
a pinch of red pepper flakes
a 14.5 ounce can of whole or diced tomatoes
1 teaspoon of brown sugar
6 fresh sage leaves, roughly torn, plus a few more for serving
1 tablespoon of butter
1 tablespoon of flour
1 cup/8 ounces of milk
a pinch of nutmeg
½ cup of grated Parmesan, plus more for serving
6 no-cook lasagne noodles
1. Preheat your oven to Broil, and line a couple of cookie sheets with either parchment paper or foil, for easy clean-up. Peel and thinly slice your pumpkin, lay the pieces out on the two cookie sheets, drizzle with olive oil (do this on both sides), and sprinkle with salt and pepper. Slide the pumpkin into the oven and roast until browned on the edges – this will only take about 15 minutes — then flip them over to the other side, so they'll brown, too. Once both sides have cooked evenly, remove from the oven and let cool. Reduce the heat to 400 °F.
2. Make the tomato sauce. Drizzle a bit of olive oil in your saucepan and turn the heat to medium-low. Add the garlic and a pinch of red pepper flakes, stir it around, and when you can smell the garlic, go ahead and add the tomatoes and the brown sugar (this helps balance the acidity of the tomatoes). Let this cook, uncovered, on low heat for about 20 minutes, or until the sauce reduces and thickens.
3. Now put the 1 tablespoon of butter in another saucepan over low heat, and when it melts, slowly whisk in the flour; then ever so slowly, add the milk, a little at a time, continuing to whisk like crazy so the flour and butter doesn't clump. Once I've added all of the milk, I like to swap out my whisk for a wooden spoon, and I just keep stirring until this mixture thickens. Add a pinch of salt, pepper and nutmeg, and taste.
4. Put a little olive oil in the bottom of a 8-inch-by-8-inch baking dish and spread it all around and up the sides. Layer your: lasagna noodles, roasted pumpkin, sage, a couple of tablespoonfuls of tomato sauce, a couple of tablespoonfuls of Bechamel sauce, one-third of the Parmesan, and some of the fresh sage. Repeat. Top with more lasagne noodles and thin layer of tomato sauce. Sprinkle with the remaining Parmesan. Cover with foil and bake for 30 minutes. Serve with more fresh Parmesan (you can't have too much), and more fresh sage.
Note: I usually buy a 2 or 3 pound pumpkin, and just make a purée out of what's left and put it in the freezer.
Cowgirl Tip: If you can't find pumpkin, just use butternut squash.
Advance Planning: You can assemble your lasagna ahead of time, and simply cover with foil and refrigerate until you're ready to heat it up.