Purple But Not Barney: Eggplant and Baby Tomato Salad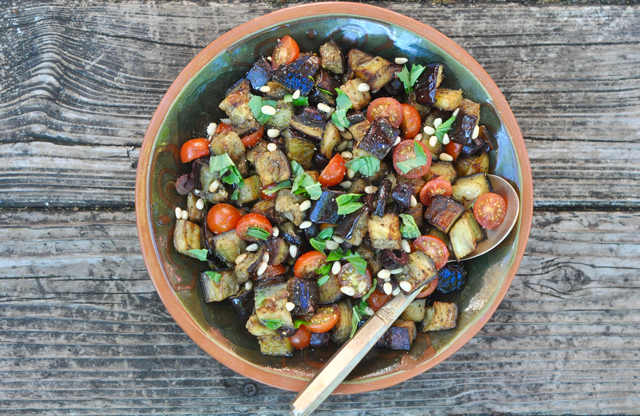 American grocery store vegetable aisles are a lot like high school. Leafy arugula, baby spinach, and the season's first tomatoes are the cheerleaders, pretty and always popular. Broccoli and cauliflower are the likable student council kids, along with cucumbers and zucchini in the summertime. Then there are the loners that no one seems to notice, like eggplant.
The big purples sleep soundly in the bins, undisturbed, until someone pushing a grocery cart rolls by, then stops for a minute.  "Eggplant. What could I do with it besides Eggplant Parmesan?"
They pick up some broccoli and put in the basket instead.
In so many other parts of the world, eggplant is a star.
Go to France, and you'll have ratatouille all summer long. Italy, where it's sliced, cooked, and layered on sandwiches and pizzas and tossed into pastas. The tapas bars in the southern part of Spain, where eggplant fried and served with a drizzle of molasses or honey.
Baba ganoush. Moussaka. Eggplant caviar. I'm just getting started. Have you ever put an eggplant over the flame of your gas stove and burned the skin until it's blackened all over? You let it cool, peel the skin, and you've got smoky, meaty insides ready for action.
For those of you out there still timid about eggplant, this salad is a good place to start. No extra time to salt, wait, and rinse; just chop up the eggplant, toss it in some olive oil, and roast in a hot oven. It's good warm, cold, or at room temp. As is, the salad's both vegan and gluten-free, but you could amp it up with quinoa and goat cheese crumbles or add some toasted pieces of bread and turn it into a panzanella.
Take it to your next picnic. Show them you're not afraid. Shame the store-bought hummus people.
Eggplant and Baby Tomato Salad
Makes 4 servings
2 large eggplant
3 to 4 tablespoons olive oil, plus a little more for the salad
sea salt and pepper
1 (pint-size) box cherry tomatoes
½ cup chopped kalamata olives
2 tablespoons pine nuts, toasted
4 large leaves of fresh basil, roughly torn
balsamic vinegar
1. Preheat the oven to 450°F and get out your largest baking sheet.
2. Chop the eggplant into fat, 1-inch cubes and toss them onto the baking sheet with 3 to 4 tablespoons of olive oil and a big pinch of sea salt and pepper. Cook for 40 minutes, turning once, or until nicely browned. Let the eggplant cool.
3. Chop the cherry tomatoes in half and put in a large salad bowl.
4. Add the eggplant, kalamata olives, pine nuts, basil, and red pepper flakes if you want, along with a big splash of balsamic vinegar and olive oil to taste (you won't need much because of the amount used to roast the eggplant). Serve. Eat.
Cowgirl Tip: Look for eggplant with shiny and tight skin, and no indentations.