Red Rice, Black Beans and Green Chile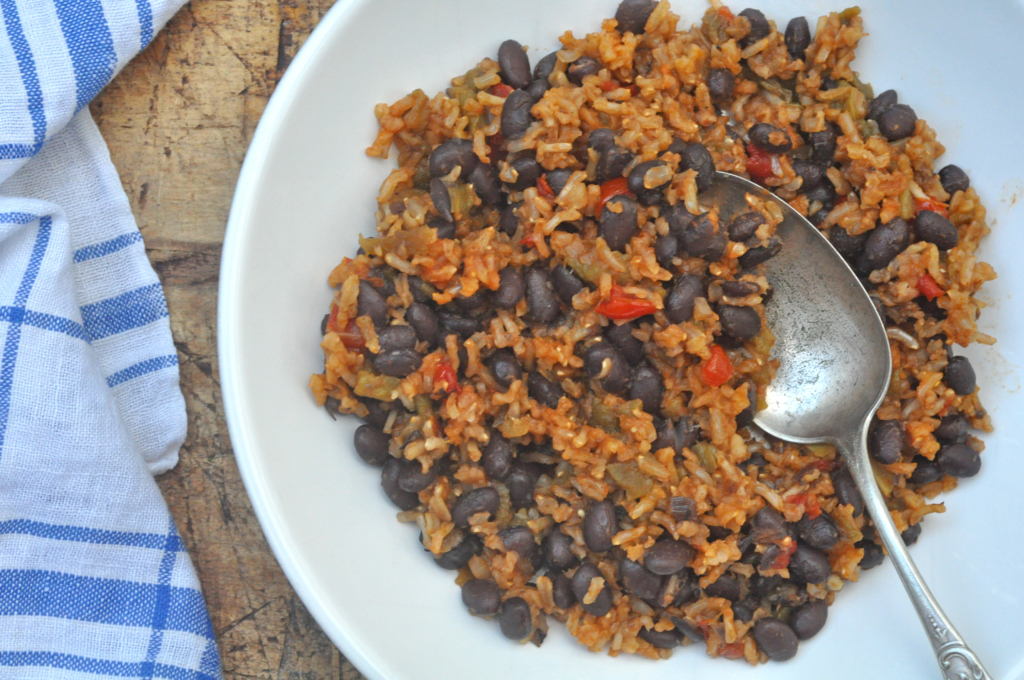 Years ago, beans and rice was my go-to dinner —  before I moved to France, before I learned about so many other flavors and techniques, and back when being vegan meant little more than this. I'd make a big batch and stuff it into a warmed up tortilla and call it done. Easy enough for when I was short on time and totally fast food.
My vegan days long behind me, I haven't made this in ages. But I'm definitely leaning more vegetarian than not most of the time, so I thought about beans and rice again, but I wanted to make it less boring. I wanted delicious. (Beans and rice? Are you kidding me?)
And delicious it was. The red rice and the roasted Hatch green chile (fresh; not the canned or frozen stuff) take this to the next level, and as far as the chile goes, you can make this as mild or hot as you like (I'm totally mild). I always have black beans that I've made in the freezer, but you can use canned ones, too. No judgment.
It's totally fast. The only thing you have to wait on is the rice and that's a 45-minute deal that can be happening while you do something else. Or you can make the rice in advance and just scoop it out and add it to the beans and chiles and warm it through. Eat it in bowl with some avocado and salsa if you like or put it right into a tortilla, roll it up, and eat it while you watch the news. Some things are just fine as they are.
Red Rice, Black Beans and Green Chile
Makes 4 servings
1 cup brown rice, uncooked
2 tablespoons grapeseed oil
1 large shallot, minced
1 cup chopped cherry tomatoes
sea salt to taste
2 tablespoons tomato paste
2 cups chicken stock or vegetable stock
2 cups black beans
⅓ cup roasted Hatch green chiles
tortillas for serving
salsa for serving
avocado for serving
1.Rinse the rice well in a colander.
2.Put the grapeseed oil and shallot in a medium saucepan over medium heat. Stir and cook until the shallot is translucent, 3 to 5 minutes. Add the chopped tomatoes, rice, and a big pinch of sea salt. Stir until the rice begins to lose its color and become opaque, another 3 to 5 minutes. Add the tomato paste and stock, cover, and let come to a boil. When it boils, reduce the heat to a simmer and cook until done, about 45 minutes.
Save time: Make the rice in advance and keep in the fridge until ready to assemble.
3.Put the black beans, green chile, and 2 cups of the cooked rice in a large skillet. Warm through and serve either in a bowl or in tortillas with avocado and salsa.
SaveSave
SaveSave
SaveSave
SaveSave
SaveSave
SaveSave
SaveSaveSaveSave
SaveSaveSaveSave
SaveSave
SaveSaveSaveSave