Road Trip: Troyes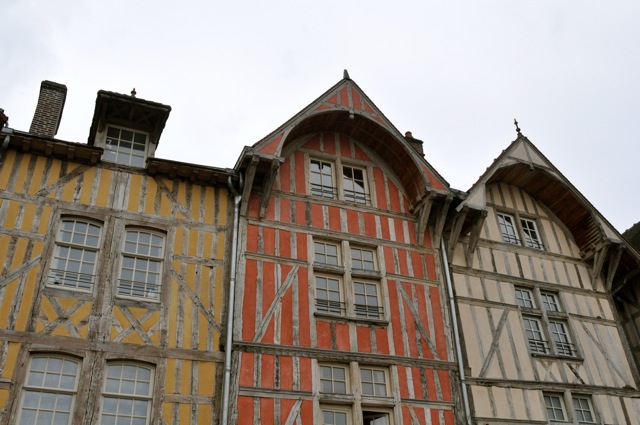 It was going to be a typical Saturday morning – hit the President Wilson market, eat a Nutella crepe on the way back, and make something that afternoon with what I found. Truth be told, I wasn't hopeful about what I'd come home with, this being that seemingly endless between-seasons time of year.
Spring, please come soon.
Also on my to do list was to go through my stack of food magazines and rip out the recipes that I wanted to keep. I was looking at a Saveurs (not related to the American magazine) from the fall and saw an article about the town of Troyes, located in one of my favorite regions, Champagne.
Have you ever been to Troyes? I said to X.
I was just wondering. Just asking. That's all.
Do you want to go? he said from the other room.
Now? Today? Just like that? And push my big plans for the day aside?
Yes!
So we loaded up the car with Rosedog and we went.
Troyes is only about two hours southeast of Paris, and I read the story to him in Saveurs as we drove (it's how I practice my French and humiliate myself at the same time). Troyes is older than I thought – it's been around since Roman times, and it was a center of commerce during the Middle Ages; most notably, for the Champagne cloth fairs. (I guess you've got to wear something when drinking all of that champagne.)
Today, it's where the alligator shirts are made (Lacoste's production headquarters are here) and it's perhaps best known for the much-celebrated sausage, andouillette.
Here, unlike other parts of the country, the andouillette is proudly made only with the pig's large intestines and stomach – none of those silly byproducts added in, don't 'cha know. Which seemed like a good idea until I saw the salmon on the menu at the 1930's-style Cafe de la Paix, in the center of town across from the market, where we decided to have lunch.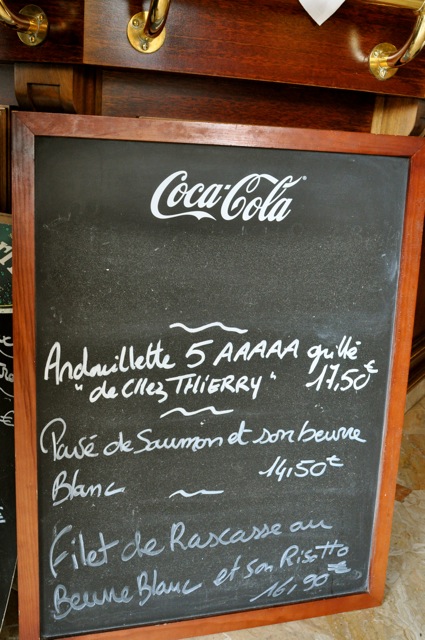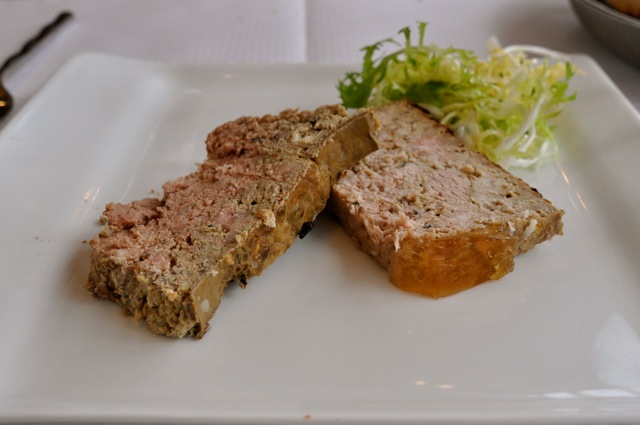 Naturellement, I ordered up a coupe de champagne and we decided to split the pate de volaille, which was even more fab with the side of cornichons that I insisted upon. I shouldn't tell you this, but guess who also got to taste the pate?
X gave it to her. It wasn't me.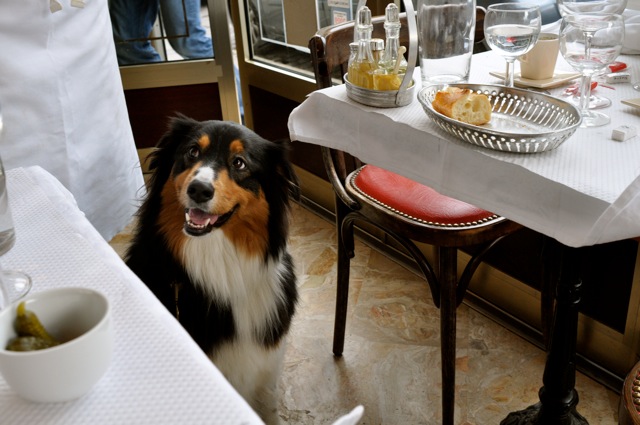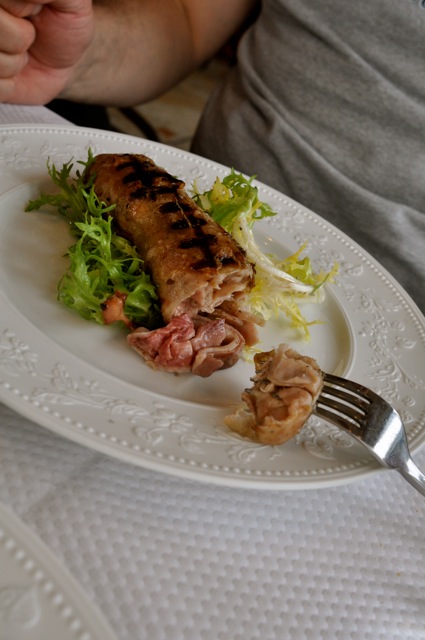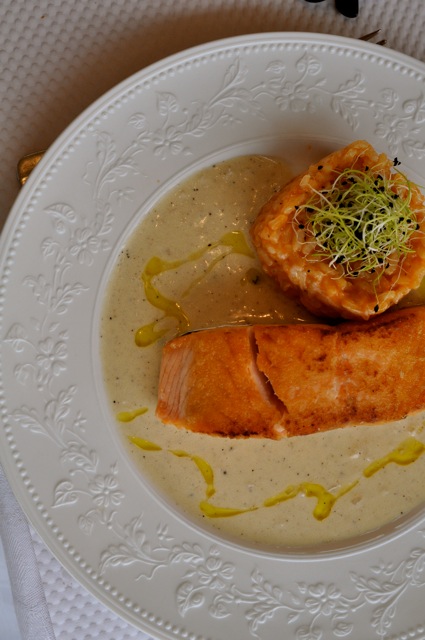 The beurre blanc was perfect, and you know what else? I just kept on with the champagne through the salmon.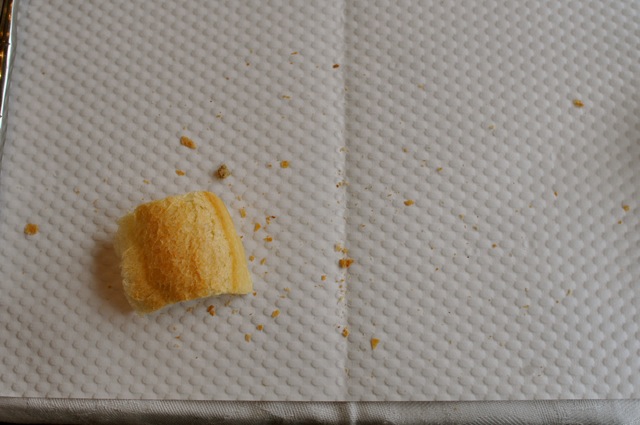 I didn't order dessert, but X being French, he had to get some cheese.
I'm so glad that he did. This one's called le chaource, and it's as fluffy and creamy as it looks.
An A.O.C.-protected cheese like Brie and Roquefort, chaource has been made in the Ardennes region since the 14th century or so; its name comes from the town where it originated, Chaource, which is just south of Troyes.
X usually goes for the smelliest of cheeses, many of which I'm not crazy about, but this one's light and tastes ever-so-slightly of mushrooms and hazelnuts. It's a very young cheese, with a two-month maturation, but as you can see, the insides give way to a very melty, gooey outside with a soft crust.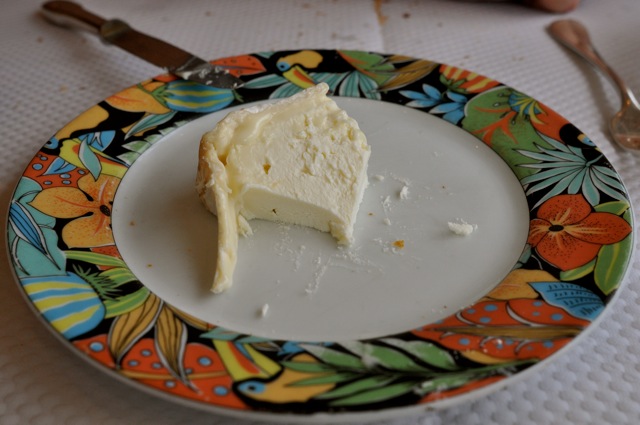 We both agreed that we needed to get some to take back to Paris. Which we did.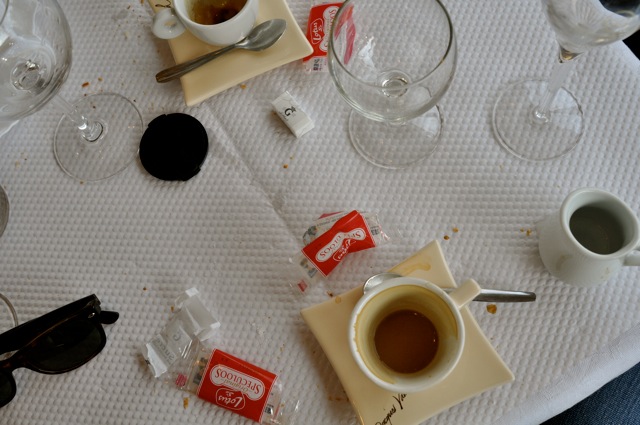 Across the street, in the covered market, I found my dessert: Pascal Caffet's chocolates. An award-winning chocolate-maker who's received the prestigious Meilleur Ouvrier de France title, because he's not in Paris, Caffet's escaped my radar — until now.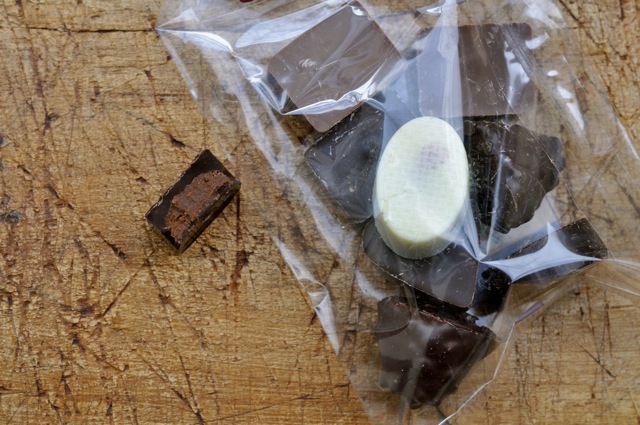 You know how some chocolate has that perfect snap? This one's got the snap, the flavor, and one of the smoothest finishes I've ever tasted.
Turns out Caffet's the man behind the chocolates at the fancy pants gourmet food store Fauchon.
I"m not surprised. And now I know where to get his chocolates in Paris.
The guy behind the counter at Pascal Caffet kept offering me chocolates to taste (and I accepted each and every one) and he told me that I needed to try the signature biscuit, Les Croquants de Troyes, so I bought a sack of these, too. A cross between a cookie and brittle, these are, as the name implies, crispy and crackly. They're loaded with almonds, too, and don't have that fake-o almond extracty flavor. I'm now trying to hunt down a recipe. Will keep you posted.
This Saturday, I'm definitely going to the market.
Unless of course, I get a better offer.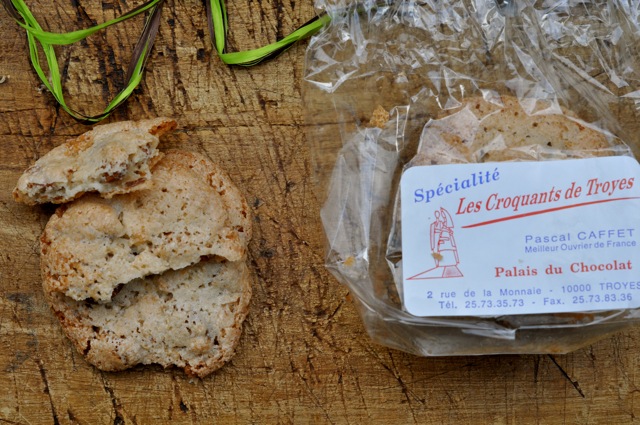 Café de la Paix
52 rue du Général de Gaulle
Troyes
03 25 73 15 26
Pascal Caffet
Marché des Halles de Troyes
rue Claude Huez
03 25 80 38 38