Roasted Carrot + Potato Fritters with Basil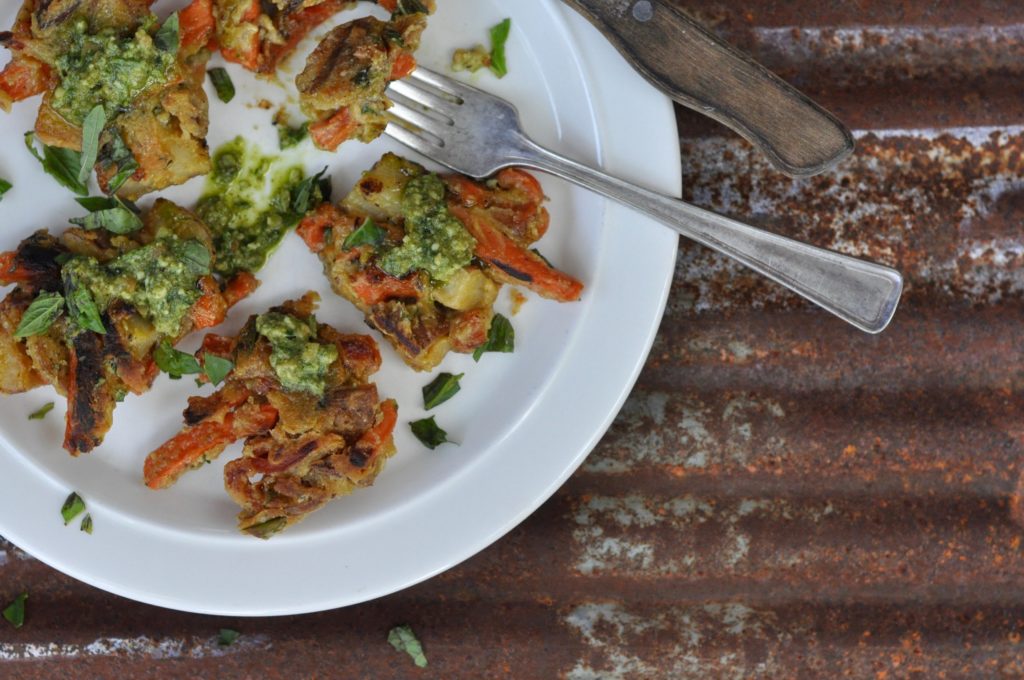 There were more leftovers in my fridge than I'd had in ages. It was one of those weeks where I had to cram in all of my cooking for an upcoming Cowgirl Chef column for the Fort Worth Star-Telegram in two days.
The clock was ticking. I didn't want to waste. Even with a Rosedog to share with, I can only eat so much.
I'd made these roasted carrots and potatoes for a French lentil salad recipe I put together for my column, and I'd already eaten them twice that way — and I was determined not to go to my default (tacos). Almost as easy as shoving them into a corn tortilla, instead I put the carrots and potatoes in a bowl, added some chickpea flour (just enough to act as glue), some water, oil and basil and put these little fritters together, just like that.
If you don't have chickpea flour in your pantry, be sure to grab some next time you're at the store (I buy Bob's Red Mill). When I'm out of ideas for dinner and want to put something together quickly, I make gluten-free pancakes or chickpea crepes — plain, they're called socca in Provence —  and add whatever I've got leftover in the fridge.
These little fritters would make a great side to anything grilled, or as a light lunch or dinner with a handful of arugula or two on top, which is what I ended up doing with them. I'm planning on making these again as it gets cooler, when I go into full-time roasting mode.
Roasted Carrot + Potato Fritters with Basil
Makes about 8 (2-inch) fritters
About 2 cups leftover roasted carrots and potatoes
3 tablespoons + 1 tablespoon olive oil
3 fresh basil leaves, finely chopped + more for garnish
⅓ cup chickpea flour
salt and pepper to taste
pesto, for serving
Put the carrots and potatoes, 3 tablespoons olive oil, chopped basil and chickpea flour in a large bowl and toss. Add as much water as you need to to wet the mixture and allow it all to stick together (I used about 1/4 to 1/3 cup). Taste for seasonings.
Put the 1 tablespoon of olive oil in a skillet over medium-high heat. When it's hot, using a tablespoon, scoop the mixture into the skillet, pressing down slightly to flatten them. Cook until browned on both sides, about 5 minutes total, turning once. Repeat with the rest of the mixture. Keep them hot in a 300°F degree oven. Serve with a spoonful of pesto on top and sprinkle with a bit more chopped basil. Eat.